Queen Rania Cooks Lunch with Orphans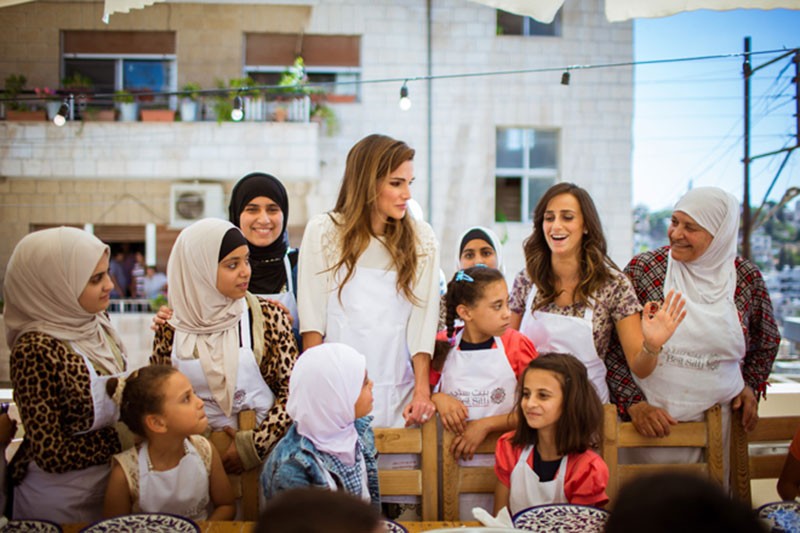 (Office of Her Majesty – Press Department – Amman) Her Majesty Queen Rania Al Abdullah joined today a group of orphans from King Hussein Charity Society for Orphans in a group cooking class at Beit Sitti restaurant in Jabal Al Weibdeh in Amman.
Upon arrival, Her Majesty met with Ms. Dina Haddad, Ms. Maria Haddad, Ms. Tania Haddad, and their mother, Mrs. Shireen Haddad, owners of Beit Sitti. The Queen also toured the restaurant and listened to brief from the owners about the idea behind it.
During a conversation between the children and the Queen, the kids told Her Majesty that they have never been to Aqaba, at which point Queen Rania promised to arrange for them to visit soon.
About Beit Sitt:
Beit Sitti started in 2010 when three sisters collaborated to keep their grandmothers' heritage alive by passing on the recipes that she taught them to locals, expatriates and tourists. Beit Sitti is a cooking and dining experience. Patrons learn to cook a 4-course Arabic meal which they later enjoy in an informal sitting – very much like eating at ones grandmother's house.
Beit Sitti is known and respected for hiring local women to help teach patrons how to cock traditional dishes, while in return helping these become part of the workforce in order to support themselves and their families financially.
Beit Sitti has a store selling a wide range of premium local favorites such as pomegranate molasses, Tahini sauce, spices and more.
King Hussein Charity Society for Orphans مبرة الملك حسين :
King Hussein Charity Society for Orphans was founded in1968 in Irbid. The society's full capacity is 100, but is currently home to 36 orphans; males and females. A large number of those kids at the society are either orphans, or come from broken homes and impoverished families.

Queen Rania's official website
This website does not support old browsers. To view this website, Please upgrade your browser to IE 9 or greater
Your browser is out of date. It has known security flaws and may not display all features of this and other websites. Learn how to update your browser