Queen Rania Visits Dar Al Aman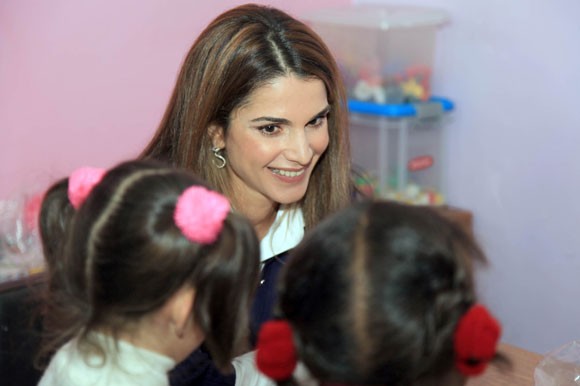 (Office of Her Majesty, Press Department- Amman) Her Majesty Queen Rania, on Sunday, visited Dar Al Aman, the child safety centre affiliated with the Jordan River Foundation (JRF), to follow up on the facility's progress and its work to protect young victims of abuse and neglect.
During today's visit, Her Majesty was briefed on new methods of treatment provided by caregivers and psychological specialists as well as on the challenges facing volunteers working with children at the centre.
Since its inception ten years ago, the centre has offered counseling and rehabilitation services to hundreds of children. As the first child safety centre in the Arab world, Dar Al Aman provides shelter and care for sexually, physically and emotionally abused children who are treated and evaluated before being integrated into their rehabilitated families.
To date, 280 children have benefited from programmes provided at Dar Al Aman which include psychological, social, educational and medical services. The centre currently accommodates thirty children in a home-like atmosphere with caregivers providing them with love, attention, and support.
Queen Rania, who has chaired the JRF board of trustees since 1995, pioneered the first Arab initiative of its kind by establishing the Child Safety Programme in 1997. The programme's objectives include enhancing positive child-rearing practices to protect children, as well as ways to identify, confront and eliminate different kinds of abuse through awareness, training, prevention and intervention.
Also today, the Queen met with caregivers and counselors who updated her on the different activities provided and spoke about their experiences working with the children.
Her Majesty stressed the importance of providing a judicial environment that is supportive for children, caregivers and specialists working with young victims of abuse.
During the tour around the centre's library and playroom, Queen Rania was accompanied by JRF Director General Valentina Qasisieh, Dar Al Aman's new director, Lubna Qadoumi, Samia Bishara from the Queen Rania Family and Child Centre, and JRF Board Members, including Saed Karaja and the Minister of Social Development HE Hala Lattouf.
At the centre's play room, caregivers discussed the "Picture of Hope" project which uses photography as a means to enhance the children's therapeutic process.
At the end of the tour, Queen Rania checked on the centre's apartments and stopped by to chat with a group of children who were playing with LEGO.
The Queen then thanked the centre's staff for their efforts in educating, guiding and caring for the children, reiterating the importance of graduating more specialists in the field of child protection.

Queen Rania's official website
This website does not support old browsers. To view this website, Please upgrade your browser to IE 9 or greater
Your browser is out of date. It has known security flaws and may not display all features of this and other websites. Learn how to update your browser