Queen Rania: "We Know Education Works. It Isn't a Short-term Fix; It's a Long-term Solution."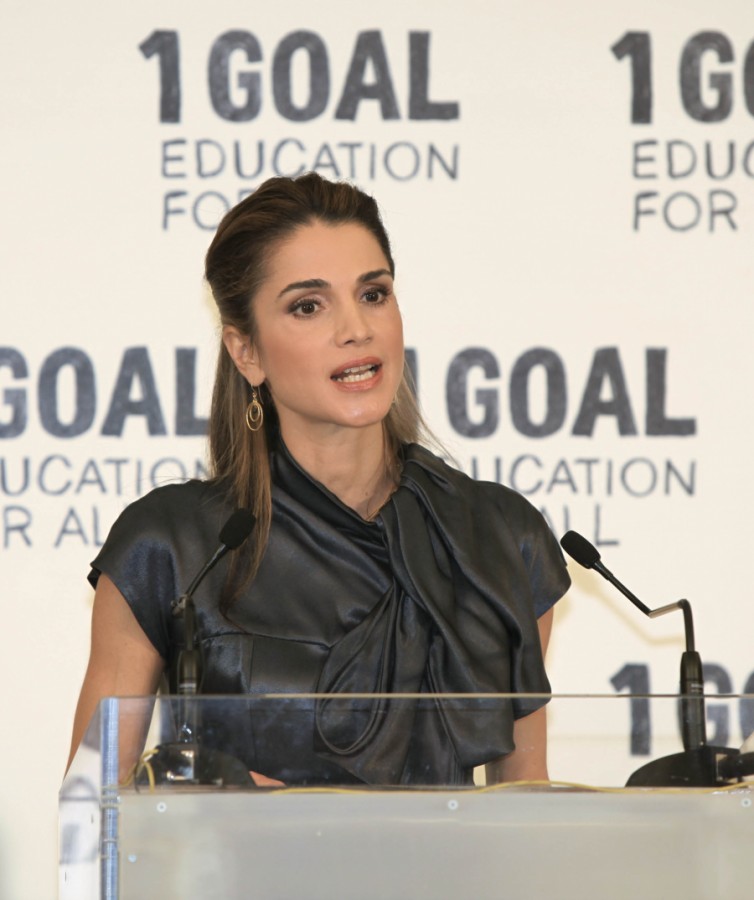 (Office of Her Majesty, Press Department - Rome) Following its successful UK launch in August, and commitments made by several global leaders earlier this month, the 1Goal campaign, an international initiative coordinated by the Global Campaign for Education (GCE) in partnership with FIFA, was launched in Italy, on Wednesday, by Her Majesty Queen Rania Al Abdullah, co-founder and global co-chair of the initiative.
"We're here today to tap into that famous Italian passione on behalf of 75 million children sent to the sidelines not because they've done anything wrong, but because we haven't played by the rules. We haven't given them what should be their birthright: an education," said Queen Rania at the 1Goal stakeholder event held in Rome's Campidoglio, which houses the office of the Mayor. The 1Goal campaign aims to leverage the popularity of the 2010 FIFA World Cup, staged in South Africa, to ensure 75 million poverty-stricken children receive an education by 2015.
Rallying the support of footballers and fans in a massive sign up campaign, 1Goal seeks to remind world leaders of their commitment to universal education as part of the United Nations Millennium Development Goals (MDGs). Queen Rania was joined by Owain James from the Global Campaign of Education (GCE), Isabella Rauti, wife of Rome's Mayor, President of FC Internazionale Massimo Moratti, CEO and Managing Director of FC Internazionale Ernesto Paolillo, Italian TV presenter Milly Carlucci, Bulgari CEO Francesco Trapani, Designer Roberto Cavalli, as well as NGOs and International Organizations such as Save the Children and Oxfam to highlight the sense of urgency needed to get children into schools: "It's been nine years since the leaders of the world made a pledge of education for all.
But our leaders and politicians would rather attend aid conferences than act on aid pledges. Rather look to others than look to themselves," stressed Her Majesty. At the event, Queen Rania also urged Italians to raise their voices on behalf of all out-of-school children; to leverage their networks and call on global leaders to give these children the one chance they desperately deserve: "1GOAL says it's time to blow the whistle and survey this sorry state of play because in the game of education, there is no extra time. Children's childhoods are now," she concluded.

Queen Rania's official website
This website does not support old browsers. To view this website, Please upgrade your browser to IE 9 or greater
Your browser is out of date. It has known security flaws and may not display all features of this and other websites. Learn how to update your browser