Queen Rania's Interview with Xinhua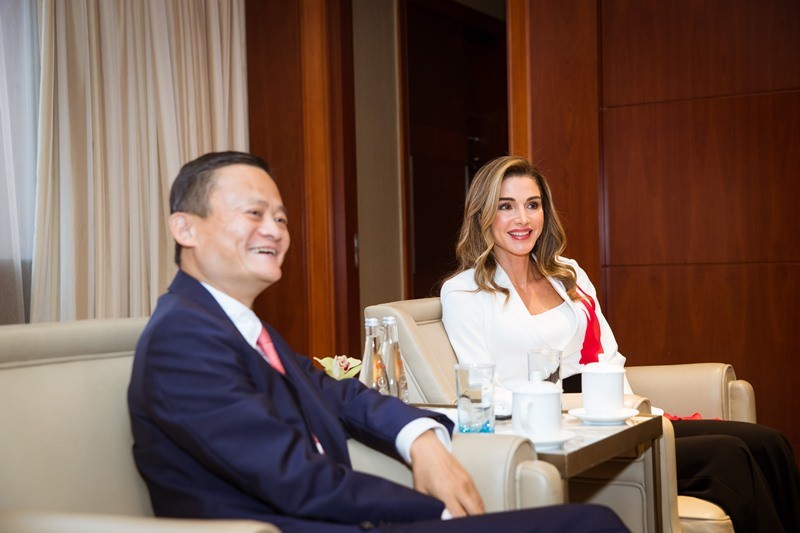 Xinhua - Queen Rania of Jordan has praised China for playing an influential role in global economy and aiding refugees in the Middle East, while hoping that Jordan will learn much from collaborations with China in varied fields.
The queen made the remarks in a written interview with Xinhua ahead of her visit to China to attend the second Alibaba XIN Philanthropy Conference 2018 due on Sept. 5 in Hangzhou, China, at the invitation of Jack Ma, founder of China's Alibaba Group and the Jack Ma Foundation.
"I have very fond memories from my previous visits to China, and I look forward to visiting again," the queen said, adding that she has a lot of respect for Ma and the work that he is doing, as well as his vision for philanthropy.
"It is very uplifting to see that people are embracing philanthropy, within China and beyond," said the queen, founder of the Queen Rania Foundation for Education and Development (QRF).
During his May visit to Jordan, Ma announced the first-stage funding of 3 million U.S. dollars to the QRF to support the development of its online learning platform, Edraak, as well as the training of school principals at the Queen Rania Teacher Academy.
"Going forward, we are looking forward to collaborating further and exchanging knowledge with the Jack Ma Foundation, so that we can work together on our common goal to promote access to quality education for all," the queen said.
CHINA'S GREAT PROGRESS, GENEROUS REFUGEE AID
In the interview, Queen Rania lauded China for having made "tremendous progress" over the past decades.
"It's the world's biggest exporter, it's second largest economy, and there is no doubt that it plays a critical and influential role in development and in the global economy," she said.
The queen noted that China is now classified as the world's top technology hub and home to some big companies on par with Silicon Valley giants like Apple and Amazon in the United States.
"I can only be delighted to revisit China at such exciting times as these, and I am certain that my trip will be rewarding on so many levels," she said.
Jordan is a small country with a young and driven population that can learn so much from collaborations with China, especially in the fields of technology, commerce, trade, and education, she said.
Talking about the refugee crisis that has placed a heavy burden on Jordan, one of major host countries of refugees, Queen Rania said Jordan is "tremendously grateful" to China for its longstanding support to ease the burden of hosting refugees.
"Over the years, China has not only provided food assistance and humanitarian aid to refugees in Jordan, but also supported the development of Jordan's overtaxed infrastructure," she said.
The queen mentioned that, just two months ago, China pledged an additional 15 million U.S. dollars in aid, "which will go a long way in helping us meet refugees' needs."
She also commended China for recently donating 2.35 million dollars to the UN Relief and Works Agency for Palestine Refugees (UNRWA), which faces the worst financial crisis in its 70-year history after the United States recently cut its fundings.
"UNRWA is a lifeline to more than 5 million people in the region, 40 percent of whom live in Jordan alone, and China's generosity will contribute to alleviating some of the pressure on the struggling agency," said the queen.
Jordan, which is spearheading efforts to secure necessary funding for the agency to continue its services, is hopeful that other countries will follow China's example, she said.
The ultimate solution for this crisis, however, can only be found through a negotiated settlement of the Palestinian-Israeli conflict and all its final status issues, the queen stressed.
EDUCATION CAN MAKE MIRACLES
Queen Rania, a strong advocate of education and a passionate philanthropist and peace maker, underlined the power of education to address most pressing challenges of today, including unemployment and radicalization.
For the Jordanian queen, education has remained at the forefront of her activities over the years.
"I believe in the power of education because it holds the answer to many of the challenges we face today," she said.
She established the Queen Rania Foundation for Education and Development in 2013, out of her belief that investing in children is the best investment that can be made in the Arab world.
"Knowledge, creativity, and talent are key ingredients to any country's success, and that all begins in the classroom," she noted.
Queen Rania of Jordan made a visit to the northern Rabahiya coeducational secondary school in Amman, Jordan, on Oct. 24, 2017. (photo provided by Office of Queen Rania, Royal Court of Jordan)
The QRF has implemented a number of initiatives and programs to support education reform in Jordan. Queen Rania set up the Queen Rania Teacher Academy, which offers educators critical training and professional development.
Four years ago, she also launched Edraak, one of the first non-profit online Arabic open education resource platforms, to provide Arabic speakers with the opportunity to learn online.
Focusing mainly on adult learners seeking higher education and professional development opportunities, Edraak has so far reached 1.7 million registered learners.
Education is the key to addressing the most pressing challenge on young people's minds today, which is unemployment, the queen said.
"Our challenge is to continue to invest in the right kind of education, and to grow our economy in order to create more opportunities for them within Jordan," she said.
Queen Rania stressed that education also plays a key role in fighting terrorism, a major part of which is the fight against the "extremists' false narrative of hate and the twisted ideology of the outlaws of Islam."
"I always say, you cannot kill an ideology with a bullet. You can only kill it with a better idea. Extremists prey on hopelessness and despair, taking advantage of vulnerable people who feel as though they have no other options," she said.
The queen said she is convinced that a large part of the solution to eradicating terrorism lies in education.
"If we can equip our youth with the skills they need to succeed in the world and jobs to make their lives purposeful, then there is no cause for desperation or resentment," she said.
PHILANTHROPY IS SHARED RESPONSIBILITY OF ALL
In the interview, Queen Rania also voiced her optimism about the power of philanthropy to create opportunity and reduce inequity.
"I am inspired by how committed and energetic some people are about philanthropy. I think it is critical that we encourage and support those looking to help, to make a difference, to bring innovative ideas to the field of philanthropy, whether in China or throughout the rest of the world," said the queen, a mother of four.
Philanthropy is "a shared responsibility of all," she said.
Queen Rania of Jordan visited a school in Al Hallabat Area, Zarqa, Jordan on Sept. 11, 2017. (photo provided by Office of Queen Rania, Royal Court of Jordan)
The queen said philanthropy should be "a collaborative effort," in which the public, private, and civil society sectors complement each other's work and build on shared successes.
She said she believes that philanthropy lives in the hearts of humans, "because giving is something that is built into our DNA and deep-rooted into our human conscience."
"Giving is part of what makes us human ... In a sense, we see giving as the best way to improve ourselves," she said.
WOMEN'S SUCCESS STARTS WITH EMPOWERMENT
Queen Rania, who believes that the pathway to a woman's success begins with empowerment, has been a passionate spokesperson for women's rights.
Serving as a positive role model for Arab women, the queen uses her international platform to shed light on the most pressing challenges facing Arab women.
"I think it is often easier for people to paint us all with the same, stereotypical brush: downtrodden, uneducated, and voiceless," she said.
The reality is that Arab women from all walks of life are increasingly leaving their mark on every level of society, not just as homemakers, but also as professors, doctors, engineers, and entrepreneurs, she insisted.
Arab women have emerged as role models in almost every industry, breaking through glass ceilings and providing an excellent example to both girls and boys of the next generation, she said.
That said, in many cases, progress has been slower than expected. Unfortunately, sexism is not limited to a single country or region, and women everywhere are at risk of discrimination and abuse, the queen added.
Queen Rania of Jordan visited the Queen Rania Family and Child Center (QRFCC) in Amman, Jordan, on May 2, 2018. (photo provided by Office of Queen Rania, Royal Court of Jordan)
This is true particularly in areas of conflict, where women are always the hardest hit. In times of conflict or political upheaval, women's hard-won gains are reversed and their rights are treated as afterthoughts, she said.
For Rania, who became Queen of Jordan in 1999 as the youngest queen in the world, balancing private life as a wife and mother with public duties as queen does not seem to be an easy task.
"Twenty years is a long time. A lot has changed since 1999. I've also changed and I've learnt a lot," she said.
"I have faced tough challenges, but they have made me more authentic, truer to who I am, and less fearful ... I am not afraid of standing up for my values and beliefs," said the queen.
While expressing her sadness and concerns about the continued turmoil and violence in the Middle East, Queen Rania said most people in the region still hope for a better future of peace and justice.
"No matter where we come from or what we believe, at the heart of it, all people want the same things: a safe place to call home, the ability to work for a living, and a quality education for our children," she said.
These things are achievable, but only when people put differences aside and collaborate on comprehensive solutions, she said.
"Our shared humanity is so much stronger than the labels that divide us, and it is in our best interest to work together to achieve sustainable global development and create a world worthy of the next generation," said the queen.
To view on Xinhua, click here
Featured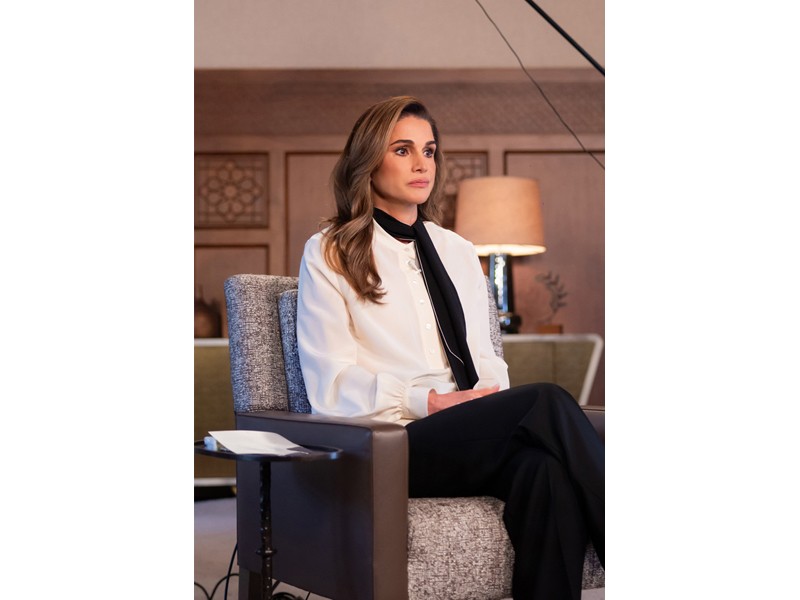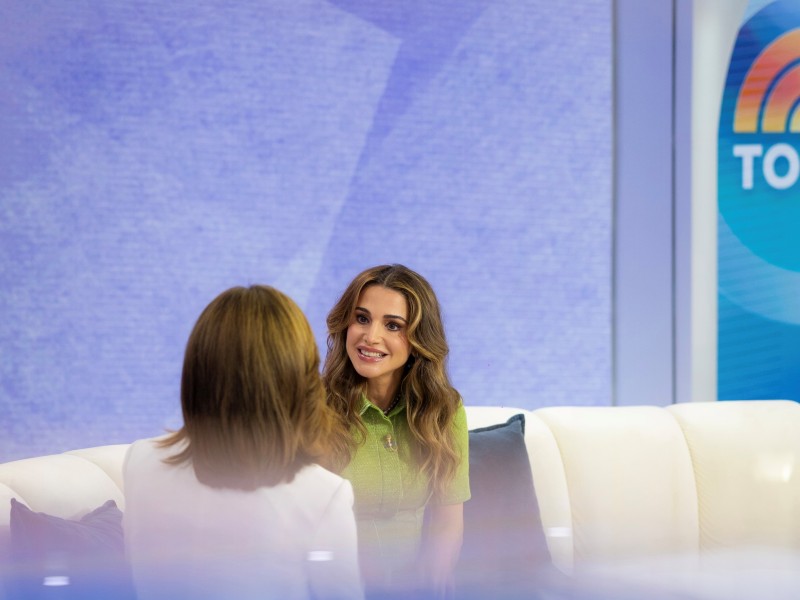 Queen Rania's official website
This website does not support old browsers. To view this website, Please upgrade your browser to IE 9 or greater
Your browser is out of date. It has known security flaws and may not display all features of this and other websites. Learn how to update your browser