Queen Rania Underlines Jordan's Humanitarian Role, Presents Aid to Cancer-stricken Iraqi Children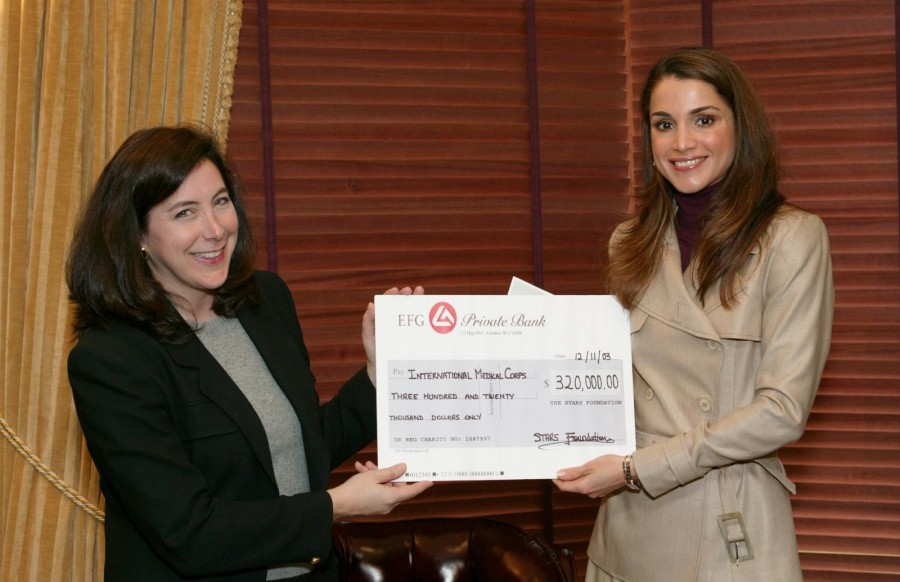 (Office of Her Majesty, Press Department – Amman) As part of efforts to provide medical and humanitarian aid to the Iraqi people, Her Majesty Queen Rania Al-Abdullah, Chairperson of the Advisory Council of the STARS Foundation presented, on behalf of foundation, a donation of $570,000 to the International Medical Corps (IMC) to help treat Iraqi children suffering from the most serious cases of cancer.
The funds, which include medical supplies worth $250,000 from Jordan's Hikma Pharmaceuticals, were raised during the STARS Foundation gala dinner at the World Economic Forum's Extraordinary Annual Meeting, at the Dead Sea on June 22, 2003.
During a meeting with officials from the Stars Foundation and the IMC, Queen Rania underlined the Kingdom's role as a vital connecting point for paths that foresee a better future, saying Jordan is honored to be part of the route that brings vital humanitarian assistance to Iraqi people especially children with serious health conditions.
"Our role is humanitarian and we are here to facilitate efforts to help Iraqis. Such projects are significant as they focus on providing proper treatment for Iraqi children who lacked it for many years," Queen Rania said.
The first group of these young patients is already in Jordan receiving treatment at the King Hussein Cancer Center. It is estimated that there are thousands of others still languishing, uncared for, and in desperate need of urgent assistance.
This donation is earmarked to support IMC's "Project Lifeline", a program whose goal is to provide life-saving treatment to young cancer victims suffering from the most serious cases of cancer by identifying children in need of immediate care, and assisting their transfer to neighboring countries that have appropriate facilities. The project also works in parallel to improve the capacity of the Iraqi health system to later enable them to treat these cases inside Iraq.
The STARS Foundation donation was handed over to Ms. Nancy A. Aossey, President of International Medical Corps, at the meeting also attended by Mr. Amr Al Dabbagh, Founding Chairman of the STARS Foundation.
Throughout the Iraqi crisis, Queen Rania has been actively working towards providing vital humanitarian assistance to the children and people of Iraq and facilitating the work of NGOs working to ease the suffering of the Iraqi people.
In order to meet the medical and humanitarian needs of the Iraqi people, Jordan became a launching pad for humanitarian assistance, sending convoys of trucks carrying medical equipments, virals, food items, as well as infant milk. Their Majesties also launched a blood donation campaign donating their blood to help the wounded of the Iraqi people.
Established in 1984 by volunteer doctors and nurses, IMC is a global humanitarian non-profit organization dedicated to saving lives and relieving suffering through health care training and relief and development programs. With the flexibility to respond rapidly to emergency situations, IMC rehabilitates devastated health care systems and helps bring them back to self-reliance.
The STARS Foundation, an apolitical, non-religious and non-profit organization that seeks to harness the power of technology to make a better life for the disadvantaged children of the global community. The foundation unites individuals and businesses from East and West bridging cultural and geographical differences and focusing on its intrinsic value of "unity in diversity".


Queen Rania's official website
This website does not support old browsers. To view this website, Please upgrade your browser to IE 9 or greater
Your browser is out of date. It has known security flaws and may not display all features of this and other websites. Learn how to update your browser