Queen Rania Meets with YGLs, Discusses Dignity Day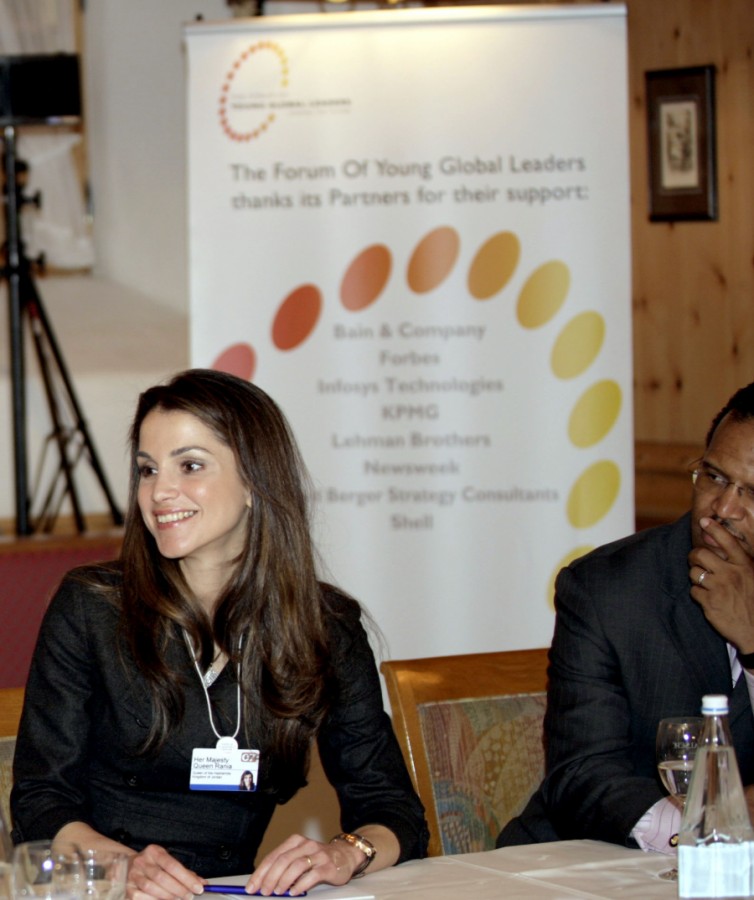 (Office of Her Majesty, Press Department - Davos) As world leaders from business, politics, academia, the media and civil society continued arriving at the World Economic Forum Annual Meeting in Davos, Switzerland, Her Majesty Queen Rania Al-Abdullah joined the Young Global Leaders (YGLs) for a briefing on their recent projects including the launch of the Global Dignity Project.
The discussion focused on the YGLs' role in using their expertise and experience in helping their local communities as well as the global community.
One project recently launched by the YGLs is the Dignity Project. Its mission is to raise global awareness of the universal right of every human being to lead a dignified life, and compel people around the globe to move to action in implementing these rights. People from all over the world are welcome to sign the Dignity Principles on their website (http://www.globaldignity.org).
The Dignity Principles are based on both ethics and enlightened self-interest, they told the Queen. Dignity Days have been conducted in several countries where the young leaders take their message to worldwide communities. Soon, they plan to join YGLs in Jordan in launching their presence there.
Global Dignity is an idea founded by three YGLs: His Royal Highness Crown Prince Haakon Magnus of Norway; Pekka Himanen, Professor of Philosophy at the University of Art and Design Helisnki; and John Hope Bryant, Founder of Operation HOPE.
Discussions also included an update from the Microfinance Taskforce, which has focused on building a more inclusive global financial system to increase the efficiency of the microfinance industry.
Other issues on the YGLs' radar include global education, the environment, and global governance and security. Represented at the meeting were the Education Taskforce; the Pakistan Recovery Project; the Genocide Film Project; the Microfinance Taskforce: Reinventing Aid; and Health Task Force
Queen Rania is on the Foundation Board of the Young Global Leaders, which was established in 2004 as a unique, multi-stakeholder community of the world's most extraordinary young leaders who dedicate a part of their time to jointly address global challenges and work towards a better future. The Queen also chairs the YGL Selection Committee.

Queen Rania's official website
This website does not support old browsers. To view this website, Please upgrade your browser to IE 9 or greater
Your browser is out of date. It has known security flaws and may not display all features of this and other websites. Learn how to update your browser