Their Majesties King Abdullah and Queen Rania Join Jordanian Children at Opening of Children's Museum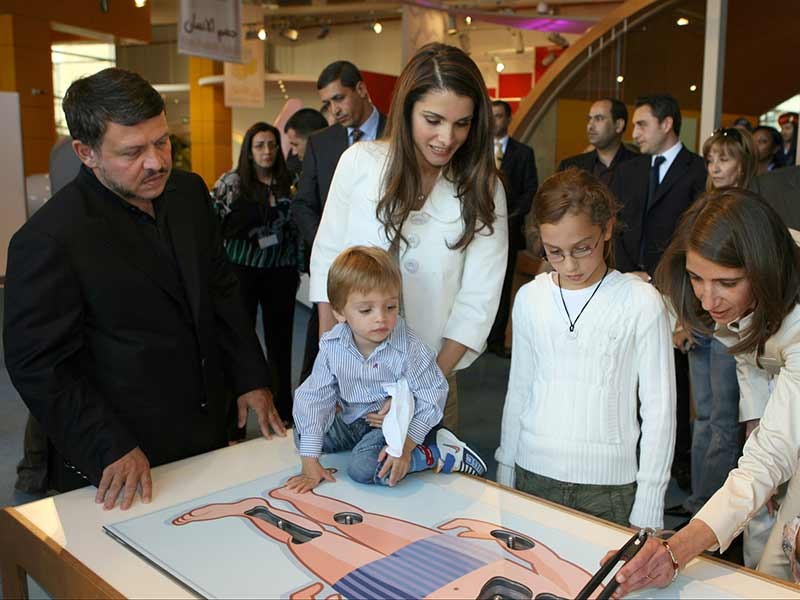 (Jordan Times, Linda Hindi - Amman) The Children's Museum, the first interactive, hands-on, learn and play centre of its kind in Jordan, held its grand opening, with a mission to encourage lifelong learning for children and their families.
Their Majesties King Abdullah and Queen Rania attended the launch with Their Royal Highnesses Princesses Iman and Salma and Prince Hashem and more than 2,000 other children from across the Kingdom.
The museum's more than 150 dynamic exhibits are designed for children aged 14 and under, which comprise almost 40 per cent of the Kingdom's population.
"Educating our children is not just about imposing a body of knowledge on them. Rather, it involves preparing children from the early years for the world in which they will come of age. It means instilling a love for lifelong learning, creativity, self-expression and an appreciation for diversity," Queen Rania said.
The nonprofit organisation, initiated by its chairperson Queen Rania, seeks to inspire children to learn about subjects like history, arts, health, astronomy, geology, the environment, fitness, civilisation, robotics, air and flight as well as the value of national identity.
The museum, located at King Hussein Park has three main themes, humankind, technology and the natural world, which are introduced through indoor and outdoor exhibits within the 20,000- square-metre area.
Outdoor gardens include exhibits relating to water, science, music and travel plus a special area dedicated for children less than three years of age.
Seven year old Omar Hashlamoun, who attended the opening event, told The Jordan Times he thought the museum should be called "Kids World" because he felt it was like a little city that children should live in.
"I liked talking to the clowns on stilts, learning how to use drums in the music room, seeing the stars and space exhibit and playing with water outside," he said.
The museum, which is about inspiring children, stirring imaginations and fostering growth through play, wants to ensure a full experience for families and has stationed experienced facilitators throughout the exhibition halls to guide visitors.
The family destination that offers membership programmes, has a birthday room with party food and birthday packages; pre-booking is required for an exclusive facilitator that will guide birthday guests through exhibits under a selected theme, according to the museum.
The facility has also designed school programmes to support and complement classroom activities or other educational institutions. Teachers can choose to focus on a specific subject and the exhibits will provide the students with opportunity to learn curricular concepts in new and challenging ways while meeting classroom goals.
To make sure there is something new for its visitors every time, a regularly updated programme of activities — including workshops and events like children's theatre, arts and crafts, photography classes and design classes — will be available at the museum website at www.cmj.jo.

Queen Rania's official website
This website does not support old browsers. To view this website, Please upgrade your browser to IE 9 or greater
Your browser is out of date. It has known security flaws and may not display all features of this and other websites. Learn how to update your browser