King Abdullah II and Queen Rania Meet with Queen Elizabeth II and Prince Philip at Windsor Castle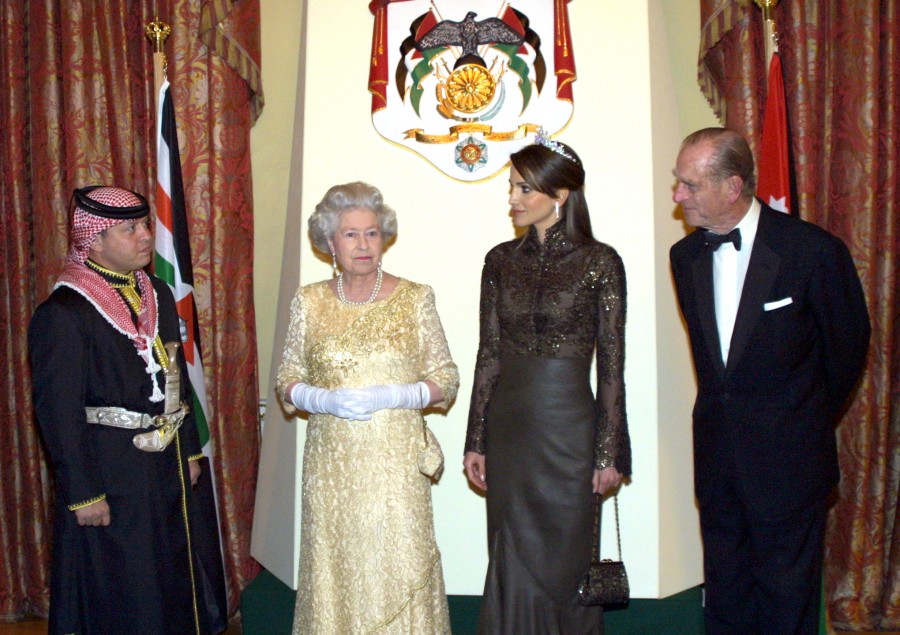 (Jordan Times , November 7, 2001, By Agencies - LONDON) Queen Elizabeth II and her husband Prince Philip welcomed Their Majesties King Abdullah and Queen Rania to Windsor Castle on the first day of their state visit to Britain.
The monarchs shook hands at Windsor Castle, where King Abdullah and Queen Rania are guests, and were driven in horse-drawn carriages.
Security was high, with police patrolling the nearby River Thames underwater and with boats.
Meanwhile, plainclothes detective mingled with the thousands of onlookers and armed officers kept watch from rooftops.
Before entering the castle, the Royal couples paraded in the horse-drawn carriage, escorted by the Household Cavalry in full ceremonial uniform of plumes and breastplates.
King Abdullah and Queen Rania were to later take tea with the Queen Mother, who will be 101, before attending a state banquet at the castle hosted by Her Majesty Queen Elizabeth. King Abdullah, who met Prime Minister Tony Blair in Amman last week during Blair's whistle-stop Middle Eastern tour in support of the international anti-terrorism campaign, will see the prime minister again on Thursday at Blair's 10 Downing Street residence.
During last week's talks, the leaders stressed the need to establish a Palestinian state.
The king is to meet with business representatives to discuss investment opportunities in Jordan, before addressing parliament a day later and lunching with Blair at Downing Street.
He was also to meet Thursday with Defense Secretary Geoff Hoon and the Chief of Defense staff, Admiral Sir Michael Boyce.

Queen Rania's official website
This website does not support old browsers. To view this website, Please upgrade your browser to IE 9 or greater
Your browser is out of date. It has known security flaws and may not display all features of this and other websites. Learn how to update your browser