Queen Rania attends first meeting of the Arab Open University Board of Trustees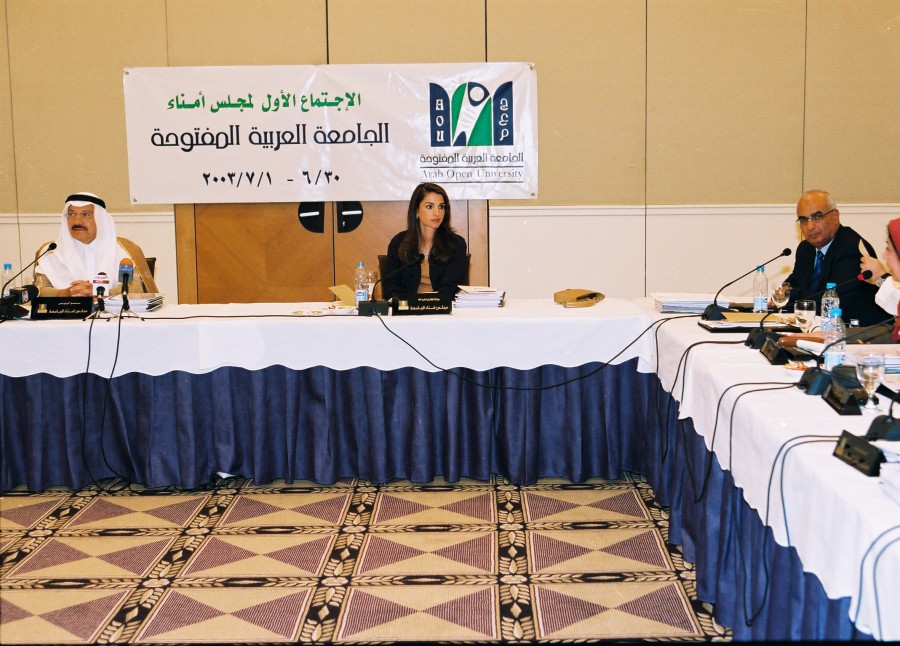 (Office of Her Majesty, Press Department - Amman) Her Majesty Queen Rania Al-Abdullah, Co-Chair of the Arab Open University (AOU) Board of Trustees, stressed the importance of quality education and of expanding the educational base to reach all segments of society in the Arab World especially Arab women.

This came during the first meeting of the University's Board of Trustees, chaired by His Royal Highness Prince Talal Bin Abdulaziz, who is also President of the Arab Gulf Program for United Nations Development Organization (AGFUND).

During the meeting, Members of the Board reviewed the AOU's annual report and future plan that included the development of educational programs based on the curricula of the United Kingdom Open University (UKOU), the development of a quality assurance program and an international accreditation system that would allow students to continue their higher education in international universities.

The AOU, the first university of its kind in the Arab world, is a non-profit institution that adopts an innovative open system for higher education, promotes equal opportunities for life long learning, and fosters modern IT resources to support the learning process.

The AOU has finalized agreements of cooperation with the UKOU covering three major areas: Licensing of Materials, Consultancies, Accreditation and Validation.

With the aim of upholding quality standards, the AOU will utilize course materials produced by the UKOU during the initial years of program offerings for three of its programs: English Language and Literature, Information Technology and Computing, and Business Administration.

The University, in coordination with UNESCO, is currently working on building a telecommunications network linking all of its branches in Arab countries.

In addition to teleconferencing, the network will allow the AOU to transmit lectures delivered in any branch to all other branches.

Within the framework of establishing a telecommunications learning network, the AOU is also seeking to set up a virtual library through which students can access several electronic sources of learning, which may be located at numerous Internet sites, thus providing a nucleus for back-up sources of electronic learning.

With headquarters in Kuwait, the AOU has branches in Jordan, Lebanon, Egypt, Saudi Arabia and Bahrain.

In his opening remarks, His Royal Highness Prince Talal Bin Abdulaziz commended both Their Majesties on their efforts in realizing the establishment of the AOU and for their support of the activities and initiatives of the AGFUND.

The AOU is supported by the AGFUND, which is a regional development institution, established in 1980 upon the initiative of HRH Prince Talal Bin Abdul Aziz and with the support of the Leaders of the Arab Gulf States.

The AGFUND is concerned with the support of sustainable human development efforts, targeting disadvantaged groups in the developing countries, particularly women and children, in cooperation with the organizations and institutions active in this field.

Queen Rania's official website
This website does not support old browsers. To view this website, Please upgrade your browser to IE 9 or greater
Your browser is out of date. It has known security flaws and may not display all features of this and other websites. Learn how to update your browser