Queen Rania's Speech at the American University in Cairo (AUC) - Cairo, Egypt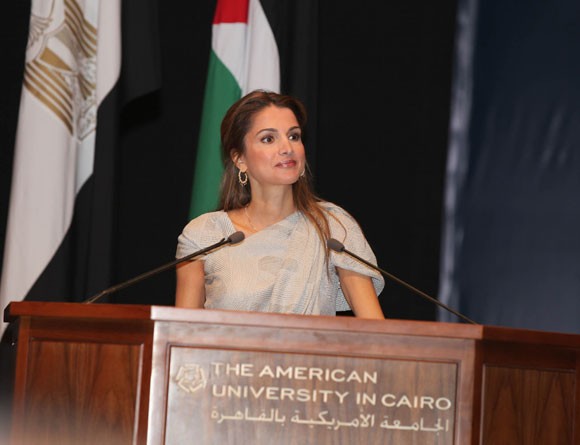 Thank you.
And thank you, President Arnold, for that kind introduction. Your leadership has transformed AUC into a modern, vibrant university everyone in this room can be proud of. It makes me want to be a student here all over again!
It's been a long time since I left AUC, but AUC has never left me. With every university I visit and student I meet, whether it's at Harvard or Sorbonne, I remember my days in Cairo with fondness and pride. On occasion, I've even had AUC's anthem pop into my head!
And I want to thank President Arnold, and Barbara Ibrahim of the Gerhart Centre, for inviting me to speak. Together, you are helping Egypt scale up civic engagement by exposing students to the community, and the community to students. Which is why I'm so pleased to be speaking here today.
Because, if there's one thing I've learned since graduating from AUC, it's that, often, social progress doesn't come from governments looking down, directing change. It comes from communities, families, and individuals looking up, driving society forward themselves, fueled by nothing more than an idea and an instinct to do good. It comes from civic engagement.
Of all the stories I've heard, one that strikes me in particular comes from right here at AUC.
Many of you know Alashanek ya Balady, an organization that encourages you to donate your time and help lift local families out of poverty. While its success demonstrates the potential of civic engagement, for me, the story behind this dynamic youth NGO is just as powerful.
Raghda El Ebrashi was 12 years old when, on a school trip, she visited a home for the elderly on the outskirts of Cairo. There she met Um Fathy, an old woman in worn out clothes who cleaned the place. Seeing Raghda, Um Fathy gave a warm smile and invited her to meet her children who were the same age.
She was taken aback by the kind invitation and accepted. As she stepped into Um Fathy's home, she found it was nothing more than a small room with no floor, four bare walls, and seven children "miraculously" – as Raghda puts it – crammed inside.
Raghda's feet sunk into the mud, and she felt uncomfortable in the crowded heat. Um Fathy asked the little girl what was wrong and Raghda told her she missed the cool breeze of the AC. The old woman asked Raghda to tell her about what else was valuable to a girl of 12. Raghda spoke of toys, clothes, and her most prized possessions.
When she finished, Um Fathy asked, "Is that all you have?" Raghda nodded.
"Look up", Um Fathy said. And when she did, Raghda saw the sky – the house had no ceiling…
Raghda returned to Cairo with questions spinning in her mind: How many people take for granted something as basic as a roof over their head? How can someone live without a ceiling above them?
This moment stayed with Raghda for the rest of her life, motivating her to volunteer for many good causes and, ultimately, set up Alashanek ya Balady.
For me, the story is symbolic of the spark needed to ignite civic engagement.
It's an allegory teaching us that civic engagement is about looking outside the four walls of your life, about looking up and seeing you have no ceiling above you, that you have no limits. It shows us there's more to life than possessions; that true value in this world lies in people.
Look up.
These are Um Fathy's words, and I want you to remember them.
Because inside each and every one of us is the ability to look beyond ourselves and improve our societies for the better. That means accepting responsibility for our communities. It means recognizing we are part of a social web larger than ourselves… that social problems are our problems, too.
But, for that to happen, we need a sense of belonging in our societies, and a sense that our societies belong to us. And that's citizenship. Not just being a resident… not just having rights… but sharing a sense of duty and pride in promoting the common good.
The Ancient Greeks understood that citizenship was necessary for progress. A man demonstrated his true worth when he participated in his community; for them, bearing social obligations in the end bestowed personal benefits.
Do you know what they called you when you neglected your civic duties? An idions. From which we get the word "idiot".
Now, the Greeks weren't perfect – for one, women weren't citizens … which might explain why Athens and Sparta ultimately fell!
But this idea of having the power to shape our societies is
essential. Because they are our societies. Each of us is a part of them, not apart from them.
In fact, this is a quintessentially Arab idea. As Al Mutannabi once wrote:
ولم أر في عيوب النـاس شيئـاكنقص القادريـن علـى التمـام
To translate: there's no greater failing than having the potential to accomplish more yet settling for less. Deeply rooted in our culture, for hundreds of years, is this principle of civic engagement.
But, if you looked at the Arab world today, you'd be forgiven for asking what happened to this principle. Too often, it seems our citizenship is spelt with an "S". We sit still. We sit back. We sit on the sidelines.
I'm tired of the Middle East being perceived as a fractious, fragmented region, when we're renowned for our loving devotion to our families.
I'm tired of the Middle East appearing more eager to point fingers, when our culture is built on a foundation of compassion and charity.
We, as Arabs, are passionate about so many things -food, football, family,
فلسطين
and I love this about us. But we don't seem to direct our energy to our common future. The result is we talk the good talk, waiting for things to get better.
But there's no time to wait! Our region is fraught with crises.
Conflict. Injustice. Occupation.
Growing poverty. Women's inequality. Water scarcity.
School systems that fail our children. Unemployment that creates lost generations.
Our precious faith, Islam, under siege from within and without.
That's a list most civilizations around the world would struggle with, but the enormity of the challenge shouldn't daunt us. It should embolden us to aim high, to look up at the open sky of possibilities and potential.
In Jordan last year, we held a contest called Ahel al Himmeh to recognize people doing just that -- the unsung heroes of our country, ordinary men and women who are looking up and lifting their communities.
People like Sweilem Rihani, who was diagnosed with cancer when he was just 15. Imagine how he must've felt: the shock of realizing your life could end so soon; the loneliness, confusion, and fear.
As he endured painful trials and treatments, Sweilem desperately needed someone to talk to, to lean on. He needed to share his feelings with someone who spoke the language of first-hand experience. He needed emotional support.
But cancer isn't a word you speak in this part of the world. السرطان. It's a word clouded in superstition. It sends chills down our spines. It's almost taboo.
Sweilem realized we shouldn't be afraid to speak its name. He understood how important it was to dominate and defeat the disease, not just deafen our ears to it, and sweep it under the rug of social discourse.
So, once he was well, he started volunteering, holding the hands of cancer patients and providing that voice of support. Today, 21 years old, he helps young patients cope with their trauma. He returns to the place that most of us would never want to see again. He returns to the place where sickness is a constant, and takes with him hope and healing.
He won a generous prize from Ahel al Himmeh, and he gave it all to the King Hussein Cancer Center. Now, Sweilem manages 60 volunteers from eight different universities so children can have a voice of encouragement, a companion to confide in; so they never have to feel alone with their fear.
Raghda. Sweilem. People like them aren't unheard of in our region. I'm sure you know someone who went out and saw beyond the four walls of their life; they saw there was no ceiling; they saw they could make a difference.
We need more of them. And our universities must be incubators of this social blue sky thinking.
Here in AUC, you know that learning and civic engagement are mutually reinforcing.
You have a school that is putting a premium on community service, so social practice takes its place alongside academic theory. You have clubs and groups to join, providing a meaningful path to give back.
But more universities need to follow your lead.
We need more schools to integrate public service into their curricula… so students can balance their quest for a career with their call to help others.
We need more schools to give credit for community service the same as coursework… so the value of volunteering reaches all students.
We need more schools to launch campus-wide clearinghouses for volunteers… so every student can find an opportunity to engage with their community.
And we need more students to recognize the value of civic engagement – both in terms of what it can do for our communities, and also what it can do for each of you.
Think about it. You've come to college so you can prepare for a career. But what are employers looking for in a modern-day employee? Teamwork. Leadership. Communication. Problem solving. Adaptability. Ethics. An open mind. Skills you learn by engaging with people, especially people who are different from you. Perspectives you gain by challenging yourself to reach beyond the boundaries of your own experience.
Together, you have so much to share. So much to teach. So much to learn. As members of the largest youth cohort in this region's history, you're an unstoppable force that will ultimately decide and transform the future of the Middle East.
And there's a bonus, too: helping others makes you happier and healthier. Scientists call it the "helper's high." And trust me, it can be addictive!
When you add all that up, the real question becomes, what are we waiting for? None of us can hope to fix everything… but each of us can do
something.
Start small. Start close. Look around for things you wish someone would improve. And then ask yourself, is it possible that the "someone" could be me?
The someone who helps kids cross the road to school in your neighborhood; the someone who mobilizes businesses to fix up a school in disrepair; the someone who teaches the illiterate mother next door to read.
Whatever it is, you can be the spark, the one who sets the change in motion.
And together, you can be the generation who looks up, reaches out, and lifts our region.
Let this be your AUC legacy.
Thank you very much.

Queen Rania's official website
This website does not support old browsers. To view this website, Please upgrade your browser to IE 9 or greater
Your browser is out of date. It has known security flaws and may not display all features of this and other websites. Learn how to update your browser