Queen Rania Attends the Launch of the Arabic Edition of UNESCO's Flagship Publication Education for All Global Monitoring Report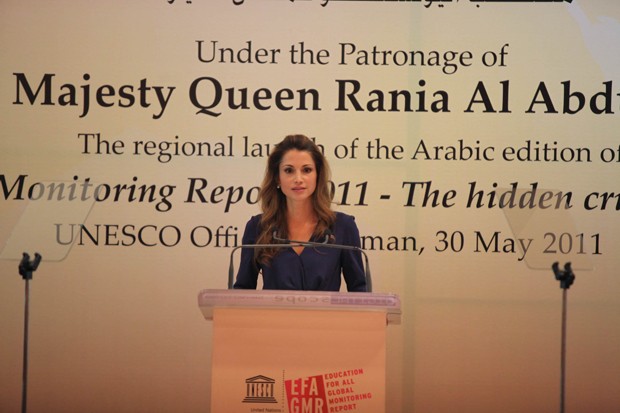 (Office of Her Majesty, Press Department- Amman) – Under the patronage of Her Majesty Queen Rania Al Abdullah, UNESCO Office in Amman launched today the Arabic edition of the organization's flagship publication Education for All Global Monitoring Report, focusing this year on the theme of "The hidden crisis: Armed conflict and education"

Her Majesty stressed the importance of education and the fragility of schools and primary students, as they tend to suffer the first effects of any armed conflict adding that: 'our duty is to make sure the current regional unrest does not impede our children's future.'

Speaking about the situation in the region, Queen Rania emphasized that there are more than a million out of school children in Yemen, more than a hundred thousand in Palestine, and more than five hundred thousand in Iraq.

The Queen urged that education always be a priority and should not lose its value at times of conflict, lack of security and economic difficulty.

Her Majesty stressed that human security can only be achieved 'if people are equipped with an education allows them to overcome any challenges they may face.'

'There are millions of children in need of a chance at a decent living, at an education that opens doors they need to dream, aspire and then realize their ambitions.' Said the Queen.

The launch event was also attended by Her Royal Highness Princess Sumaya Bint El Hassan and Education Ministers from various Arab countries.

Armed conflict is robbing millions of children in the Arab States of an education by exposing them to widespread rape and other sexual violence, targeted attacks on schools and other human rights abuses, UNESCO's 2011 Global Monitoring Report warns.

The report, cautions that the world is not on track to achieve by 2015 the six Education for All goals that over 160 countries signed up to in 2000. Although there has been progress in many areas, most of the goals will be missed by a wide margin – and conflict is one of the major reasons.

The report is endorsed by four Nobel Peace Prize laureates: Oscar Arias Sánchez, Shirin Ebadi, José Ramos-Horta and Archbishop Desmond Tutu.

Of the total number of primary school age children in the world who are not enrolled in school, 42% – 28 million – live in poor countries affected by conflict.

The report sets out a comprehensive agenda for change, including tougher action against human rights violations, an overhaul of global aid priorities, strengthened rights for displaced people and more attention to the ways education failures can increase the risk of conflict.

'Armed conflict is an obstacle to human development in many parts of the world with far-reaching consequences on education' said Anna Paolini, UNESCO Representative to Jordan. 'The devastating impact of conflict on education, - also in countries not directly affected by conflict - is often ignored. This years' report documents the scale of this hidden crisis, identifies its root causes and offers solid proposals for change.'

'Children and education are not just getting caught in the cross-fire, they are increasingly the targets of violent conflict,' says the report's director, Kevin Watkins.' 'The failure of governments to protect human rights is causing children deep harm – and taking away their only chance of an education. It is time for the international community to bring to account the perpetrators of heinous crimes like systematic rape, and to back UN resolutions with decisive action.'

Armed conflict is also diverting public funds from education into military spending, the report warns. Many of the poorest countries spend significantly more on arms than on basic education.

Military spending is also diverting the resources of aid donor countries. It would take just six days of military spending by aid donors to close the US$16 billion Education for All external financing gap.
The world's refugees and internally displaced people face major barriers to education, the report warns. In camps in the Arab States run by the UN refugee agency, the average primary gross enrolment ratio in 2008 was 42%, and just 12% at the secondary level.

The findings of the Report were later discussed by a high level panel including ministers of education and UN representatives from Jordan and the region.


Queen Rania's official website
This website does not support old browsers. To view this website, Please upgrade your browser to IE 9 or greater
Your browser is out of date. It has known security flaws and may not display all features of this and other websites. Learn how to update your browser