Queen Rania Visits Al Badia Society for Women Development (Khashafiet Al Shawabkeh)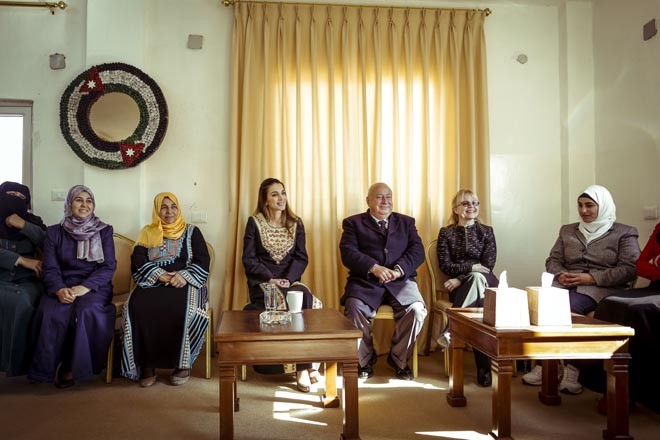 Her Majesty Queen Rania Al Abdullah visited today Al Badia Society for Women Development in Khashafiet Al Shawabkeh in Sahab district where she met with representatives from three local societies working on women empowerment and their economic development.
During the meeting, which was also attended by a number of beneficiaries, Queen Rania listened to a brief about Fida Jordan (FJ), a Finnish NGO that supported the establishment of several of those local societies.
Her Majesty discussed with the beneficiaries their successes that were achieved thanks to local societies' partnership with organizations such as FJ. Queen Rania also stressed the importance of promoting best practices in economic empowerment for women and discussed ways that encourage women to have an active role in the development of their communities.
The meeting was also attended by Katja Koykka, project coordinator of Fida Jordan, a Finnish non-governmental development organization operating in Jordan since 2004, with branches across 30 countries. Among its core beliefs, FJ firmly believes that poverty does not only mean the lack of financial resources but also the lack of knowledge.
Also during the meeting, Basema Shawabkeh, president of Al Badia Society, showcased their successes in training and awareness programs. Shawabkeh also highlighted the society's contribution in providing alternative sources of income for local women by selling handcrafts including accessories, jams and other homemade food items.
Dajana Al Saed, president of Hawd Al Kawthar Society, also said that the society's work in Hai Nazzal area was a positive contribution to the area's women, and that their partnership with FJ has facilitated the creation of workshops that train women on skills that include small business management, child care and lifestyle quality improvement.
Also in attendance was Haydar Halaseh, president of Ghosoon Al Rahma Society, who discussed how the society's work in Karak Governorate influenced women in Khashafiet Al Shawabkeh by allowing for trade between the women of the two areas.
He added that the society also works with children, youth and women by providing training and programs focused on tolerance, peace and acceptance. Instilling these values in children, he stressed, will pave the way for a generation that does not resort to violence for problem solving, behaviors that will reflect on the community as well.
Rasha Batarseh, local project coordinator of FJ, said that their core activities in Jordan included psychological, social, health or vocational training of local partners, as well as training and facilitating sustainable community development principles and practices.
Alien Omeish, training coordinator at FJ, briefed Her Majesty on their training programs and highlighted their aims to empower local communities by equipping people with knowledge to better serve their own communities more effectively.
During the visit, Her Majesty toured the society's beauty salon equipped by FJ, which trained eight women from the local community. Queen Rania also viewed handcrafts made by local women.
Her Majesty also toured a handmade artwork and accessories workshop for local women trained by Kais Karadsheh, owner of KK Handmade Artwork and Accessories. Karadsheh explained that the products were sold in several fairs in Amman and have generated extra income for the women. Mohamad Qudah, a student and one of the beneficiaries, explained that the training polished his skills and helped him earn extra income.
Her Majesty concluded her visit to Khashafiet Al Shawabkeh with a visit to the residence of Mrs. Enas Al Quda, a beneficiary and an active member of Al Badia Society. Mrs Al Quda, shared with Queen Rania her inspirational success story and how she was able, with the help of Al Badia Society and FJ, train in producing award-winning jams and pickles, contributing to the family income and eventually building a home.

Queen Rania's official website
This website does not support old browsers. To view this website, Please upgrade your browser to IE 9 or greater
Your browser is out of date. It has known security flaws and may not display all features of this and other websites. Learn how to update your browser