Queen Rania Meets with Representatives of Education Sector Stakeholders in Jordan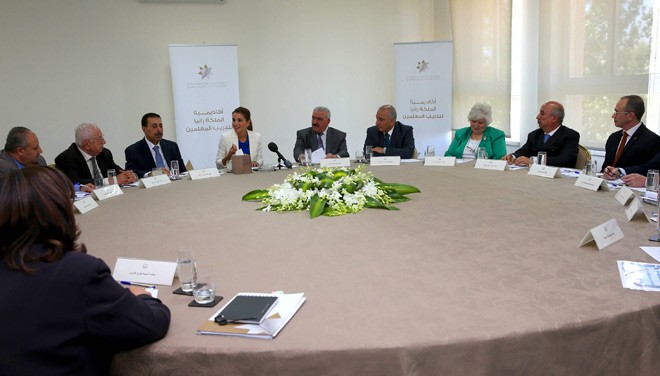 (Office of Her Majesty- Press Department- Amman) Her Majesty Queen Rania Al Abdullah met today with representatives of different education sector stakeholders in Jordan who shared with her the outcomes of the 2013 Teachers Conference, held Saturday, and organized by the Queen Rania Teacher Academy (QRTA).
Titled 'National and International Assessments of Students Learning: Strategies for Improving the Quality of Education in Jordan', the conference gathered 500 of Jordan's leading education practitioners, scholars, researchers and policy makers to discuss Jordan's results in international assessments of students learning, and associated implications.
In the meeting, attended by H.E. Dr. Mohamad Al Wahsh, Minister of Education and H.E. Dr. Marwan Kamal, Royal Education Commission member and President of Philadelphia University, H.E. Dr. Tayseer Nueimi, President of QRTA, gave a brief presentation on the Kingdom's most recent TIMMS, EGRA and EGMA exams results as well an analysis of the scores which shows a notable decline in student performance.
Her Majesty stressed the need to conduct regular assessments and evaluations to continuously improve the quality of education in Jordan, noting that yesterday's methodologies may not meet today's learning requirements or the labor market needs.
Her Majesty stressed the need for urgent action, "we need to make bold decisions and change our methodologies. All Jordanians want to see qualified and capable teachers in our classrooms; we can't afford to wait for years to provide our children with quality education. We won't sacrifice an entire generation just because we lack resources," the Queen said, adding that there are many success stories in schools across the Kingdom that can be replicated and scaled up.
Her Majesty commended the Ministry of Education (MoE) for their efforts despite the many challenges they face, noting that achieving quality education requires the active involvement of all stakeholders.
Also in the meeting, Mr. Haif Bannayan, CEO of QRTA talked about the conference's outcomes including a suggestion to adopt a national assessment system that aims to improve schools' performance and educational policies.
Minister of Education Mohamad Al Wahsh said that the Ministry has already put forward an educational reform plan which takes into account pre service and in service teacher training and teachers' hiring policies.
Mr. Sattam Awwad, Secretary General at the ministry said that their plan includes training teachers for a period of 4 months before they are hired, two of which consist of practical training.
The meeting was also attended by Ms. Suzan Ayari, Acting Office Director/Basic Education/Youth Office, USAID, H.E. Ms. Haifa Najjar, General Director of Al-Ahliyah School for Girls, Ms. Abla Zureikat, Royal Education Commission, Dr. Khleif Al Tarawneh, President of the University of Jordan, Ms. Manal Gadourah, Principal of Al Shifa'a Bent Oof School, Mr. Aarnout Brombacher, Senior Education Analyst, RTI International, Dr. Khattab Abu Libdeh, Educational Researcher at The National Center for Human Resources Development )NCHRD(, Dr. Abdullah Ababneh, Director of The National Center for Human Resources Development (NCHRD), Mr. Mohammad Al Zou'bi, Head of Educational Training Center at MoE, and Ms. Firyal Aqel, Head of Development Cooperation Unit, at MoE.
Featured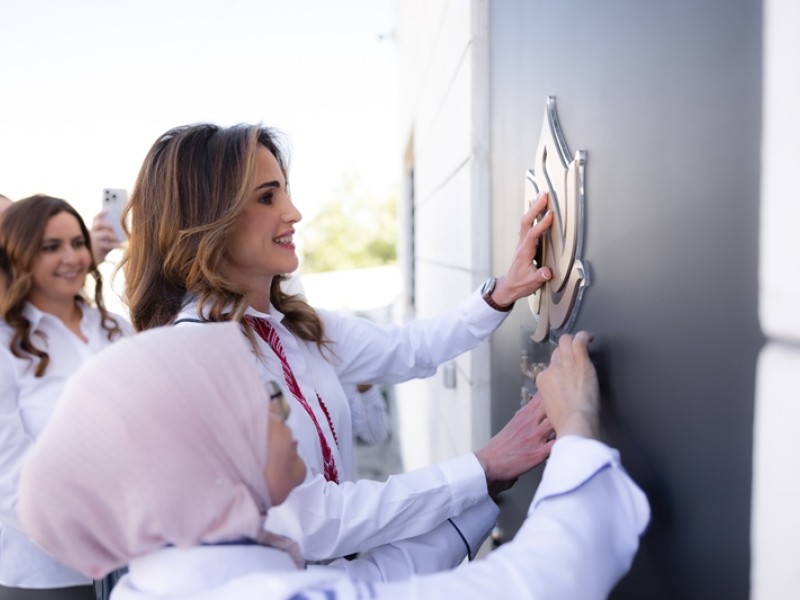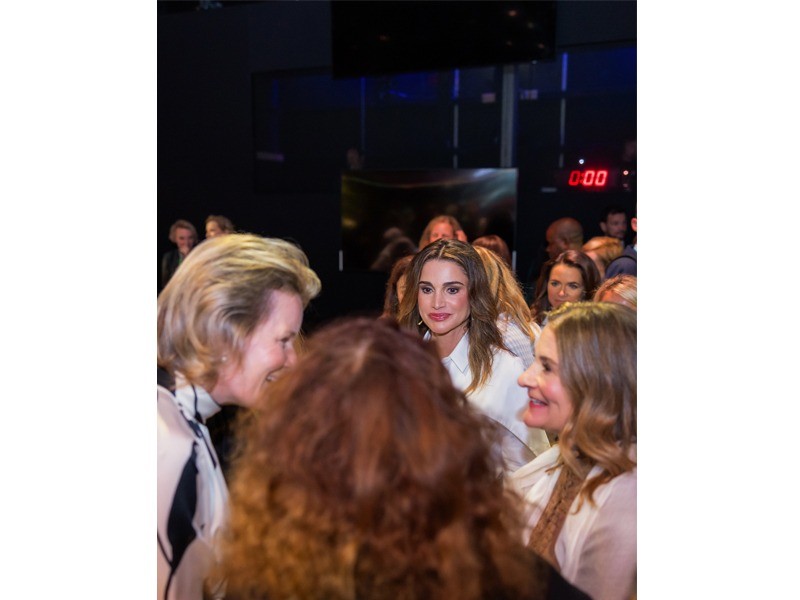 Queen Rania's official website
This website does not support old browsers. To view this website, Please upgrade your browser to IE 9 or greater
Your browser is out of date. It has known security flaws and may not display all features of this and other websites. Learn how to update your browser