Queen Rania Launches Madrasati Phase III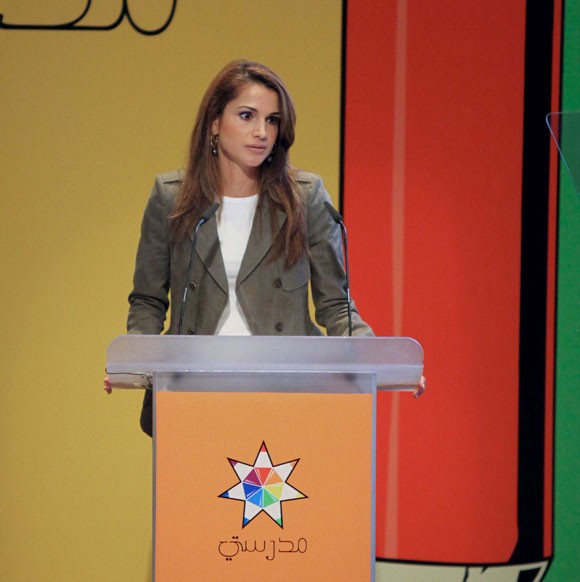 (Office of Her Majesty- Press Department- Amman) Her Majesty Queen Rania Al Abdullah announced, Wednesday, the launch of Madrasti phase III, which will renovate an additional 100 schools in the areas of Aqaba, Tafileh, Ma'an, and Karak.
In an address during the launch, attended by Prime Minister, Samir Rifai, a number of Ministers including the Minister of Education, Dr. Ibrahim Badran, major corporations, NGOs, media personalities, teachers and children, Queen Rania said: "A recent study on youth in the Arab world revealed that the number one concern for young people in Jordan is to enroll in reputable universities, yet, there is a huge gap between hope and reality; excellent colleges only accept excellent students."
"Education is what our youth need to build their future, it will always be, as it has always been, a priority in Jordan," Queen Rania continued.
Talking about the education challenges facing Jordan, Her Majesty said: " Lately, a lot of the problems in our education sector have made the headlines. Yes, we do face difficulties; the lack of belief that we all have a part to play, and a joint responsibility to improve education in Jordan."
Emphasizing the importance of building partnerships between all stakeholders, Queen Rania added: "Improving our education is a holistic and inter-linked process; it depends mainly on dialogue, transparency, and trust between the Ministry of Education, teachers, students and parents."
In her address, Dana Dajani, Madrasati's Director, said that Madrasati has, so far, reached 115,000 students in 200 schools. She also gave examples of the positive impact Madrasati has had on schools and students, such as notable declines in drop-out rates, and increases in schools' success rates.
Speaking about one of Madrasati's core elements, Dana Dajani asserted the importance of involving members from the local community and building partnerships with the public and private sectors. Up to now, Madrsasti has opened doors to 170 local committees, now taking active roles in schools, whether through organizing fundraising events, awareness sessions, or tutoring classes. Throughout these committees, Madrasati is now supported by 4 Government departments, 80 private sector companies, and 10 key NGOs.
To showcase how Madrasati can have an impact, Her Majesty, along with the attendees, watched a short film which shed light on the dilapidated conditions in schools to be included in Madrasati Phase III.
A panel discussion, moderated by Issa Nsheiwat from Madrasati, was also held later on during the ceremony. Speakers included Nadim Haddad, the Marketing Manager of the Central Trade & Auto Co. - Toyota, two students, and a teacher from Madrasati schools.
Drawing on their experiences with Madrasati, each of the panelists shared insights on how the initiative helped them realize their social responsibilities towards ensuring quality education in Jordan.
Earlier during the ceremony, Queen Rania met with students and teachers from Madrasati schools, phase III, as well as sponsors, and volunteers who all briefed Her Majesty about their involvement with Madrasati schools and the kind of activities in which they engage students.
Queen Rania was also briefed by Madrasati partners about the programs they implement in Madrasati schools, such as the RHAS's Healthy Schools Program, JRF's Safe Schools Program, UNICEF's Parents and Teachers Associations (PTA's) and Student Councils, JEI's Technology and Education program, and QRTA's teacher training workshops.
In star shaped booths, students expressed their schools' desire for repair through photos, drawings, and presentations prepared by the students.
Queen Rania also met with Madrasati phase III top sponsors, where she expressed her gratitude for their commitment and efforts to support the initiative and improve the environment of education in schools across the Kingdom.

Queen Rania's official website
This website does not support old browsers. To view this website, Please upgrade your browser to IE 9 or greater
Your browser is out of date. It has known security flaws and may not display all features of this and other websites. Learn how to update your browser