Queen Rania Launches Fourth Phase of Madrasati Initiative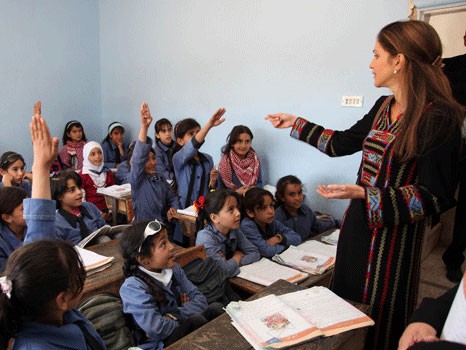 (Office of Her Majesty, Press Department- Al Mafraq) Her Majesty Queen Rania Al Abdullah visited three schools in Al Mafraq Governorate today, launching the fourth phase of the Queen's Madrasati Initiative. The latest expansion phase will cover 93 schools in the governorate.

At the Mafraq Secondary School for girls, Her Majesty stopped by several sessions of the Madrasati forum where the discussions revolved around developing the education sector in the area. Topics such as enhancing communication channels with the education directorates, teachers' roles, and health awareness in schools were discussed during the two-day forum.

An intergenerational dialogue session and a "Brain Camp" exercise also took place during the forum, where around 25 teachers engaged in a discussion aimed at providing the participants with proper tools for critical thinking through interactive activities and exercises.

Speaking at the sessions, Queen Rania shared the importance that His Majesty King Abdullah II places on education, and conveyed his regards and pride in the people of Mafraq. She also added that "His Majesty has always stressed that Al Mafraq should represent a role model in economic development, and we hope it can be the same in education."

Her Majesty highlighted the importance of developing the education sector, on both the infrastructure and curriculum levels. The Queen urged all parties involved, including teachers, students and government officials to keep communication channels open between them to facilitate and guarantee improvements and advancements in the sector.

The Queen focused on the fact that despite the challenges and poor infrastructure in some of the schools she visited teachers still managed to come up with creative methods to inspire and educate their pupils, adding that "such dedicated teachers are an inspiration to us all."

Speaking about Madrasati, Her Majesty explained that the real value in the initiative lies in the fact that in addition to refurbishment and renovation of the physical environment of schools, it provides personalized and catered extracurricular and educational programs based on the schools' needs.

The forum was attended by several heads of Al Mafraq Education Directorates, heads of extra curricula, training and counseling sections, teachers and students.

At The King Abdullah II coed Primary School, Her Majesty toured the classrooms and playground and was briefed by Eng. Osama Maghaida, Director of Public Buildings Department at the Ministry of Public Works and Housing, on the different renovations that will be done in the school.

Accompanied by H.E Dr. Tayseer Al Noaimi, Minister of Education and Danah Dajani, Madrasati Director, Her Majesty also toured the "Hay Al Iskan" Primary School. Visiting several classrooms, the Queen was briefed on the infrastructure works that are planned for this school as part of Madrasati's fourth phase.

To date, Madrasati has fully renovated 300 schools in Amman, Zarqa, Balqaa, Jerash, Ajloun, Madaba, Karak, Ma'an, Tafileh and Aqaba according to plan.

Madrasati Phase IV will include 93 schools in Al Mafraq, effecting the lives of approximately 22,000 students and about 1,400 teachers in three districts: Qasabeh (28 schools), Badyeh South-East (20 schools) and Badyeh South-West (46 schools).

Programs implemented by partner organizations in Madrasati schools include RHAS's Healthy Schools Program, JRF's Safe Schools Program and Better Parenting, JEI's Technology and Education program, QRTA's teacher training workshops, teacher training on various non academic subjects – CADRE, Brain Camp for teachers and students, Sports for Development, community service and volunteering by Madrasati Volunteering Program, and extra curricula activities by Madrasati and various NGOs and CBOs.

Concluding her visit, Her Majesty joined about 350 students from across Al Mafraq for a Mansaf lunch, which included informal discussions with the students who talked to Her Majesty about their hopes and aspirations for their schools.


Queen Rania's official website
This website does not support old browsers. To view this website, Please upgrade your browser to IE 9 or greater
Your browser is out of date. It has known security flaws and may not display all features of this and other websites. Learn how to update your browser