Queen Rania Visits Al Karak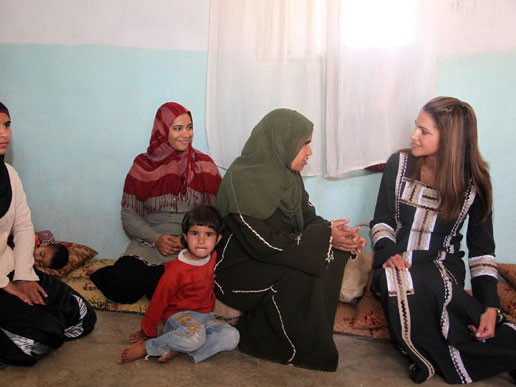 (Office of Her Majesty, Press Department- Karak) Her Majesty Queen Rania Al Abdullah visited Al Karak today, dropping in on Al Rashidieh Elementary Coed School before having lunch with a group of local women, from different walks of life. Her Majesty was greeted with cheers as she toured an exhibition of products including traditional Jordanian dresses, fooditems, and carpentry, produced by six local community based organizations.
At the exhibition which took place at the Al Karak Governate main building, Her Majesty talked to several local women, about their organizations and the products. Her Majesty also discussed with the participants the possibilities and opportunities to promote and sell these products, as money generating projects that can help the families and communities they live in at large. Her Majesty was accompanied by Mr Ali Sharaa Al Karak's Governor.
After the exhibition Her Majesty hosted a lunch for a group of women from Al Karak, during which Her Majesty conveyed His Majesty King Abdullah's greetings to the people of Al Karak. Her Majesty expressed Her excitement and happiness to be amongst the women of al Karak, saying that the people of Al Karak are unique in their traits, "especially the Kararki women who are known for their will, confidence, strength and determination" Her Majesty also said that she's proud of all the Karaki achievements and that she draws from them "inspiration and hope for women's advancement in our society and their important role."
Al Karak Governer on the other hand thanked Her Majesty for Her visit, and commended the Royal initiatives that benefited all Jordanian governorates. Prior to the Lunch her Majesty went on a visit to Al Rashidieh Elementary Coed School one of the beneficiary schools of the Madrasati Initiative, where construction work has already begun to improve the school's facilities, and structures. The work comes as part of the third and largest phase of the Madrasati Initiative.
As part of Her visit to the school Her Majesty toured the school's facilities accompanied by Ms. Danah Dajani, head of the Madrasati Initiative and Ms. Rima Zureikat, the school's Principle.
The tour included a small room that will be transformed into a library, a classroom where six Madrasati volunteers briefed Her Majesty about their work in the south, Her Majesty also spoke with the school's local committee consisting of students, teachers, community members, and parents, about the priorities and needs for programs in the school, which Madrasati is in the process of implementing.

Queen Rania's official website
This website does not support old browsers. To view this website, Please upgrade your browser to IE 9 or greater
Your browser is out of date. It has known security flaws and may not display all features of this and other websites. Learn how to update your browser