Queen Rania Patronages INJAZ Student Company Competition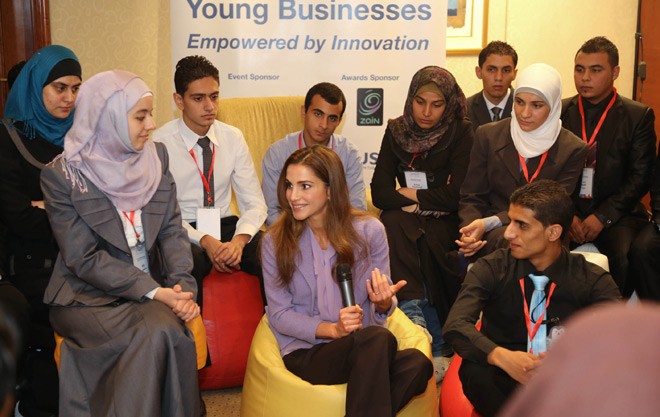 (Office of Her Majesty, Press Department- Amman) - Her Majesty Queen Rania Al Abdullah opened today the INJAZ student company competition trade-fair in Amman, and met with a group of participating students representing each of the competing companies. The competition is part of the INJAZ Company Program, which is implemented in cooperation with the Ministry of Planning and International Cooperation (MoPIC) at ten public universities in Jordan.
The program aims to promote self-employment and encourage job creation in Jordan by developing the entrepreneurial capacity of young Jordanians and enhancing their business skills. It is designed to teach students with no entrepreneurial knowledge how to start companies, walk them through the process of raising funds, product design, production and marketing and transform them from job seekers to job creators.
"In light of the unemployment challenge that we face around the world, vacancies are no longer waiting for someone to fill them, so one must stand out of the crowd with skills and experience that can set you apart," Her Majesty told the students.
Her Majesty, who patronized the launch of INJAZ in 2001, toured the trade-fair, where 50 student companies showcased their company products. The varied products on display ranged from devices to remove oily stains, to advanced medicine boxes, to general maintenance services.
The student companies are competing for nine different awards, including best CEO, best overall company and best product.
Following the tour, Her Majesty met with a group of 50 students, (CEOs of the student companies represented) for an informal discussion about their experience in the competition and how it impacted them individually.
The Queen commended the youths' entrepreneurial spirit, and congratulated them on the success of their companies, stressing that they are all winners by the new skills they gained that will distinguish them amongst their peers in the competitive labour market and will surely open doors for them in the future.
"Our society and economy is in dire need for those who create their own opportunities instead of waiting for them or relying on others to create them," said the Queen adding that "we look forward to a young generation that isn't afraid of repeated attempts and turns unsuccessful experiences into lessons for success".
To date, more than a thousand students participated in the program, and 14 companies have actually been registered at the Ministry of Trade and Industry, demonstrating the seriousness of these student initiatives.
The Student Company program also works to engage the private sector and utilize its knowledge, expertise and skills in preparing graduates to become entrepreneurs.
The course is conducted in ten public universities around Jordan with the goal to create up to a 150 Student Companies in three years by providing students with hands-on entrepreneurial and business training, and to supervise the implementation (establishment) of their companies, in addition to providing them with opportunities to grow their own companies.
--- END ---

About INJAZ
INJAZ was launched in 2001 as an independent non-profit Jordanian organization under the patronage of Her Majesty Queen Rania Al Abdullah with the mission to inspire and prepare young Jordanians to become productive members in their society and succeed in the global economy. Since its inception, INJAZ has successfully reached over 600,000 beneficiaries across the kingdom through its network of dedicated volunteers, with the support of its partners from the private and public sectors and in full coordination with the Ministry of Education. INJAZ is also a member of Junior Achievement Worldwide, a leading global youth organization.

Queen Rania's official website
This website does not support old browsers. To view this website, Please upgrade your browser to IE 9 or greater
Your browser is out of date. It has known security flaws and may not display all features of this and other websites. Learn how to update your browser