Queen Rania's Speech at Global Education First Reception-Learning Metrics Task Force - NY, USA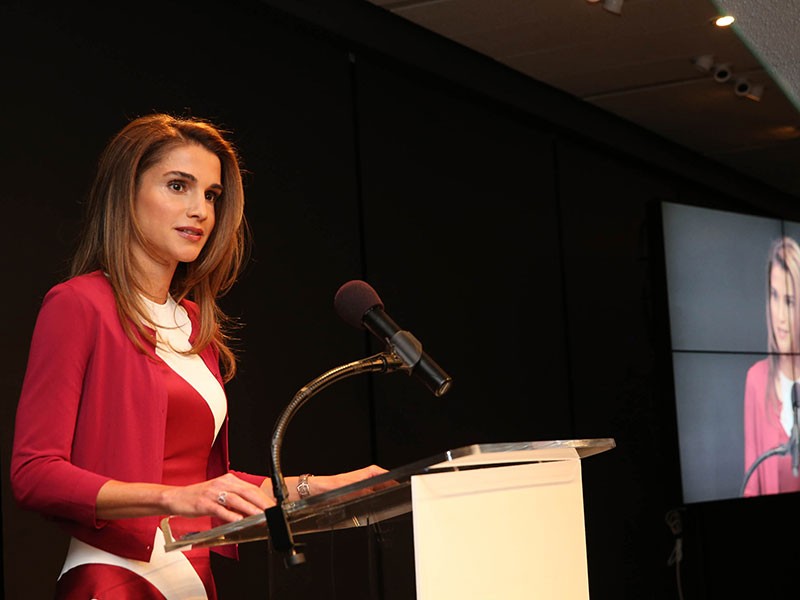 Thank you, Geeta.
I'm humbled to be standing beside so many global education champions and leaders…

Individually and collectively your efforts are, quite literally, changing the lives of children for the better. And, when added to the legacy of Jomtien and Dakar, there's a lot of progress in education of which we can all be proud.
More and more children now experience the thrill of the school day. More girls swap brooms for books. More children with disabilities are included. More children receive vocational training.

And, for over 20 years, 'more' was what mattered. 'More' was all that we measured. Despite recognizing, in Jomtien and Dakar, the importance of learning.

But, on its own, 'more'… is less.

Because the measure of success is not only how many children enroll in school, but also, what they learn there. That's what counts.

Sadly, in too many places, access to learning has come at the expense of actual learning.

Let me ask you this. If you showed up to work on time every day, met all your deadlines, gave it your best effort, only to be told that you will not get paid… returning home day in day out empty handed, will you not eventually quit?

Of course you will.

Well, it's the same with schools...especially schools in the most impoverished areas…where expectations for what education can achieve are high.

If poor parents are encouraged to make sacrifices and send their children to school on the promise of a better future… if those children leave school empty handed, unable to read or write after three or four years… unable to improve their economic prospects and those of their families…then, not unreasonably, disillusionment and disappointment set in.

But that's not the worst of it.

The greatest risk is that children drop out of class. Girls are pulled out first. Parents are reluctant to send younger siblings to school. Enrollment rates decline. The foundations for post-primary learning aren't secured. And the progress for which we have all fought so hard unravels fast.

We must not allow that to happen. We've come too far to falter now. We've raised the hopes of millions of children and parents who believe that education is a passport to economic growth… a shield against malnutrition and disease…and a stepping stone towards peace. Because that's what we told them.

So, how do we improve learning and re-energize our education goals now and into the future?

Maya Angelou, once said, "When you know better, you do better."

Better knowledge. Better metrics. Better measurement. That's the premise of the Learning Metrics Task Force.

The metrics which the Task Force are collating will help the education community and national governments to "know better" what's learned from early childhood to lower secondary and how it's measured.

And the timing couldn't be more critical…
The post-2015 High Level Panel recommends that equitable learning is at the heart of any new set of targets. We urge that they include all children, youth and adults… at all levels of education and training…and leave no one behind. And we call for a data revolution to better inform progress. The Learning Metrics Task Force is one of the keys that can help turn our post-2015 ambitions into lasting actions especially if they are expanded to include all levels of learning, including vocational and workforce skills.

Ladies and gentlemen, with investment, will, metrics and leadership, we can move beyond access… to access plus learning.

And, finally, a note from someone living in a region where too many children are deprived of learning and denied opportunity through no fault of their own. Let's ensure that new metrics measure learning amongst the most marginalized: girls…the impoverished…those living in conflict and fragile states. For it is in these groups, that education can have the greatest impact and lift the most lives.

Working together, we can enroll more children in school, even as we improve the quality of their learning. Let's make 'more' really mean 'more'…more equality, more stability, and more opportunity for all.

Today's gathering is a good place for the first lesson.

Queen Rania's official website
This website does not support old browsers. To view this website, Please upgrade your browser to IE 9 or greater
Your browser is out of date. It has known security flaws and may not display all features of this and other websites. Learn how to update your browser