Queen Rania Highlights Arab Women's Unique Challenges at HeForShe IMPACT Summit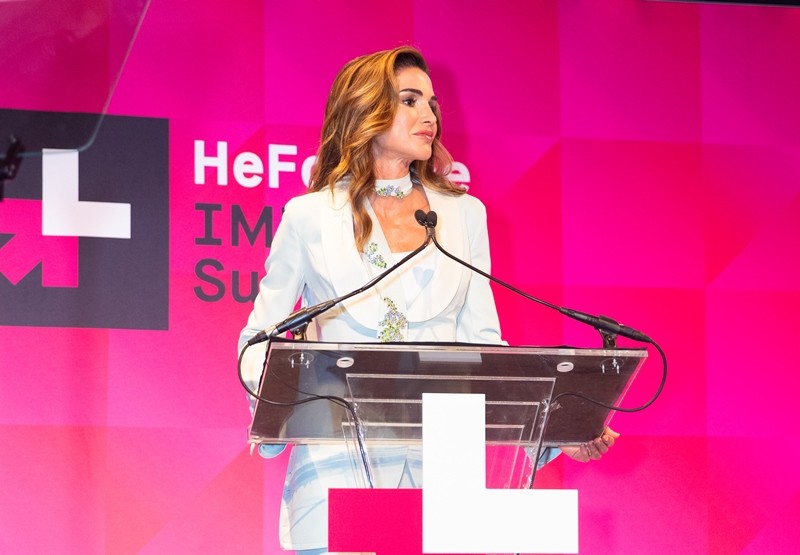 (Office of Her Majesty – Press Department – New York City) - Her Majesty Queen Rania Al Abdullah called for increased attention to the challenges faced by Arab women, hailing their "spirit of steel" despite their difficult circumstances.
Speaking at the HeForShe IMPACT Summit in New York on Wednesday on the sidelines of the 73rd session of the UN General Assembly, Her Majesty explained that women are not only disproportionately affected by crises, but that during times of turmoil "women slip off national agendas, increasing the gap between hardship and hope."
An initiative of UN Women, HeForShe recognizes men and boys as partners for women's rights, and highlights the ways in which all people benefit from gender equality.
Commending HeForShe for "awakening women and men to the promise of new horizons," the Queen asserted that gender inequality remains a global problem.
"As someone who travels between East and West, hearing women's stories, I can tell you: when it comes to the issue of women's empowerment, distances shrink and differences fade," Her Majesty said.
Queen Rania noted that women everywhere are on the same page when it comes to the universal frustrations they face, including balancing motherhood with a career, seeing male colleagues paid more for the same job, and needing to "work twice as hard to get half the recognition."
"On top of these universal challenges, women in my region face another heartbreaking set of hurdles," she stated. "Through civil war and armed conflict, unemployment and forced displacement, Arab women are digging deep to hold their families together in the most testing conditions."
Paying tribute to Arab women's determination, Her Majesty shared the positive example of Jordanian digital platform, SitatByoot, which helps women working from home find jobs and market their skills.
"Empowerment is contagious – I see it lighting up the faces of our youngest girls," Queen Rania said. "It's what I call 'the reverse domino effect': lift up one woman, and she'll lift up others, who lift up more."
Notwithstanding recent strides in women's health and education, "there's a reason our region came last in the World Economic Forum's recent Gender Gap Report," Her Majesty added.
The Queen concluded her remarks by urging her audience to reach over borders and boundaries and "pull up women weighed down by hurdles."
The HeForShe IMPACT Summit convened world leaders, global CEOs, university presidents, and public-sector leaders to share groundbreaking practices and concrete solutions towards the achievement of gender equality.
Other speakers at the event included the presidents of Finland, Rwanda, Iceland, and Malawi, as well as actress and UN Women Global Goodwill Ambassador, Anne Hathaway, and actor and activist, Winston Duke.
Since its launch in 2014, the HeForShe solidarity movement has mobilized 1.7 million men as advocates for gender equality, and generated more than 1.3 billion conversations on social media.

Queen Rania's official website
This website does not support old browsers. To view this website, Please upgrade your browser to IE 9 or greater
Your browser is out of date. It has known security flaws and may not display all features of this and other websites. Learn how to update your browser