Queen Rania Attends 6th Jordan Volunteers Forum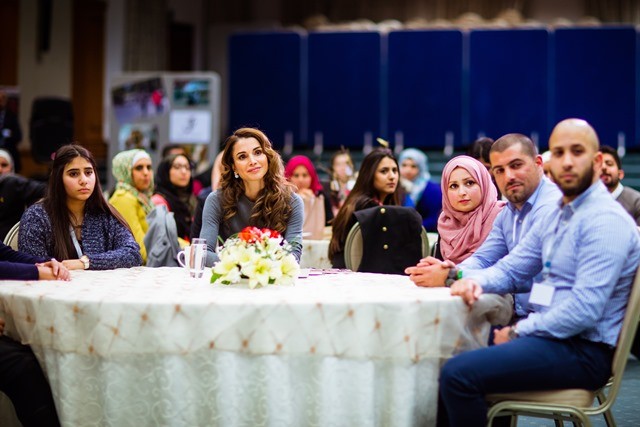 (Office of Her Majesty – Press Department – Amman) Her Majesty Queen Rania Al Abdullah said that the good citizenship, loyalty and kindness of Jordanians are among the most important factors in bringing about positive change in their communities. She made these statements while attending the launch of the '6th Jordan Volunteers Forum' on Wednesday at the Royal Cultural Center.

The forum highlighted the accomplishments of 'Jordan Volunteers' over the past year as well as the group's online and offline initiatives, which are reaching a wider network of volunteers and beneficiaries.
Her Majesty said she was proud of the young volunteers and delighted with their initiatives that have institutionalized the concept of volunteerism in the country.
'Jordan Volunteers' President, Dr. Motasem Masalmeh, and its Founder Mohammad Jaber, discussed with Her Majesty their newly launched services, which include a smart phone application that makes finding nearby voluntary activities easy in all governorates.
The platform also sends reminders of events, as well as useful tips about volunteerism.
While at the forum, Queen Rania browsed 'Jordan Volunteers' online platform, which gives members in different governorates access to courses in voluntary work. These online courses are designed to enhance their skills and abilities.
Her Majesty also listened to a brief about the forum, which included overviews of the members' initiatives, their goals, and how they would like to see the future of volunteerism evolve. The brief was followed by a short film highlighting the success story of one of the group's humanitarian initiatives.

Members of the group gifted Her Majesty a copy of a book tilted 'Jordan Volunteers Experience.' The book, written by the group's members is about volunteer work in Jordan.
Since its launch in 2009, 33,000 members have joined 'Jordan Volunteers' and have been able to organize hundreds of volunteer activities in different sectors. The elderly, orphans, people with disabilities, and pediatric cancer patients are among the group's beneficiaries. 'Jordan Volunteers' is registered as a non-profit company under the Ministry of Trade and Industry.

Queen Rania's official website
This website does not support old browsers. To view this website, Please upgrade your browser to IE 9 or greater
Your browser is out of date. It has known security flaws and may not display all features of this and other websites. Learn how to update your browser