Queen Rania Celebrates Holiday Season at Jordanian Interfaith Coexistence Research Centre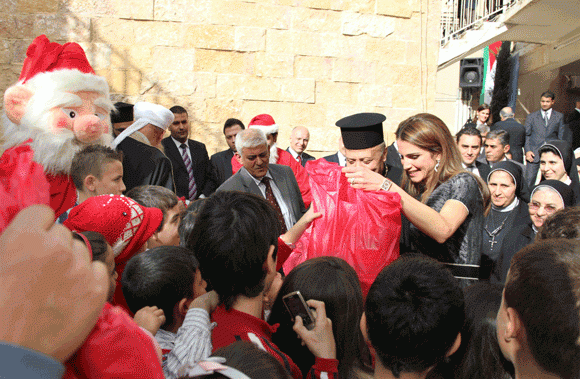 (Office of Her Majesty- Press Department- Amman) Over the past few years, Her Majesty Queen Rania Al Abdullah has done much to encourage cross cultural and interfaith dialogue across the globe, highlighting areas of convergence between different cultures and religious traditions, particularly Islam and Christianity.

Marking this year's Christmas holiday season, the Queen today joined a diverse group of religious leaders at the Jordanian Interfaith Coexistence Research Centre (JICRC), demonstrating the bonds existing between different faiths in Jordan.

Accompanied by Father Nabil Haddad, Queen Rania was briefed on the center's activities which include programs focused on raising inter-religious tolerance and understanding between faiths.

During the meeting, Father Nabil explained JIRC regularly hosts western groups visiting Jordan, and develops educational exchange programs to promote values of peaceful interfaith coexistence.

Recently, JIRC's Coexistence Exchange program for Imams, sent a delegation of religious leaders to the United States. During their stay, Father Nabil explained, the imams met with different American families and visited different mosques and churches.

Queen Rania was also briefed on the center's Youth Coexistence Exchange program, committed to educating young people on interfaith values of human dignity and respect.
A group of students, who recently benefited from the exchange program, told the Queen they had gained significant insight into Jordanian, Arab and American cultures by participating in the program.

In addition, the Sisters of the Rosary Society, a religious community founded by Sister Marie Alphonsine, also briefed Queen Rania on their charitable work in Jordan and the Rosary College established sixty years ago in Amman.

Also today, Her Majesty stood by the center's Christmas tree just as it was being ignited. As the switch was flipped, the tree glittered with fairy lights and seasonal decorations, while Christmas carols sparked a warm and jovial atmosphere.

With Christians and Muslims standing together to celebrate the occasion, Her Majesty then joined Santa Claus as he donated little gifts to children playing in the center's garden.

The Jordanian Coexistence Center was established in 2003 as a non-governmental organization devoted to promoting mutual respect and coexistence among followers of different religions in the Middle East and throughout the world.

The church adjacent to the centre, which Father Nabil described as being the oldest cathedral in Jordan, was also visited by His Majesty late King Abdullah I.

Queen Rania's official website
This website does not support old browsers. To view this website, Please upgrade your browser to IE 9 or greater
Your browser is out of date. It has known security flaws and may not display all features of this and other websites. Learn how to update your browser