Queen Rania Attends 4th International Olympic Committee World Conference on Women and Sport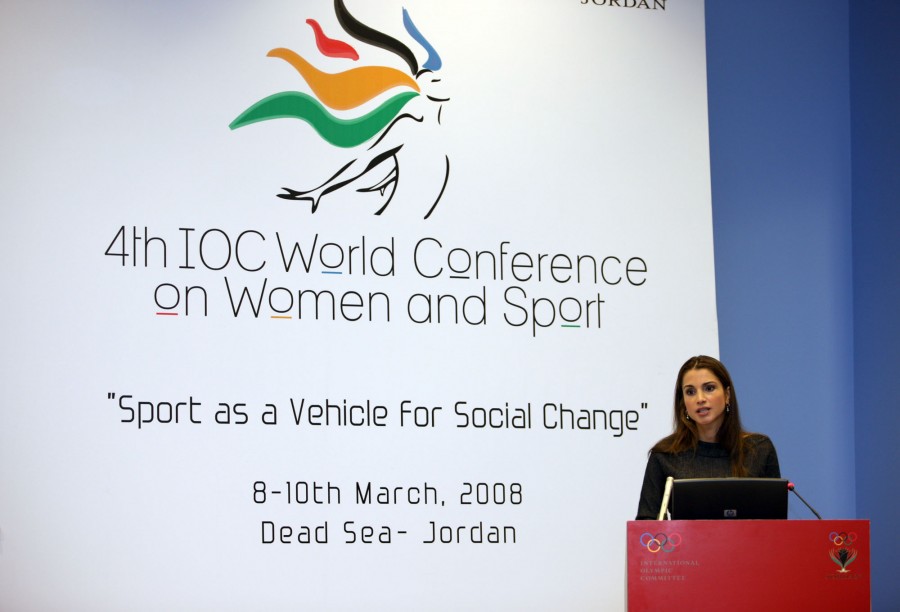 (Jordan Times, Roufan Nahhas - Dead Sea) The three-day 4th International Olympic Committee (IOC) World Conference on Women and Sport held under the patronage of Their Majesties King Abdullah and Queen Rania concluded on Monday with the participation of more than 500 delegates from 150 countries at the King Hussein Ben Talal Convention Centre.

Her Majesty Queen Rania discussed the role played by women in developing sports.

Queen Rania highlighted the benefits that can be realised through sport, saying that sport is an opportunity for equality and breaking gender barriers to develop a sense of community and help in raising awareness among youth of the importance of healthy habits.

The Queen referred to the role of sport in addressing some of the negative habits such as overweight, drugs and other social problems.

The world is plagued by many challenges and women are able to play a big role in conquering these obstacles and reach the result they aspire, Queen Rania said.

"Women's empowerment is a pivotal process in achieving the goals set by the United Nations," she said.

Developing sports could be one of these goals, said the Queen.

"Women dedication and commitment in sport is truly remarkable, but of course there is still more work to be done and more challenges to overcome," she added.

Queen Rania thanked HRH Prince Feisal, president of the Jordan Olympic Committee (JOC), for his role.

"It is great to see all the women, taking part in the event, discuss important issues and exchange ideas," she said.

Meanwhile, Prince Feisal expressed his satisfaction with the event, held under the title "Sport as a Vehicle for Social Change", for the first time in the Kingdom.

"I am inspired by our work in the fight to improve the role of women in sport. For I now feel part of a global team, a talented, committed and inspirational team, your team, our team," Prince Feisal said.
"And it is clear that by working together as a team we will be able to achieve our targets more effectively," he added.

Prince Feisal said that there are some challenges to overcome.

"We need to increase the participation levels of women and girls in sport, increase their success rates in performance, increase the amount of media coverage they receive and increase their public and private funding," he said.

"These are universal targets with some universal solutions that can only succeed through local application; through your hard work," he added.

Prince Feisal stressed on the significance of this conference: "This conference has shown that none of us are alone in the execution of our campaigns and programmes. Over the last two days I hope that, like me, you have made many new friends and found like-minded colleagues in our common cause. I hope that, like me, you will feel reenergised and even more motivated to go back home and make change happen."

He also thanked everyone who made this event a successful one.

"I would like to extend my sincere gratitude to Their Majesties King Abdullah and Queen Rania for their patronage of this event. Also, my thanks go to IOC President Jacques Rogge, Anita de Frantz and our colleagues on the IOC Women and Sport Commission and all the speakers and contributors over the last few days. I would also like to thank Tommy Sitole and all his colleagues in the IOC who worked so tirelessly with my team at the JOC to make this event so successful," he said.

HRH Princess Rahma, president of the Jordan Gymnastics Federation, said that Jordanian women have worked successfully in achieving many goals especially in sports.

"Jordanian women sport movement started in 1950 and since then it continued to develop, reaching serious milestones regionally and internationally," she said.

Princess Rahma discussed the challenges facing women in sports and how to overcome these challenges and prove their role in sports through dedication and commitment.

Meanwhile, over 100 delegates attending the conference signed up to pre-conference workshops organised by the JOC and run by Olympic women champions and medallists.

Donna de Verona (USA double gold medallist, 400-metre individual medley and the 4x100 freestyle relay, Tokyo 1964), Mary Harvey (USA Women's Team Football gold medallist, Atlanta 1996) and Tanabe Yoko (Japan, double silver medallist Judo half-heavyweight division, Barcelona 1992 and Atlanta 1996) are among a high-level group of trainers who provided four workshops for delegates March 7-8, before the main conference began March 9.

"These training workshops by some of the most influential people in the women and sport movement were a great way to begin this historic conference. Having three women Olympic medallists to run the training shows that we are determined to lead by example when it comes to gender equality," Prince Feisal said

Jordan has been at the forefront of promoting the issue of women's participation in sports and Prince Feisal is a member of the IOC Women and Sport Commission.

Malaysian Minister of Youth and Sports Datuk Seri Azalina Othman Said won the 2008 IOC Women's and Sport Award.

In 2007, the IOC World Conference on Women and Sport was held in Morocco where 600 delegates from 137 countries and regions gathered under the theme "New Strategies, New Commitment".

Queen Rania's official website
This website does not support old browsers. To view this website, Please upgrade your browser to IE 9 or greater
Your browser is out of date. It has known security flaws and may not display all features of this and other websites. Learn how to update your browser