Under the Patronage of Queen Rania, Telecom Companies to Support Toll-free Family Support Helpline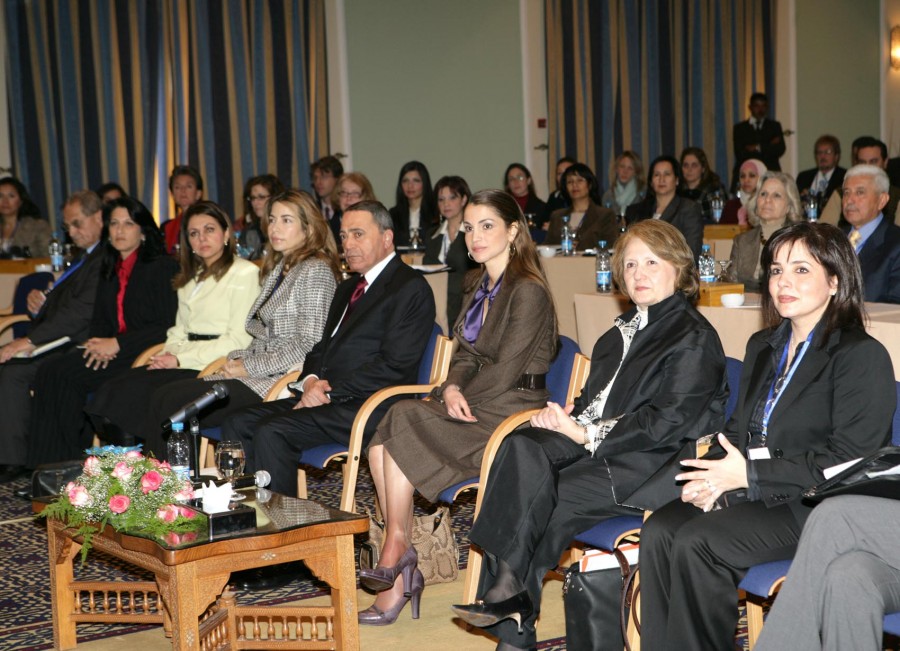 (Jordan Times - Amman) The country's five telecommunication companies came together under the patronage of Her Majesty Queen Rania on Tuesday to sign an agreement activating a toll-free Family Support Helpline.
The agreement was signed at the Building Public-Private Partnerships to Enhance Social and Economic Development Conference held at the Dead Sea to highlight corporate social responsibility and the importance of partnerships among different sectors.
The toll-free Family Support Helpline agreement, signed by representatives from Fastlink, MobileCom, Express, Umniah and Jordan Telecom, seeks to promote a culture of child safety and child rights.
The Jordan River Foundation (JRF) pioneered the initiative, "110 for families and children," which is intended to empower children and families by providing them with support and guidance.
Following the signing ceremony, Queen Rania met with the representatives of the five companies and exchanged viewpoints on their efforts in support of social and development programmes.
Queen Rania, who acted as patron at the launch of the helpline last June, has noting that it is an integral part of JRF's Child Safety Programme.
The foundation, chaired by Queen Rania, has been very active in setting up a toll-free line linking various institutions concerned with family and child protection in the country.
JRF Director Maha Khatib described the agreement as an important milestone within the overall initiative launched by Queen Rania to provide family and child support and protection.
Through the helpline, families can call for consultations on issues related to their children's development and children themselves can call for support and guidance.
A qualified team specialised in psychological counselling, child development, special education and social work services, will be charged with answering all calls.
Legal and medical consultations will also be available.
In addition, the helpline will run a referral service, linking families to existing services while collaborating with service providers on capacity building of staff, empowering and mobilising the existing organisations working in the field.
Partners in the initiative are the ministries of education, health and social development, the Judicial Council, the Higher Council for Youth, the National Council for Family Affairs, the Public Security Department, the Jordanian Hashemite Fund for Human Development, the Jordanian Women's Union, the Law Group for Human Rights and the Family Awareness and Guidance Centre.
During the first session of the two-day development conference organised by the Dead Sea Institute and Vital Voices, Prime Minister Marouf Bakhit said the government's development programme emphasises the partnership between the public and the private sectors through the social and economic initiatives launched in the country.
The premier highlighted His Majesty King Abdullah's efforts to enhance the country's investment environment in order to create new job opportunities and improve living standards.

Queen Rania's official website
This website does not support old browsers. To view this website, Please upgrade your browser to IE 9 or greater
Your browser is out of date. It has known security flaws and may not display all features of this and other websites. Learn how to update your browser