Queen Rania visits exemplary special needs integration programs in Hungarian school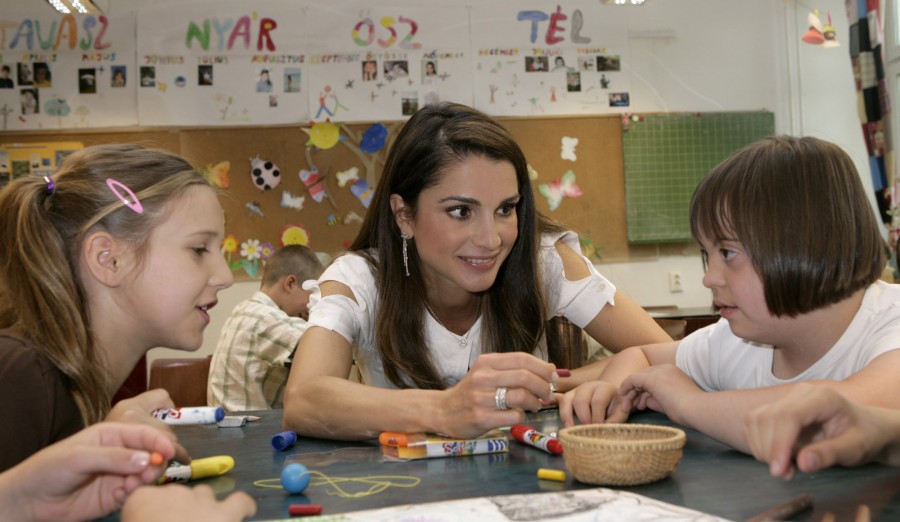 (Office of Her Majesty, Press Department - Budapest) A prominent advocate for providing equal access to quality education, Her Majesty Queen Rania Al Abdullah joined Hungarian First Lady Erzsebet Solyom for a visit to Gyermekek Haza, an exemplary school in Budapest that has worked to integrate special needs and disabled students into mainstream education.
As Queen Rania and the First Lady toured the facilities, Her Majesty commended the school's efforts to merge the students with special needs with their peers and noted her enthusiasm at seeing how helpful and supportive the students were with each other.
The Hungarian government has been working to integrate disabled students into mainstream education for this purpose since 1993 when they ordered that all schools in Hungary cater for disabled children. Previously they had to study at separate facilities.
The Gyermekek Haza, which translates to Children's House, was founded in 1991 and caters for 174 students, 30 of which are disabled. By allocating between 2 or 3 seats per classroom to special needs students, the school ensures that the students spend time with their peers and receive the same quality of education.
The two First Ladies spoke candidly with the school's faculty about the integration program where the teachers noted that they always welcome teachers from both Hungary and abroad for training and observation. Queen Rania said she looked forward to seeing future collaborations between them and Jordanian "so that they can apply [the strategies] at home".
The school has been recognized locally and internationally as a model school because of its child-centered strategies and techniques used to facilitate learning.
Queen Rania, who is accompanying His Majesty King Abdullah II ibn al Hussein on a working trip to Budapest, also joined the Hungarian First Lady on a visit to the Fisherman's Bastion, a great historical terrace on the banks of the Danube River.

Queen Rania's official website
This website does not support old browsers. To view this website, Please upgrade your browser to IE 9 or greater
Your browser is out of date. It has known security flaws and may not display all features of this and other websites. Learn how to update your browser