Queen Rania Urges Investments to Benefit Women Around the Globe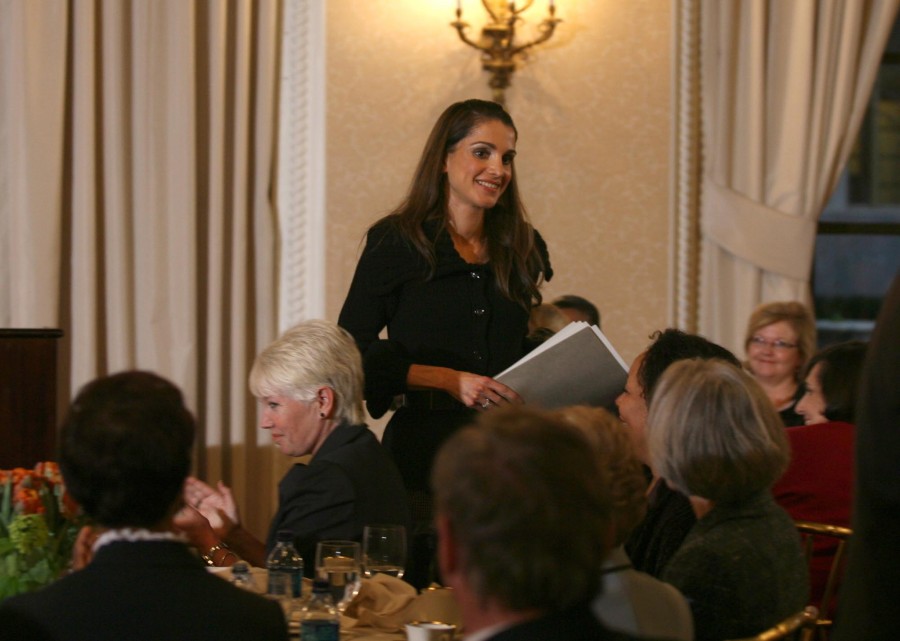 (Office of Her Majesty, Press Department – Washington, DC) Her Majesty Queen Rania Al Abdullah of Jordan addressed a cross section of prominent Washingtonians today in observance of International Women's Day, which is celebrated on March 8 around the world, to stress the need for more investment in women's advancement.
Her Majesty focused her remarks on the progress women have made in advancing economic opportunity and building civil society and political progress. Queen Rania also noted that despite the strides women have made, many challenges remain. Citing her first hand field experiences, the Queen spoke passionately about the changes she has seen, especially in Jordan and in the region, when women have access to business opportunities and political participation.
"We are moving in the right direction," she said of the Arab world, "The number of Arab women entrepreneurs is on the rise… in my travels across the region, from Lebanon to Morocco to Dubai, I see Arab women taking on an ever greater role in society – as doctors, lawyers, and teachers."
She reminded her audience that investments in women benefit all sectors of society. "Working women are not only better able to support their families, they strengthen productivity and bolster growth for their communities and their countries," said the Queen.
The Queen applauded Vital Voices' newest initiative to advance the status of women, calling the campaign "a path-breaking coalition to invest in women's leadership."
The Women Can Campaign, launched this week to coincide with International Women's Day, will help identify, inspire, train, and empower women leaders in developing countries and emerging democracies around the world, and to communicate the value of women's leadership. The Queen praised the campaign's founder, Melanne Verveer, Chair of Vital Voices Global Partnership, and her partners: Exxon Mobil Corporation, designer and CEO Diane von Furstenberg, International Business Advisor Carly Fiorina, and Adversiting Firm EURO RSCG Worldwide for their leadership.
###
Editor's Notes:
Today's event was co-sponsored by The United Nations Foundation, Vital Voices Global Partnership and The Coca-Cola Company.
Vital Voices is the preeminent non-governmental organization (NGO) that identifies, trains, and empowers emerging women leaders and social entrepreneurs around the globe, enabling them to create a better world for us all. Vital Voices' international staff and team of more than 1,000 partners, pro bono experts and leaders – including senior government, corporate and NGO executives – have trained and mentored more than 5,000 emerging women leaders from over 150 countries in Asia, Africa, Eurasia, Latin America, and the Middle East since 1997. These women have returned home to train and mentor more than 100,000 additional women and girls in their communities. They are the vital voices of our time.
Vital Voices equips women with management, business development, marketing, and communications skills to expand their enterprises, help to provide for their families, and create jobs in their communities.
Vital Voices is at the forefront of international coalitions to combat human trafficking and all forms of violence against women and girls.
Vital Voices enables women to become change agents in their governments, advocates for social justice, and supporters of democracy and the rule of law.
Additional Contacts:
Eileen White Read, Vital Voices Global Partnership
Media Relations
1150 Connecticut Avenue NW, Washington, DC 20007
Phone 202-861-2625, ext. 3003
eileenread@vitalvoices.org
www.vitalvoices.org

Queen Rania's official website
This website does not support old browsers. To view this website, Please upgrade your browser to IE 9 or greater
Your browser is out of date. It has known security flaws and may not display all features of this and other websites. Learn how to update your browser