Queen Rania, UNF Board Announce World Heritage Alliance Commitment to Jordan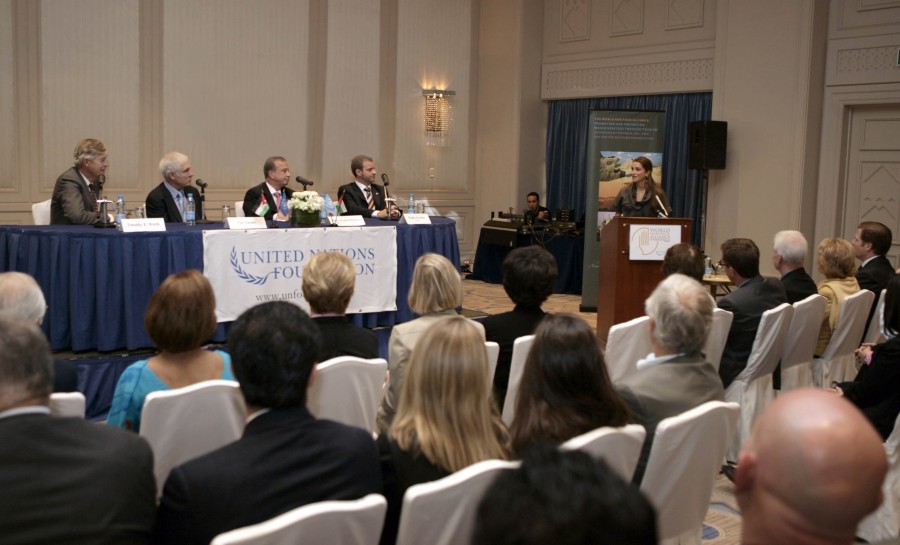 (Office of Her Majesty – Press Department – Amman) - The historical city of Petra has dominated the headlines this year, as it continues to gain well-deserved recognition after being elected as one of the world's "New 7 Wonders," and rated by Virgin Atlantic as the number one most promising site to visit.
The World Heritage Alliance and the Ministry of Tourism and Antiquities announced a partnership, Wednesday, to preserve and protect Petra, as well as Jordan's two other designated UNESCO World Heritage sites, while promoting responsible tourism to the country. The partnership covers Petra, Quseir Amra, and Um er-Rasas, as well as other important natural and cultural heritage areas in Jordan.
The World Heritage Alliance for Sustainable Tourism (WHA) is a membership-based initiative launched in 2005 by the United Nations Foundation (UNF) and Expedia, Inc. UNF Board Members, including Her Majesty Queen Rania Al Abdullah, UNF Founder and Chairman Ted Turner, and UNF President Tim Worth, were on hand to lend their support to the new alliance.
The announcement was made following a meeting of the UNF's Board of Directors, who were welcomed by Queen Rania to Jordan. The UNF serves as a platform for partnering with the United Nations to help corporations, foundations, governments, and individuals make a difference in the important work of the UN. Board members are here on a three-day visit to discover Jordan and explore opportunities in the Kingdom.
"Jordan is a birthplace of civilization and its sites serve as important reminders of the importance of the intersection of historical, cultural, and community values," said Turner. "More people should experience this history, our global history - and to do so with an understanding of how they can tread lightly and give back. That would go a long way in fostering greater understanding and peace in the world."
"Thank you for visiting Jordan, for supporting Petra so generously, and for partnering with us to promote and preserve our ancient and awe-inspiring heritage sites," said Queen Rania, a UNF Board Member since 2006.
"We are delighted that so many people are coming to Jordan to enjoy the legacies of Petra, Quseir Amra, Um er-Rasas, and the many other cultural riches Jordan boasts. And with the help of this partnership, we look forward to welcoming even more," Her Majesty said.
"Together we educate people around the world about Jordan, the importance of these sites to civilization and how government, communities, industry and international organizations can all work together to guarantee World Heritage sites are here to be enjoyed by present and future generations," said Minister of Tourism and Antiquities Osama Dabbas.
The partners hope this new collaboration will also provide a way for the larger tourism industry - including hotels, tour operators, and other tourism service providers - to support World Heritage conservation and sustainable tourism in Jordan through membership in the WHA and work together to transform business practices to be more sustainable, educate their customers about World Heritage, and support local communities through conservation and sustainable development initiatives around the sites.
"We're very pleased to sign an agreement and have Jordan be the lead country to take this on in the Middle East as it has been in many other areas," said Wirth. "Tourism is an important resource historically, culturally, and economically."
"We must all be committed to protecting these sites and promoting sustainable tourism practices that preserve the sites and help build economic benefits for local communities. Jordan is leading by example, today, in committing to this partnership," said Erika Harms, Executive Director of the World Heritage Alliance for Sustainable Tourism.
"We're proud to work with this group in Jordan to promote sustainable travel to World Heritage sites throughout the country," said Paul Brown, President, Expedia, Inc. Partner Services Group & Expedia North America. "We look forward to finding ways to expand our efforts, especially through educating travelers about ways to experience Jordan's most treasured sites in a responsible way."
The partnership includes collaboration with UNESCO, the US Agency for International Development (USAID) Jordan Tourism Development Project (Siyaha), and several local organizations. USAID/Siyaha and WHA will implement a program to assist in strengthening the management of Jordan's World Heritage sites, most notably in Petra, and launch a public awareness campaign about these three sites. In Petra, support will also include a combination of grants to community-based organizations and local businesses, training, and development of local tourism projects and activities consistent with World Heritage and sustainable tourism principles.
"USAID is proud to deepen its commitment to Jordan's heritage preservation and sustainable tourism development. Petra represents a unique opportunity and a special responsibility for Jordan. USAID will contribute to the Jordanian effort to make Petra a universally recognized success story," said Jay Knott, USAID/Jordan Mission Director.
"Jordan's cultural and historic treasures are becoming widely known and attracting more tourism to the country. It is crucial that we preserve the very treasures tourists are coming to appreciate, rather than let mass tourism contribute to their degradation. " said Francesco Bandarin, Director of the UNESCO World Heritage Centre.
On 25 October 2007, Jordan was elected to a four-year term on the 21 member inter-governmental World Heritage Committee, the body in charge of implementing the UNESCO World Heritage Convention.
The World Heritage Alliance for Sustainable Tourism is a membership-based initiative that works to support World Heritage conservation, sustainable tourism, and local economic development for communities in and around UNESCO World Heritage sites. The UN Foundation and Expedia, Inc. created the World Heritage Alliance for Sustainable Tourism in the fall of 2005.
The UN Foundation, created in 1998 with entrepreneur and philanthropist Ted Turner's historic $1 billion gift to support UN causes and activities, builds and implements public-private partnerships that address the world's most pressing problems. Its partnerships and campaigns have global reach, and cut across diverse issue areas, including: protecting biodiversity and promoting sustainable development; providing insecticide-treated bed nets to prevent the spread of malaria in Africa; and increasing access to technology for international humanitarian relief and public health workers.

Queen Rania's official website
This website does not support old browsers. To view this website, Please upgrade your browser to IE 9 or greater
Your browser is out of date. It has known security flaws and may not display all features of this and other websites. Learn how to update your browser