Queen Rania Receives Certificate of Petra's Candidacy for New Seven Wonders of the World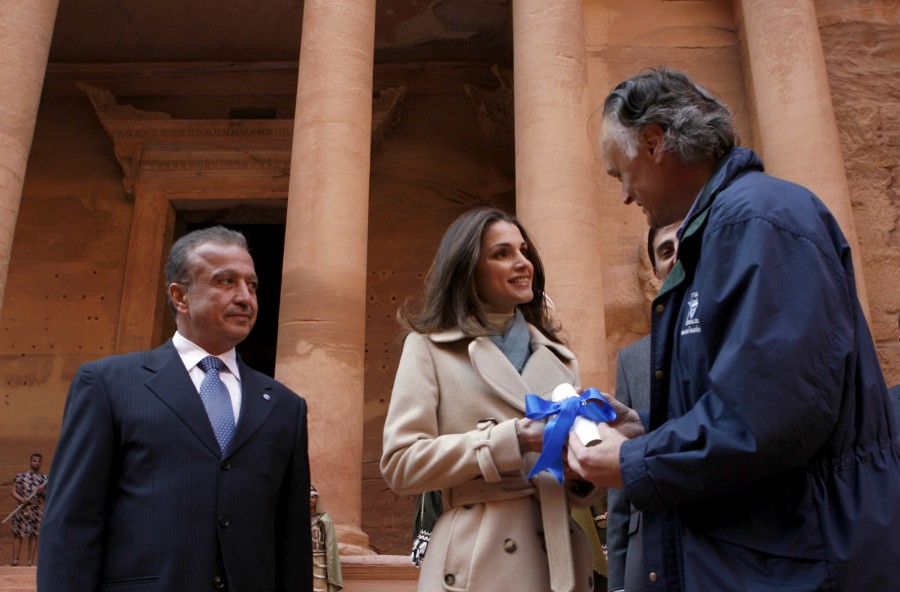 (Office of Her Majesty, Press Department– Petra) Reliving the past is something historians dream of, and something very few people get to experience. Her Majesty Queen Rania Al-Abdullah got a first hand look at the lifestyle of the ancient Nabataeans who lived in Petra as she received a certificate announcing Petra's candidacy as a finalist in the "New Seven Wonders of the World" competition.
Previously, Her Majesty said, "We Jordanians are proud to be the custodians of the stunning heritage of the Nabataean people. Indeed, we feel that many of our modern Jordanian national characteristics are notably similar to those of the ancient Nabataeans. Like them, we have carved out a special and unique role as a bridge between diverse regions and cultures. And like them, we are a peaceful culture committed to international commerce and dialogue." Queen Rania arrived in Petra, walked through the Siq, and when she exited walked straight into the annals of history as a Nabataean bazaar was bustling with street vendors, children at play, and others on horseback and with their camels. "The magical rose-red city of Petra is like nothing else on earth. It is a remarkable testimony to the human spirit, etched for all time in sandstone and shale," said the Queen. As she walked through the courtyard to the Treasury, undoubtedly Petra's most fascinating site also known as the Khazneh, the crowd parted and the bustle subsided. Bernard Weber, founder of the Seven Wonders project, then entered on camel back to present Her Majesty with the official certificate of candidacy announcing that Petra is now one of the 21 finalists from an original pool of 77. Petra was the glittering capital of the Nabataean empire, and at 9,000 years-old it is one of the earliest known Middle Eastern settlements. "Petra is more than just an archeological treasure," said the Queen, "Petra, I believe, offers an enduring message to all mankind. In Petra, human beings – ordinary mortals like you and me – saw potential beauty and grandeur in walls of sheer stone. They imagined the possibility of elegance and splendor where others would see only a barren and desolate wilderness." Minister of Tourism and Antiquities Usama Dabbas who was also enjoying the time travel said, "Petra's nomination to this international competition is an appreciation of this grand historic and cultural site, and shall place the rose-red city on its well deserved spot on the international tourism and heritage map, among other wonders of the world." Managing Director of the Jordan Tourism Board Mazen Homoud said that JTB hopes to make "Bringing Petra to Life" a reoccurring event to enrich the tourists' experience and market this magnificent historical milestone.

Queen Rania's official website
This website does not support old browsers. To view this website, Please upgrade your browser to IE 9 or greater
Your browser is out of date. It has known security flaws and may not display all features of this and other websites. Learn how to update your browser