Queen Rania Returns to Aqaba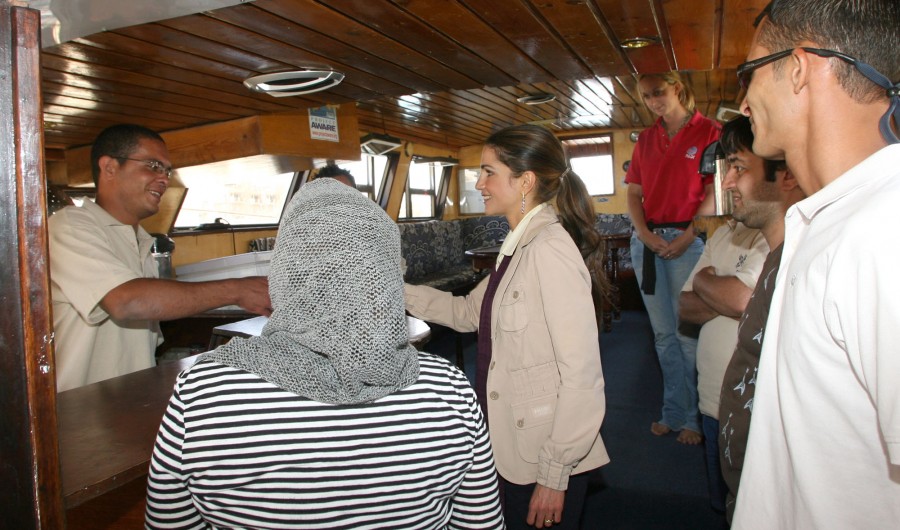 (Jordan Times – Aqaba) – Her Majesty Queen Rania on Friday toured several development projects currently being carried out in Aqaba's old city and the surrounding area, expressing her support for diverse social, economic, educational and environment programmes in the port city.
The Aqaba neighbourhood known as the old city, which hosts a population of 7,000, is afflicted with a high unemployment rate and an abnormal rate of school drop-outs, according to a study carried out by the Jordan River Foundation (JRF).
To encourage ongoing efforts in the area, the Queen was accompanied by Aqaba Special Economic Zone Authority (ASEZA) and Aqaba Development Corporation (ADC) officials, as well as Aqaba Governor Samir Mubaidin on a tour to check on residents' living conditions.
In the study recently conducted by JRF, it was found that most homes in the old city are in desperate need of renovation. ADC has pledged to revamp most of the homes following Her Majesty's visit to the community.
In the old city, the Queen visited the home of Mohammad Basyouni, whose family of eight live in a dilapidated three-bedroom home. Suffering from diabetes, Basyouni relies on his eldest son, who supports the family with JD78 a month. Through partnership between the JRF and ADC, Basyouni will be assisted and area houses will be renovated as a result of the Queen's visit.
The Queen later participated in a workshop to review the results of the JRF study shedding light on the social and economic conditions of the residents of the old city. The report indicated that, though 34.6 per cent of the local community is enrolled in educational facilities, 19-21 per cent of residents are school dropouts. In addition to a high number of early marriages (9 per cent), the study also showed that 34-36 per cent of households suffer from internal family problems.
Workshop participants, including ASEZA Chief Commissioner Hosni Abu Gheida, and ADC and JRF representatives, discussed how involved parties can better address the community's needs.
Underlining the importance of consensus and streamlining JRF programmes with development plans, Queen Rania stressed the need for a clear vision and a well-defined goal to enable area residents to benefit from ongoing economic development.
After reviewing the area's needs, ASEZA and the ADC announced the allocation of JD20 million for development projects to be implemented in Aqaba in cooperation with JRF over a five-year period.
At Abu Ayoub Al Ansari Secondary School, the Queen checked on the career knowledge centre, which recently has been renovated and refurnished by ADC and Save the Children. At the centre, the Queen talked to several students enrolled in the centre's programmes, which seek to empower students with new educational experiences.

Queen Rania's official website
This website does not support old browsers. To view this website, Please upgrade your browser to IE 9 or greater
Your browser is out of date. It has known security flaws and may not display all features of this and other websites. Learn how to update your browser