Queen Rania Promotes Women's Empowerment During High Level Gender Forum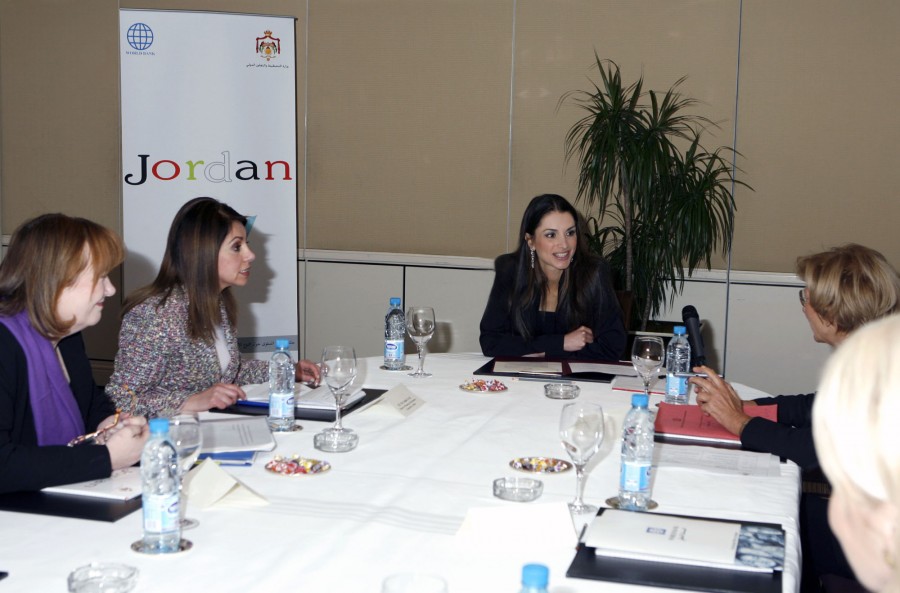 (Office of Her Majesty, Press Department – Amman) In an effort to bolster women's participation in the workforce, Her Majesty Queen Rania Al-Abdullah patronized a High Level Gender Policy Forum, which convened in Amman.
After attending the opening session of the forum, Queen Rania met with a number of prominent leaders who are strong advocates of increasing women's worldwide participation in the workforce.
"It is so important to have women of your stature, who have been through these experiences, here with us today," said the Queen as some of the women in attendance recounted their challenges and strategies as they championed women's rights issues in their respective countries.
"Women's empowerment involves looking at three issues," said Her Majesty, "There are cultural pressures, which involve changing perceptions; the legal environment, which is the most straightforward issue; and, creating an enabling environment for women to work in… The Prime Minister has made verbal commitments; the next step is to come up with a plan and tackle these issues one by one."
The Honorable Baroness Elizabeth Symons, a member of the House of Lords in the United Kingdom, said, "Talking about these things frankly is key…In Britain, we've had equality laws for 35 years, but we still don't have equality… it takes patients and it takes time."
"The Prime Minister has provided support to tackle some laws that hinder participation of women—not only in the labor force but as entrepreneurs," said Minister of Planning and International Cooperation, Suhair Ali, "we now need exchange programs and networks—not just for privileged women but we must go to the grassroots."
As they discussed the different methods of empowering women, Queen Rania said that the microfinance industry is a very useful tool which can help promote women's economic status and role in the workforce.
In expressing her hopes for increased participation of women in the workforce, Minister of International Trade and European Affairs in Italy, Emma Bonino said, "When I lead a delegation of entrepreneurs they are usually male and I want to lead a delegation of women!"
The high level policy forum was held to discuss and outline the government's response to reports regarding the low figures of female participation in Jordan's workforce.
"I'm hoping that Jordan could be a catalyst for change in the right direction, but we can't do it alone. History has shown that to succeed, we need to work together…The commitment is there and I'm hoping with your support we can foster the change," said the Queen.
Other attendees included: Vice President of the World Bank, Daniela Gressani; Former Minister of Equality in France, Nicole Ameline; and Secretary General for Gender Equality in Greece, Eugenia Tsoumani.

Queen Rania's official website
This website does not support old browsers. To view this website, Please upgrade your browser to IE 9 or greater
Your browser is out of date. It has known security flaws and may not display all features of this and other websites. Learn how to update your browser