Queen Rania, Prince Talal Lay Cornerstone for Arab Open University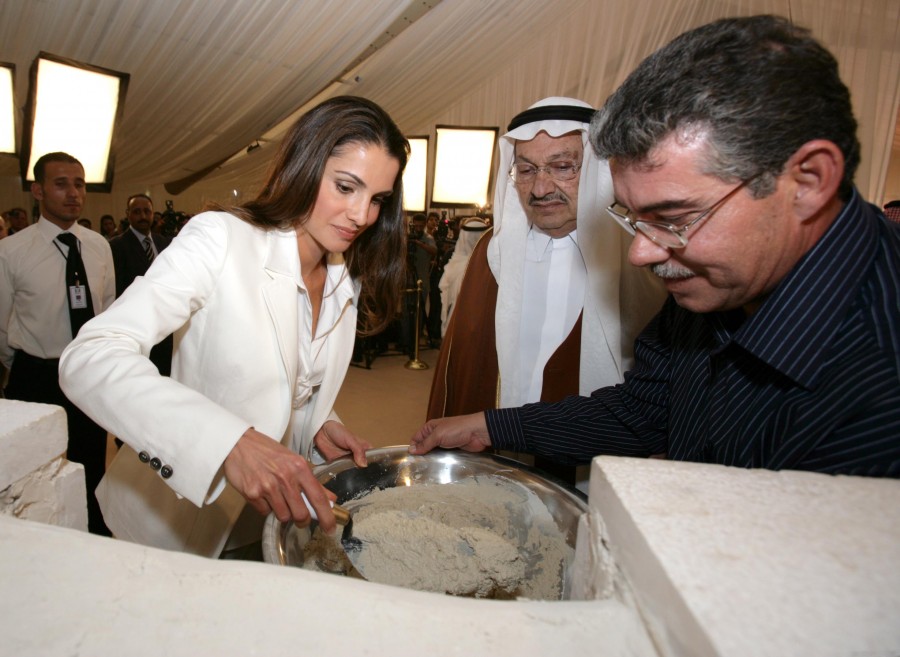 (Office of Her Majesty, Press Department - Amman) Two steadfast advocates for promoting educational opportunities, Her Majesty Queen Rania Al Abdullah and His Royal Highness Prince Talal Ben Abdul Aziz, joined forces to lay the cornerstone for the Arab Open University's campus in Jordan.
"The real wealth of this university is its 'openness' to new technology, to new learning methodologies, and most importantly, to those seeking knowledge – the young man in a rural area too far from a university town, to a working mother who still wants to learn after she puts her children to bed at night, to a retiree who hasn't quenched his thirst for learning and still has a lot to offer society," said the Queen.
The campus, which is set to be completed in approximately two years, rests on 12,000 square meters, which were allocated by the Jordanian government. Prince Talal, president of the Arab Gulf Program for United Nations Development Organization (AGFUND) and co-chair of the Arab Open University (AOU) board of trustees, launched the Pan-Arab Fundraising Campaign, which Queen Rania called "a collaboration of conscience, commitment and giving".
The proceeds from the fund will be used to expand the campus infrastructure, improve the internet facilities, and produce Arabized course material. The AOU, which started enrolling students in 2002, functions under the umbrella of AGFUND as a private pan-Arab institution of higher education. It has branches in Kuwait (where it is headquartered), Lebanon, Jordan, Bahrain, Egypt and Saudi Arabia.
In March 2007, AOU held its first commencement ceremony for over 500 students from the region, in Kuwait. AOU is associated with the United Kingdom Open University, which allows students to graduate with a dual degree from UKOU and AOU.

Queen Rania's official website
This website does not support old browsers. To view this website, Please upgrade your browser to IE 9 or greater
Your browser is out of date. It has known security flaws and may not display all features of this and other websites. Learn how to update your browser