Queen Rania Becomes UNICEF's First Eminent Advocate for Children at WEF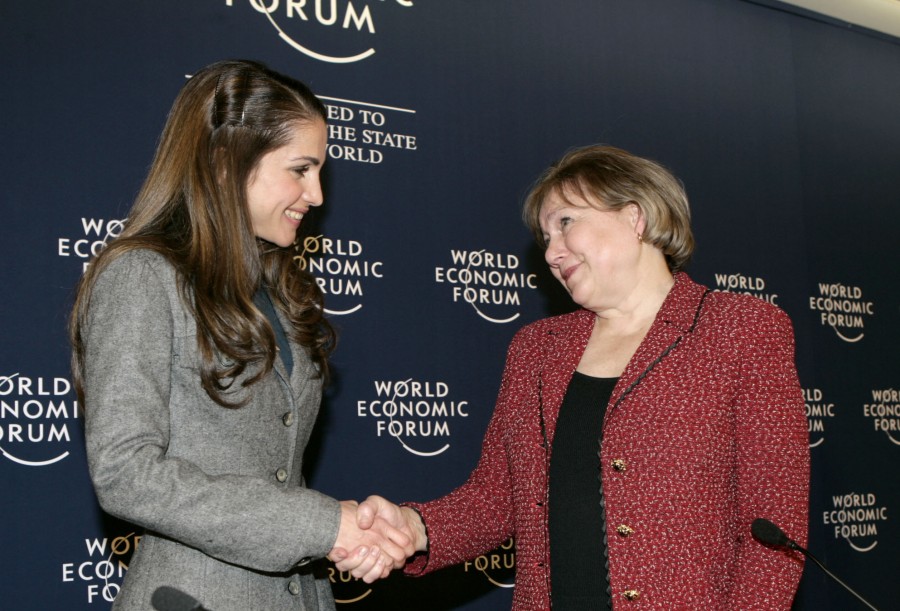 (Office of Her Majesty – Press Department - Davos) - UNICEF and Her Majesty Queen Rania Al-Abdullah signed an agreement at the World Economic Forum in Davos, naming Queen Rania as UNICEF's first ever Eminent Advocate for Children.
After signing the agreement, Queen Rania said, "It is a fancy title, but I see it as a fundamental job: To do all I can on behalf of child survival and education around the globe."
"Her Majesty Queen Rania has been a tireless champion for children," said UNICEF Executive Director Ann M. Veneman, who signed the agreement with Queen Rania. "This title recognizes her steadfast commitment to creating a better world for children."
As Eminent Advocate, Queen Rania will work to raise awareness of children's issues and promote achievement of the Millennium Development Goals, which are directly related to the health, education and well-being of children.
"I believe that helping children is a basic human instinct," said Her Majesty, "We all began our lives as children. Many of us have boys and girls of our own…Children bring us together. They remind us of what is really important in life. And, working together, I know there is much we can – and must -- bring to children."
Her Majesty cited some vital things that children need access to: "Things like clean water – the liquid of life -- and proper sanitation, which can reduce the risk of a child dying by as much as 50 percent. Things like the basic childhood immunizations that all of us here take for granted – but which are still denied to at least 27 million infants each year."
Queen Rania, as Eminent Advocate, will work together with UNICEF and other partners to mobilize resources and develop policy to improve the lives of children.
"We can bring children cost-effective interventions for maternal and newborn health – which could help save the lives of the more than half a million women who die in pregnancy or childbirth each year… and the more than 4 million babies who never make it to one month old," she said, "We can bring them access to quality education – for girls as well as boys – because we know, as the youth of the G8 nations told their leaders in St. Petersburg last summer, that 'education is the foundation of everything.'"
Queen Rania is an active supporter of UNICEF and its programs in Jordan, in the Arab world and globally. Queen Rania has accompanied UNICEF to earthquake zones in Pakistan, where she delivered needed supplies, and to learning centers in India. A member of the UNICEF Global Leadership Initiative for Children, Queen Rania is a renowned advocate for child protection, supporting several initiatives for children and youth. She has been instrumental in expanding Early Childhood Development in Jordan, promoting access as well as gender parity in schools, and encouraging excellence in education.
"For the millions of children whose voices are not being heard, let us commit to take a stand, and take a step, and make real strides for child survival and education," said Queen Rania. "I am convinced that transformational change is just the sum of many small steps – footprints marking a path ahead where none existed before."
Additional Links:
Queen Rania's website: http://www.queenrania.jo
UNICEF website: http://www.unicef.org
World Economic Forum website: http://www.weforum.org

Queen Rania's official website
This website does not support old browsers. To view this website, Please upgrade your browser to IE 9 or greater
Your browser is out of date. It has known security flaws and may not display all features of this and other websites. Learn how to update your browser