Queen Rania Signs up Girls at Harlem's Leadership Academy to UNGEI and 1GOAL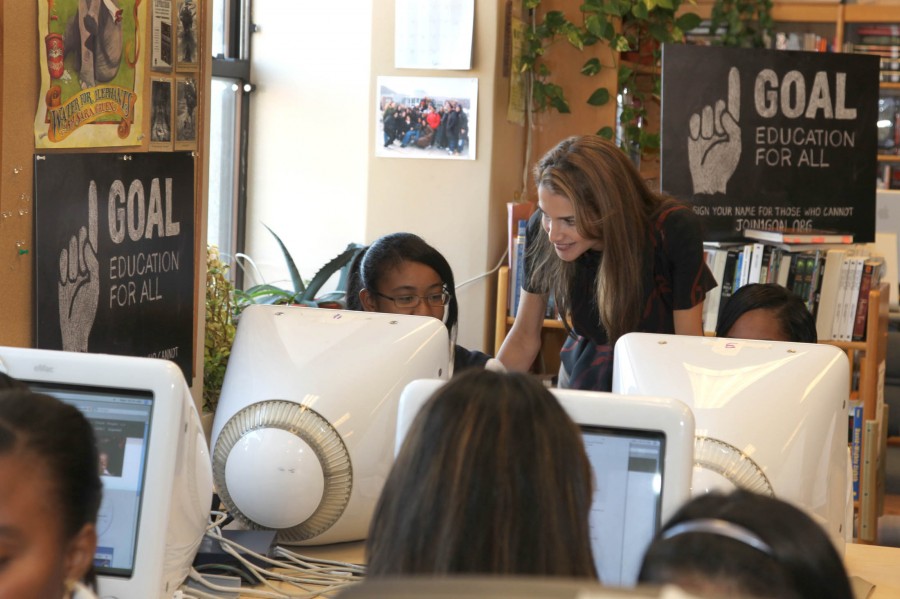 (Office of Her Majesty, Press Department, New York) With the fundamental right to education denied to 75 million children worldwide, Her Majesty Queen Rania Al Abdullah, on Monday, urged girls from the Young Women's Leadership School of East Harlem in New York to sign up their names in support of the 1GOAL: Education for All initiative launched in partnership with FIFA in the run up to the 2010 World Cup.
As Honorary Chairperson of the United Nations Girls' Education Initiative (UNGEI), Queen Rania reaffirmed her commitment to ensure children are empowered with quality education and encouraged school girls to take part in the global call to action in an address delivered at the school assembly:
"I want you, girls with voices, to speak up and shout out for girls whose cries fall silent; I want you to fight for them, as others are fighting for you; to pull up another girl, and help her stand tall and strong; I want you to be great, and inspire greatness in others."
Expressing confidence in UNGEI's efforts to overcome tough challenges, Her Majesty further underscored the need to mobilize public support, hold governments accountable to promises made, and enable every child to receive an education by 2015.
"The Girls Education Initiative works around the world to get girls into schools: advising governments, working with policymakers, mobilizing donations, and speaking out on behalf of girls in the halls of power," Queen Rania firmly asserted.
"But we can't do it alone. We need a chorus of voices to rise up and wake up our leaders," she added.
Highlighting the importance education has played in her life, Her Majesty then drew on her own experience stressing, "I am still learning, still striving to be the best I can be. Just like I know you are too," she told the eleventh grade girls.
Commending their hard work and motivation to excel, Her Majesty also reminded the girls what a gift it is to receive an education which millions of other girls, just like them, are currently being denied.
"You are women who'll work hard to get into college, you'll make your families proud and you'll be role models for your children, communities and country," she said smiling.
"But around the world, there are millions of girls who are not so lucky. From sub-Saharan Africa to South East Asia and beyond, 41 million girls are out of school - that's double the population of New York! They're out fetching water, out working in fields and factories, out marrying early. Many of them stand outside school gates, peering in, wondering what it would be like to go to school," continued the Queen.
"But that's not your story. Your story is different because of the vision of one woman and the commitment of many," said Her Majesty referring to Ann Tish, the school's Founder.
Accompanied by UNICEF Director General Ann Veneman and School Principal Althea Bradshaw, Her Majesty then toured the classrooms of the Young Women's Leadership School of East Harlem School, founded by Ann and Andrew Tish in partnership with the New York City Board of Education and the Centre for Educational Innovation.
The school, which has an impeccable academic record with an estimated 98% of graduates moving on to college, counts 405 students most of which are either Hispanic or African American. As Her Majesty toured several classrooms, she stopped by the computer labs where she showed students how to sign up at: www.join1goal.org and urge them to encourage their friends to follow suit.
Before concluding the visit, the girls presented Her Majesty with a scrap book of letters in which they had expressed their thoughts and ideas on the importance of promoting global education for girls.
The school in Harlem is the flagship school of the Young Women's Leadership (YWL) network, an organization that supports urban youth break the cycle of poverty by encouraging girls to enroll in university. There are currently four YWL schools in New York, one in Philadelphia and affiliates in Chicago and Texas.

Queen Rania's official website
This website does not support old browsers. To view this website, Please upgrade your browser to IE 9 or greater
Your browser is out of date. It has known security flaws and may not display all features of this and other websites. Learn how to update your browser