Queen Rania Visits Children's Educational, Disabilities Facilities in Dubai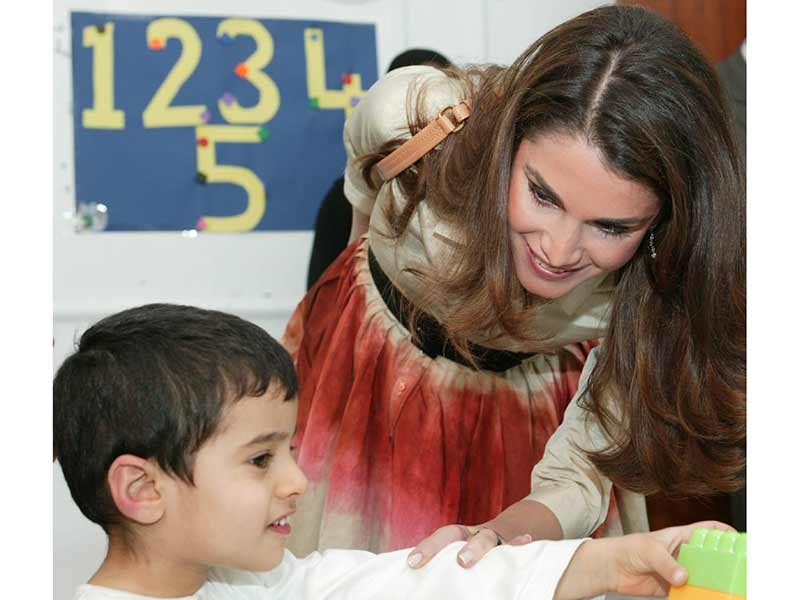 (Office of Her Majesty, Press Department - Dubai) Striving to build on the model it has set for the region in child safety and early childhood development issues, the Jordan River Foundation (JRF) is extending the reach of its programs by launching a year-long National Awareness Campaign focusing on the prevention of child abuse and neglect.
The campaign will serve as a major channel of communication to eventually eliminate the existence of child abuse and neglect in Jordan.
The main objective of the campaign is to create awareness and educate society about appropriate child rearing and healthy familial interactions that will initiate dialogue and an understanding about child safety and abuse issues on local and regional levels.
According to JRF Director General Ms. Maha Khatib, the foundation needs to raise JD500,000 to ensure a successful implementation of the National Awareness Campaign. She commended the efforts undertaken by the private sector in supporting and promoting initiatives like the Child Safety Program's pioneering prevention, intervention and training initiatives.
"We are happy that the private sector in the Arab World is taking up its civic responsibility by supporting social development issues," Ms. Khatib said at a press conference ahead of a fundraising event supported by DAMAS in Dubai to benefit the foundation's Child Safety Program's National Awareness Campaign.
The event, attended by Queen Rania, Chairperson of JRF, will fund part of the budget allocated for adopting a long-term campaign to increase public awareness about violence against children with the hope of eventually ridding society of such ills.
Queen Rania has spearheaded efforts to raise awareness on the issue of child welfare often stating that shedding light on sensitive social problems by opening a candid dialogue on social ills, and facing, rather than ignoring problems brings habitually overlooked topics to the forefront of the national agenda.
DAMAS Group CEO Mr. Tawheed Abdullah underlined his company's pride in cooperating with the JRF, noting that Queen Rania does do not represent Jordan only, but the entire Arab World.
"Her Majesty has taken pioneering steps in ending the uncivilized phenomena of child abuse. We have to continue and support these efforts until the goal is hopefully realized," Mr. Abdullah added.
The Jordan River Foundation, established in 1995 and chaired by Queen Rania, is a non-profit Jordanian non-governmental organization (NGO) whose mission is to promote, in partnership with stakeholders, the development of a dynamic Jordanian society by initiating and supporting sustainable social, economic and cultural programs that empower communities and individuals based on their needs and priorities.
The National Awareness Campaign includes the TV program, Beit Sgheer, hosted by Director of the JRF's Child Safety Program and early childhood development specialist Dr. Hala Hammad, and the Ajyaluna Campaign which consists of TV commercials, radio announcements, as well as press and outdoor advertisements.
JRF's Child Safety Program, a leading national and regional institution addressing the issue of child abuse and neglect, functions through two facilities: the Dar Al-Aman Center for intervention, a first in Jordan and the Arab world, serving as a temporary shelter and offering psychological, medical, social, and educational care for child victims of physical and sexual abuse and neglect, and the Jabal Al Naser Center for prevention, awareness and training activities, in collaboration with local and international institutions.
In November 2003, Queen Rania inaugurated a spacious and better-equipped facility that is modeled upon real-life homes where the integrity of the family is a guiding factor. During her stay in the UAE, Queen Rania also opened the JRF exhibition at the Dubai Ladies Club where she was met by Her Highness Sheikha Manal bint Mohammad Bint Rashed Al Maktoum.
The exhibition, proceeds of which will benefit JRF's individual and community empowerment projects, was attended by wives of ambassadors as well members of the Jordanian community in Dubai.
The Queen also visited the Dubai Autism Center where she was briefed by board members including Sheikha Lubna Al Qassimi on facilities and services aiming to raise awareness, offer diagnosis and consultancy to help people with the lifelong developmental disability of autism live their lives with as much independence as possible.
Queen Rania, accompanied by Jordan's ambassador to the UAE, also toured the Dubai Children's City - one of the largest children's museums in the region devoted to children 2-15 years old where they can interactively investigate, explore, play, discover, and learn about the world in which we live.
It is within this framework that Queen Rania is developing the National Children's Museum of Jordan as a non-profit, independent establishment aiming to inspire children up to the age of 15 years to discover their immediate environment, as well as the world beyond, through interactive exhibits and other multimedia educational resources.
The Museum, to be located within the Hussein National Park will focus on the arts, sciences, technology, and industry, as well as on the value of the national Jordanian identity.
The first interactive museum of its kind in the Kingdom will be a breakthrough in early childhood education and learning complementing public and private school curricula, and helping address the diverse needs of students across Jordan including those with special needs.
A national team has been appointed to work on the formulation of the mission statement and all aspects of the project with continuous and close collaboration with the Ministry of Education.
The focus will be on the development of the individual, be it his or her love of knowledge, self-confidence, respect for others, and the ability to work within a group and recognize his or her own abilities.


Queen Rania's official website
This website does not support old browsers. To view this website, Please upgrade your browser to IE 9 or greater
Your browser is out of date. It has known security flaws and may not display all features of this and other websites. Learn how to update your browser