Queen Rania Launches 2nd Phase of Qudorat Program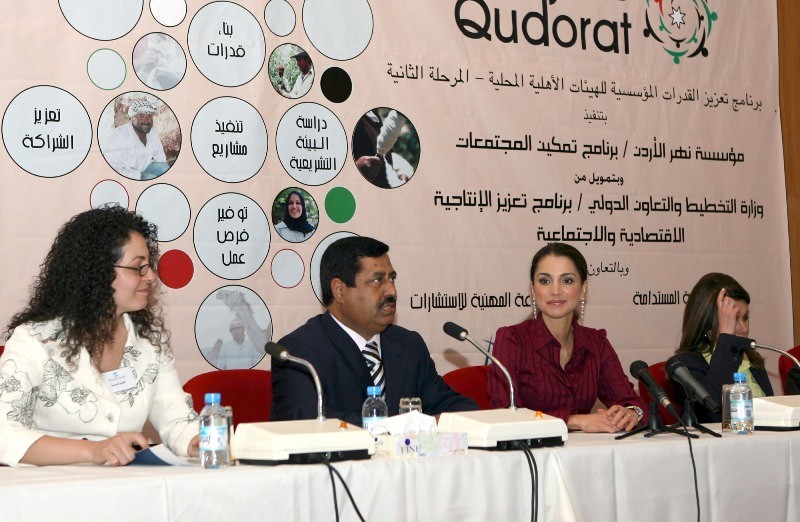 (Jordan Times , Linda Hindi - Irbid) Her Majesty Queen Rania launched the second phase of the Qudorat programme, a successful project that has created around 425 job opportunities in various sectors.

The launch in Irbid, facilitated through the Jordan River Foundation (JRF), was designed to draw the attention of community-based organisations (CBOs) in Irbid Aqaba, Maan, Balqa, Jerash and Ajloun — six of the country's 12 governorates where JRF will implement the programme.

Qudorat is funded and supervised by the Ministry of Planning and International Cooperation's Enhanced Productivity Programme (EPP) to provide CBOs, particularly in impoverished areas, with grants to start sustainable development ventures.

"This year, with the start of the second stage, we are targeting 100 organisations with a JD4 million budget, to be carried out by two national institutions over a period of two years," Minister of Planning and International Cooperation Suhair Al-Ali said during her address at yesterday's launch.

The grant was given to JRF and the Noor Al Hussein Foundation (NHF), based on the proven success of 63 CBOs, who received between JD30,000-80,000 under the programme last year for income-generating projects that are serving the needs of their local communities.

This year grants will be capped at JD50,000 in order to reach the governments' target of 100 community organisations.

In line with the government's plan to combat poverty and provide job opportunities, Qudorat targets impoverished areas to improve their inhabitants' living conditions, according to the ministry.

Last month, the NHF announced it was starting to accept applications from the six governorates — Amman, Karak, Madaba, Zarqa, Mafraq and Tafileh — which will be implemented through their organisation.

Phase one, which ended last year last year and was implemented by the Near East Foundation and NHF, created around 425 jobs in areas such as agriculture, industry and the service sector at an average of JD9,000 in job-creation cost, according to the foundations.

Zeinab Ali Melhem, who heads a women's society that is part of Kilia Al Ein cooperative in Judeta, said she came to the event after hearing positive feedback about the project in her area.

"We heard that this programme helps people work and we would like to apply," she told The Jordan Times.

Melhem said her group has around 37 members who are all excited and ready for the challenge of competing for the grant, adding that collectively they have skills to open beauty salons, raise goats and chickens and grow herbs.

"I always have said that women have more stamina and determination than men to produce results," Melhem said.

The project is the only one of its kind that allows profit and nonprofit organisations, including charities, cooperatives, youth, sports and cultural clubs to compete with each other for grants after an 18-month competitive assessment, training and mentoring process.



Queen Rania's official website
This website does not support old browsers. To view this website, Please upgrade your browser to IE 9 or greater
Your browser is out of date. It has known security flaws and may not display all features of this and other websites. Learn how to update your browser