Queen Rania Says Sustainaibility Affects Perspective on Others at WEF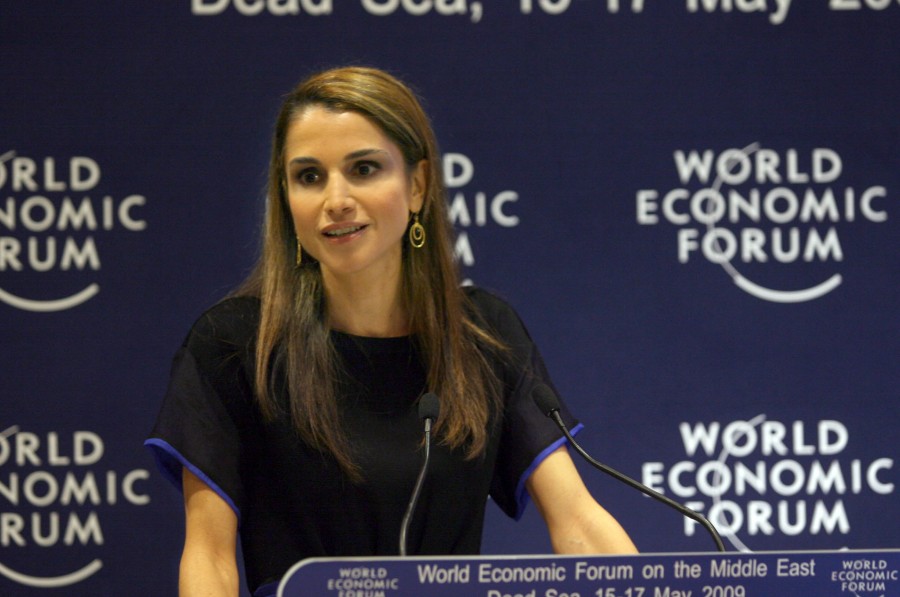 (Office of Her Majesty, Press Department, Dead Sea) Her Majesty Queen Rania Al Abdullah, on Saturday, called for a renewed commitment to sustainability and innovative solutions to the challenges facing the Arab region during a session held at the World Economic Forum (WEF) in the Dead Sea.
"Sustainability is about meeting the needs of today's generation without denying tomorrow's generation the ability to meet theirs- in the economic, social and environmental spheres," stated Queen Rania in an opening address at WEF's "Sustainability in the Middle East" session.
"We are all gathered here today because we've been guided by our common conscience. We know about the inequalities that plague our world, the fragility of our environment and that each one of us can make a difference," said Queen Rania, who founded the Arab Sustainability Leadership Group (ASLG) in an effort to encourage businesses across the region to balance profit with environmental protection and equal opportunity.
Highlighting today's confluence of global threats, most prominently the financial crisis and challenges affecting the region such as chronic water scarcity, unemployment, a burgeoning youth population, high illiteracy rates, considerable brain-drain and an out-of-date school system, Her Majesty also underscored the need for collaborative action to address cross-cutting issues no single sector should be tackling alone.
"I hope gender equality in the workforce becomes part of the sustainable practices of companies in the Arab world," she told the audience.
Her Majesty then went on to elucidate the notion of Responsible Competitiveness (RC) emphasizing the intrinsic value of devising effective RC strategies, especially at a time of global financial downturn.
Surveying a recent study which suggests that companies committed to sustainability, during this global crisis, have outperformed their competitors by 15%, Queen Rania reminded the audience that the rewards of engaging and investing in responsible business practices are not only limited to profit.
"A sustainable company is more highly regarded by shareholders, potential recruits, customers, employees, government and the media," explained the Queen.
As Queen Rania stressed companies are not the only ones to be rewarded by investing in sustainability, she said: "Sustainability changes the way you look at your fellow human beings; it extends your boundaries and transforms the way you interact and relate to your surroundings."

Her Majesty also expressed hope that the 2009 Arab Responsible Competiveness Report (ARCI), launched at the event and compiled by AccountAbility and Sustainability Excellence Arabia with the support of the Arab Sustainability Leadership Group (ASLG), would inspire more progressive leaders to engage in corporate citizenship and sustainable development.

"Today, is not just about listening and learning; it's about more people signing onto sustainability to reach that critical mass," Queen Rania pointed out.

Following Her Majesty's remarks, an interactive panel discussion comprised of some of the region's most innovative leaders, discussed the findings of the Arab Responsible Competitiveness Report, (ARCI) which is the first in-depth assessment of regional progress towards sustainable economies and prosperous societies.

The five panelists, which highlighted ways to further advance the sustainability agenda across the Middle East included: Helmy Abouleish, Managing Director of Sekem Group, Rabea Ataya, Chief Executive Officer and Chairman of Bayt.com, Abdulkareem Abu Alnasr, Chief Executive Officer of the National Commercial Bank, Randa Ayoubi, Founder and Chief Executive Officer of Rubicon, and Frederic Sicre, Executive Director of Abraaj Capital.
The session was moderated by Darin Rovere, President of Sustainability Excellence Arabia, and included a presentation by Simon Zadek, Managing Partner and Director of AccountAbility, which suggested key results emerging from the report.
"It's about blending what companies do with smart public policies and civil society to create partnerships and alliances that move the sustainability agenda forward, noted Simon Zadek.
Stressing the need to question our basic assumptions and reflect on measures to prevent such crisis to occur in the future Frederic Sicre added: "Our Global systems need to be re-designed from a governance and financial point of view, but also environmentally and socially."
The report, which contains a foreword by Her Majesty Queen Rania and seven essays from thought-leaders in the region, covers 15 Arab Nations and includes a ranking of Arab countries against global responsible competitiveness standards as well as concrete examples and recommendations of how Arab countries and businesses can raise their performance.

The key finding emerging from the report is that responsibility and competitiveness are strongly positively correlated in the Arab World. In other words, for progress to continue, competitiveness strategies need to be rooted in the principles of sustainable development. That is to say, a responsible competitiveness lens should be applied.

The report also suggests that on average, the Arab World is behind the OECD countries, with a score of 66 versus 23, but before Eastern Europe and Central Asia with a score of 71. The assessment also demonstrates that among the 15 Arab countries examined, Jordan is ranked sixth.

In addition, the report recommends specific measures for the Arab World to close the gap with the OECD countries including: embedding a culture of Environment, Health and Safety Management (EHS) in all work places; promoting sustainable trade and responsible business and investment strategies, investing in product and service innovation; and building talent among youth.

Although progress is being made and Arab countries are beginning to devise responsible competitiveness strategies, the challenge remains that of scaling up these initiatives and creating coherent national strategies that deliver sustainable development.

"Sustainable development offers a unique opportunity for investment and job creation; we need to educate our people around this notion and be role models for the next generation," said Helmy Abouleish.

More on ASLG

Launched by Her Majesty in 2008, the Arab Sustainability Leadership Group (ASLG) is the first of its kind from the region to commit to sustainability and reporting. As a regional network of Business leaders, government, NGOs and civil society, the group is open to all organizations based in the Arab region that are committed to the principles of sustainability. Members agree to work towards the goals of ASLG, including adopting a strategy to implement sustainability management within their organizations, and having a plan in place to produce sustainability reports within a reasonable timeframe.

Queen Rania's official website
This website does not support old browsers. To view this website, Please upgrade your browser to IE 9 or greater
Your browser is out of date. It has known security flaws and may not display all features of this and other websites. Learn how to update your browser