Queen Rania's Speech at Georgetown Screening of Salam Neighbor - Washington DC, USA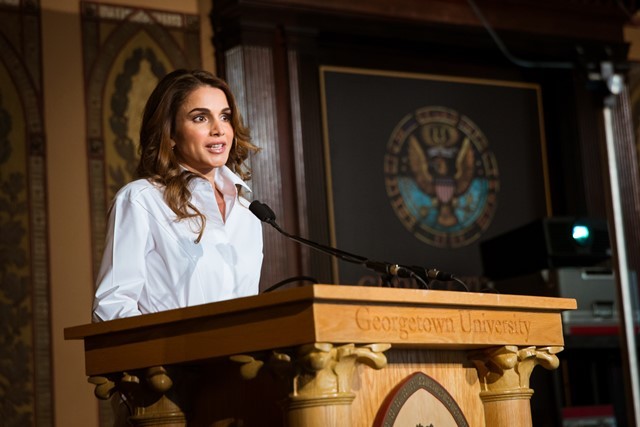 "Assalamu alaikum"
Those words are how we greet one another in Arabic. They are words of acknowledgment, words of respect. They mean "Peace be upon you."
And in many ways, they represent what this movie is all about: Acknowledging one another. Being open to one another. Respecting one another. And peace.
At a time of savagery and conflict in Syria, there are millions who have fled. Millions who've left behind everything they had, to choose peace instead of war.
1.3 million of these men, women, and children are living in Jordan today—tens of thousands in camps like Za'atari, the one you'll see in the film… but the vast majority—90 percent—in our villages, cities, and towns.
The people of Jordan have opened their homes and their hearts…their schools and health centers… and extended the hand of friendship to those in desperate need. And I could not be more proud of their selflessness, their sacrifice and their kindness.
Today, Syrians are truly our neighbors. And with this film, you will get to know some of them too.
What you'll see, as Chris and Zach saw when they moved into Za'atari camp, is that beyond the headlines, behind the labels, are people that every one of you can relate to.
Parents and children. Teachers and students. Neighbors and families and friends. Human beings, with human ambitions, human emotions, and human needs. People to befriend, not to be feared.
Of course, they have experienced unimaginable hardship. You will hear painful stories of trauma, heartbreak, loss, and fear.
But what I love about this film is the resilience it reveals. For all that our neighbors have suffered, they have not abandoned hope.
We see people who have nothing, finding ways to share everything—music, laughter, food.
We see young men whose dreams have been stolen from them, finding ways to give comfort to others.
We see mothers who can't find employment launching businesses of their own—among them, a woman who literally weaves beautiful flowers from plastic bags.
We see children whose lives have been scarred by suffering, and who aspire to grow up to be doctors.
These are loving, creative, enterprising, determined individuals. And as Chris and Zach say, they remain the best hope for rebuilding their broken land.
But that can't happen unless everyone does his or her part to help… and not just with a hashtag, but by offering a hand.
That means supporting host countries like Jordan that are providing safe haven and services, and humanitarian agencies like the IRC, that are working tirelessly to restore dignity and power to people devastated by conflict.
It means ensuring that children receive the education on which their future, and their country's future, depends.
It means enabling opportunities for women as they assume responsibility for their households.
It means creating economic zones to provide skills training and jobs, so we can incubate Syria's post-war economy and kick-start growth and recovery when peace comes. Which is what we are doing in Jordan.
The needs are great. So let us be great. We all have a role we can play.
Being here tonight is a great place to start.

Queen Rania's official website
This website does not support old browsers. To view this website, Please upgrade your browser to IE 9 or greater
Your browser is out of date. It has known security flaws and may not display all features of this and other websites. Learn how to update your browser