Queen Rania's Speech at the 2019 Concordia Annual Summit - NY, USA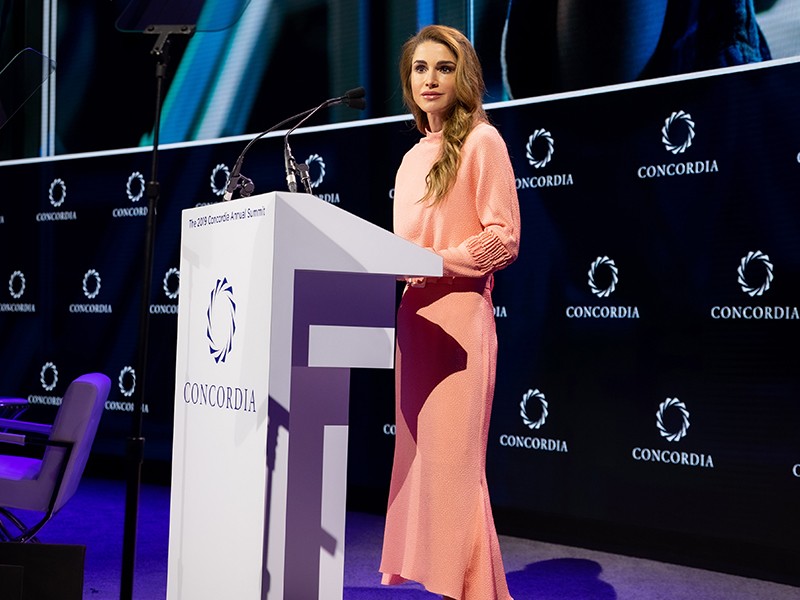 Thank you very much, and thank you all for being here today. It's wonderful to know that so many people are so committed to global development.
As I was preparing for this visit, I found myself thinking about a study a Harvard psychologist once led with a group of children.
She showed them a picture of a person in a wheelchair and asked, "Can this person drive a car?" The students quickly responded, "No!"
Then, she repeated the experiment. But this time, when she showed the picture of the person in the wheelchair, she asked them, "How can this person drive a car?"
In response, the children immediately started buzzing with all kinds of creative ideas!
I love that story, because it reminds us of the power of open-mindedness… of being willing to look at a familiar challenge from a different perspective.
And that's what our conversation today is all about: Tackling the challenge of sustainable development from the angle of private enterprise.
Almost a year ago today, USAID Administrator Mark Green spoke before this summit. He said, "The very purpose of foreign assistance must be ending its need to exist."
And yet, together, we're all still searching for the key to power progress.
Whether a crucial piece of data… A new partnership opportunity… A program that could deliver outsized results… Or a way to invest that would catalyze lasting change for the world's most vulnerable people.
Our search is urgent.
We are not on track to achieve the U.N. Sustainable Development Goals by 2030.
Every day, every hour, every minute that we lag behind in our efforts, means more people will die preventable deaths.
More people will live under the crushing weight of poverty. More children will be robbed of their futures – by malnutrition, or disease, or the conviction that a girl's life is worth less than a boy's.
What will it take to change this prognosis… to accelerate sustainable development around the globe?
The good news is: We are not alone in urgently seeking solutions.
Earlier this year, I met three young women in my home city of Amman, Jordan.These women were working on the front lines of the fight against poverty, illiteracy, and inequality.
But they weren't focused on the Global Goals. Their thoughts were not here in New York. Their world was at their front doorstep. They were thinking about their community.
And what they saw was that too many children weren't learning how to read and write. Too many children lacked the fundamental tools to build productive lives. But there was no time to wait for outsiders to step in with foreign assistance. This was a problem the women felt they were uniquely positioned to solve.
So, in 2004, they launched a company, creating educational videos and apps for pre-schoolers. Today, it's helping more than 80,000 students learn to read and write in Arabic. The company just closed its Series A – and they're just getting started.
Thousands of stories like this one are unfolding across the developing world.
I've met founders who are helping women in the Middle East – including refugees – learn new skills online, sell their goods on a digital marketplace, and lift themselves out of poverty.
I've seen entrepreneurs use telemedicine to connect millions of people in the Arab world to high-quality primary care, 24 hours a day, seven days a week.
These business leaders might not think of themselves as champions of sustainable development, but they are among the best allies we have in building the future we want.
They know the issues because they've seen them up close. They've developed solutions carefully tailored to the communities they call home.
And, in the process, they've generated dignity, purpose, and resilience – the kind of grassroots self-sufficiency that becomes its own reward.
Imagine if we could do a better job linking our resources to their resourcefulness.
Imagine if we could put more capital behind their ventures, so they could grow and scale.
The entrepreneurs are out there, in Jordan and beyond. I hope that you will help them to succeed.
We all want to speed up our progress toward the Goals. Developing country entrepreneurs can show us how.

Queen Rania's official website
This website does not support old browsers. To view this website, Please upgrade your browser to IE 9 or greater
Your browser is out of date. It has known security flaws and may not display all features of this and other websites. Learn how to update your browser