Queen Rania's Speech at the 2018 VDZ Publishers' Night - Berlin, Germany
Good evening, everyone, and thank you for including me tonight. I am proud to join in celebrating the values this evening represents.
Not far from here, a golden lady is keeping watch over this city. She is a symbol of honor, victory, and valor, standing tall atop the column that is her home.
I'm told that Victoria serves as a kind of muse for this organization. It seems to me that her fighting spirit is more relevant to your mission than ever.
Bigotry and hatred are not new ideas, but they have gained new momentum and reach in our digital age, where outrage sells and is amplified and spread with every click.
A strong, free press is vital to combat these divisive forces: To bring light into darkness, counter falsehood with fact, and hold powerful figures to account.
The press can speak truth where others cannot… dare not… or simply will not. You give voice to the voiceless, demanding attention to issues that might otherwise be ignored. I want to applaud all of you in this room who perform this work each day.
And I also want to commend VDZ for standing for something larger than yourselves. In creating the German Integration Foundation, you cast a vote for openness. You made it clear that Germany gains when it gives everyone a chance to contribute.
Tonight, I am honored to present a Golden Victoria to the patron of that foundation… a leader who has made more contributions than we can count: Federal Chancellor Dr. Angela Merkel.
Since taking office, Chancellor Merkel has earned the world's admiration and respect for her steadfast commitment to delivering stability, prosperity, liberty, and peace.
It has not been an easy task. Since 2005, we've witnessed many crises – and Germany, here in the heart of Europe, has been called upon to find solutions to them all.
From financial turmoil… to terrorist attacks… to natural disasters… to violent conflict… we live in a troubled and turbulent world that never seems to slow down.
Yet, time and again, the Chancellor's calm resilience and resolve have enabled Germany not just to chart a safe course but to help guide the global community through the storm.
And what is most distinctive to me is the nature of her leadership.
A scientist by training, she is patient, focused, and deliberate in her efforts. She takes apart problems, examines them carefully, and helps us see them as they really are— providing a safety valve against those who would prefer to stoke confusion and disarray.
Yes, she is a fighter—as strong and determined as Victoria herself. But instead of pitting people against one another, Chancellor Merkel fights to bring them together.
Perhaps it's because she's experienced the impact of isolation and division. She knows what it's like to have no freedom… to be penned in, or kept out, by a wall.
So she has fought for one Europe, joined by common values in common cause. She has fought for dignity, diversity, humanitarianism, and compassion.
Her vision has always been one of unity – a unified Germany, a unified Europe, a unified family of nations. She knows that our future is brighter when we are all standing on the same side.
Nowhere was this more apparent than in the summer of 2015, when she rallied this country to welcome more than a million refugees.
"We can do this," Angela Merkel said, and the people of Germany proved her right.
For me and all of us in Jordan, it was a moment of great pride in our nations' friendship. We too have opened our neighborhoods, our hearts, and our means to those in need. Today, one out of every seven people in my country is a refugee. We could not shoulder this duty without Germany's solidarity and support.
And, given our experience in Jordan, I know: Such leadership takes great courage. Political courage. Moral courage. The courage of one's convictions.
I also know the issue of immigration is controversial in Germany today. Only you can decide for yourselves what path you will take from here.
But as someone looking at Germany from the outside in, and as someone from a country that knows very well the strain a massive influx of refugees can impose, I want to express how grateful Jordanians and the rest of the world are for Germany's courage.
We are grateful for the beautiful example that so many Germans have set , reaching out warmly to help newcomers adjust to their new homes, new schools, new lives.
We are grateful for Chancellor Merkel's belief that, as she says, "Fear has never been a good advisor, neither in our personal lives nor in our society."
For, at the end of the day we need to ask ourselves: What kind of world do we want to live in?
Imagine how different the global landscape might look if Chancellor Merkel's moral compass was the norm.
Imagine the rights that might have been protected… the suffering that might have been avoided… the crises that might have been averted… the lives that might have been saved.
Despite her many years in office, her brand of leadership seems more unique today than ever. And yet, it is more desperately needed and more valuable, as well.
She leads as she lives: Trusting her intellect, experience, and conscience to light the way. In the process, she has helped this extraordinary country reveal the best of itself to world.
For all these reasons, I am honored and proud to present the Golden Victoria to a bridge-builder… change-maker… hope-giver… and friend… Federal Chancellor Dr. Angela Merkel.
-------------------------------------------------------------------------------------------------------------
German translation:
Guten Abend alle Miteinander und vielen Dank, daß ich heute Abend mit einbezogen werde. Ich bin stolz, den Feierlichkeiten beizuwohnen, welche die Werte des Abends repräsentieren.
Nicht weit von hier wacht eine goldene Frau über diese Stadt. Sie ist ein Symbol der Ehre, Triumph und Tapferkeit und steht aufrecht auf ihrer Säule, welches ihr Heim ist.
Mir wurde gesagt, daß die Victoria eine Art Muse für diese Organisation darstellt.
Mir scheint es, daß ihr Kampfgeist für ihre Aufgabe relevanter denn je ist.
Fanatismus und Hass sind keine neuen Ideen, jedoch haben sie in unserer digitalen Zeit an Fahrt und Einfluss gewonnen, wo Empörung sich von alleine verkauft und mit jedem Klick weiter verbreitet wird.
Eine starke, freie Presse ist unerlässlich, um diese spaltenden Kräfte zu bekämpfen: um Licht ins Dunkel zu bringen...um Unwahrheiten mit Fakten entgegenzuwirken...und Ddie Mächtigen zur Verantwortung zu bringen.
Die Presse kann die Wahrheit aussprechen, wo andere es nicht können...sich nicht trauen...oder es einfach nicht möchten. Sie geben den Stummen eine Stimme, fordern Aufmerksamkeit für Themen, die sonst ignoriert werden.
Ich möchte Ihnen allen in diesem Raum, die diese Aufgabe täglich meistern, ein großes Lob aussprechen.
Hiermit möchte ich auch die VDZ dafür würdigen, daß sie für etwas stehen, daß größer ist als sie selbst. Durch die Gründung der Deutschlandstiftung Integration, haben sie ihre Stimme für Offenheit abgegeben. Sie stellten klar, daß Deutschland profitiert, wenn es jedem die Chance gibt seinen Beitrag zu leisten.
Heute Abend habe ich die Ehre die Goldene Victoria an die Schirmherrin der Stiftung zu überreichen...einer Führungspersönlichkeit, die mehr Beiträge geleistet hat als gezählt werden können: Bundeskanzlerin Dr. Angela Merkel.
Seit ihrer Amtseinführung hat sich Kanzlerin Merkel die Bewunderung und den Respekt der Welt für ihr unerschüttlerliches Engagement für Stabilität, Wohlstand, Freiheit and Frieden erworben.
Dies war keine leichte Aufgabe. Seit 2005 haben wir viele Krisen erlebt – und Deutschland, hier im Herzen Europa's, wurde dazu aufgerufen Lösungen für alle zu finden.
Von finanziellen Turbulenzen...über terroristische Angriffe...über Naturkatastrophen...zu Gewaltkonflikten...wir leben in einer unruhigen und turbulenten Welt, die nie zur Ruhe kommt.
Jedoch, ein ums andere Mal, hat es die ruhige Widerstandsfähigkeit und Entschlossenheit der Kanzlerin Deutschland ermöglicht nicht nur einen sicheren Weg einzuschlagen, sondern auch die Weltgemeinschaft durch den Sturm zu lotsen.
Und was für mich am ausschlaggebendsten ist, ist die Art ihrer Führung.
Als ausgebildete Wissenschaftlerin ist sie geduldig, fokussiert und sehr bedächtig in ihren Bemühungen. Sie nimmt Probleme auseinander, untersucht diese vorsichtig und hilft uns diese so zu sehen, wie sie tatsächlich sind – und liefert somit ein Sicherheitsventil gegen jene, die lieber Chaos und Verwirrung schüren wollen.
Ja, sie ist eine Kämpferin –so stark und entschlossen wie Victoria selbst.
Aber, anstatt die Menschen gegen einander auszuspielen, kämpft Kanzlerin Merkel dafür sie alle zusammen zu bringen.
Wahrscheinlich, weil sie selbst die Auswirkungen von Isolation und Trennung erlebt hat.
Sie weiß, wie es ist keine Freiheit zu haben...eingesperrt oder ausgesperrt zu sein durch eine Mauer.
Also hat sie für ein Europa gekämpft, verbunden durch gemeinsame Werte für ein gemeinsames Anliegen.
Sie hat für Würde, Vielfalt, Humanitarismus und Mitgefühl gekämpft.
Ihre Vision war immer die Einigkeit – ein vereintes Deutschland, ein vereintes Europa, eine vereinte Familie von Nationen. Sie weiß, daß unsere Zukunft heller ist, wenn wir alle auf einer Seite stehen.
Nirgendwo wurde dies deutlicher als im Sommer 2015, als sie dieses Land hinter sich scharte, um mehr als eine Million Flüchtlinge willkommen zu heißen.
"Wir schaffen das", sagte Angela Merkel und die deutsche Bevölkerung gab ihr Recht.
Für mich, sowie für uns alle in Jordanien, war dies ein Moment großen Stolzes in Bezug auf die Freundschaft unserer Nationen. Wir haben ebenfalls unsere Nachbarschaften, unsere Herzen und unsere Möglichkeiten für jene in Not geöffnet. Heute ist jeder Siebte in meinem Land ein Flüchtling.
Wir könnten diese Verantwortung ohne die Solidarität und Unterstützung Deutschlands nicht schultern.
Und, aufgrund unserer Erfahrung in Jordanien, weiß ich: solch einer Führung bedarf es großen Mutes. Politischen Mutes. Moralischen Mutes. Den Mut der eigenen Überzeugungen.
Ich weiß, daß das Thema Einwanderung heutzutage in Deutschland ein kontroverses Thema ist.
Nur Sie können für sich selbst entscheiden, welchen Weg Sie ab jetzt einschlagen wollen.
Aber als eine Person, die von außen auf Deutschland schaut, und die selbst sehr gut versteht, welche Belastung ein solcher Massenzustrom an Flüchtlingen bedeutet, möchte ich die Dankbarkeit der Jordanier, sowie der Welt über den Mut Deutschlands zum Ausdruck bringen.
Wir sind dankbar für das wunderschöne Beispiel, welches Deutschland gegeben hat – herzlich auf die Neulinge zuzugehen, um ihnen bei der Eingewöhnung an ein neues Zuhause, neue Schulen, neue Leben zu helfen.
Wir sind dankbar für Kanzlerin Merkel's Glaubenssatz "Angst ist niemals ein guter Ratgeber, weder in unserem Privatleben, noch in unserer Gesellschaft".
Denn, am Ende des Tages müssen wir uns selbst fragen: in was für einer Welt möchten wir leben?
Stellen Sie sich vor, wie anders die Weltlage sein könnte, wenn Kanzlerin Merkel's moralischer Kompass die Norm wäre.
Stellen Sie sich die Rechte vor, die gewahrt wären...das Leid, das hätte verhindert werden können...die Krisen, die hätten vermieden werden können...die Leben, die hätten gerettet werden können.
Trotz ihrer langjährigen Amtsführung scheint ihre Art der Fühung heutzutage mehr als je zuvor einzigartig zu sein. Und doch wird diese nun dringender benötigt als je zuvor und ist auch wertvoller denn je.
Sie führt, wie sie lebt: sie vertaut ihrem Intellekt, ihrer Erfahrung und ihrem Gewissen, um ihr den Weg zu weisen.
In diesem Prozess hat sie diesem aussergewöhnlichen Land dabei geholfen, sein Bestes nach Aussen zu tragen.
Aufgrund dessen fühle ich mich geehrt und bin stolz drauf, die Goldene Victoria an eine Brückenbauerin zu überreichen...einer Veränderungsmacherin...einer Hoffnungsgeberin...und Freundin...Bundeskanzlerin Dr. Angela Merkel.
Featured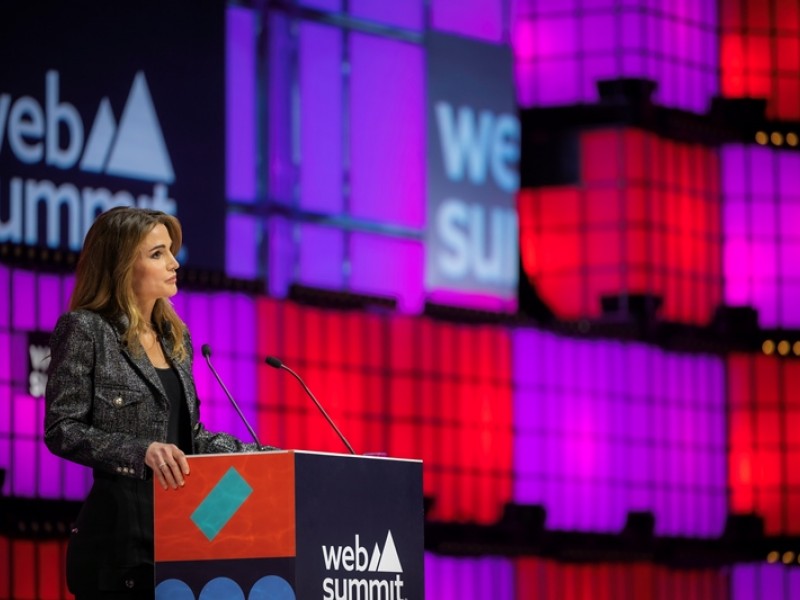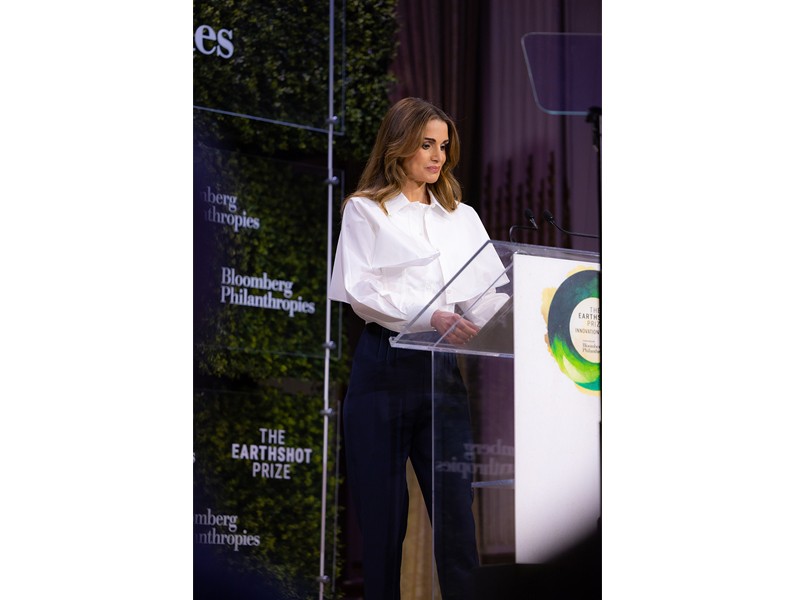 Queen Rania's official website
This website does not support old browsers. To view this website, Please upgrade your browser to IE 9 or greater
Your browser is out of date. It has known security flaws and may not display all features of this and other websites. Learn how to update your browser