Queen Rania's Live Q&A at the World Economic Forum Annual Meeting 2003 - Davos, Switzerland
Klaus Schwab: Your Majesty, you have been very active in terms of changing the perception of the role of women in the Arab and Islamic world. Is the perception in Europe and in the western world wrong? What could be done, and what is your message to this audience?
Queen Rania: Well, I think my first message would be that women in the Arab World do not fit into one stereotype. I think that's something that happens very often – that people just tend to think that all Arab women are the same, that they all have one style of dress, one style of thinking…people always refer to the head scarf, the "hijab," and almost reduce the identity of Arab women to this single item of clothing, and I think my message would be to look beyond that.
Women in the Arab World are very different. Women in different countries have made different levels of progress. In Jordan for example, we have women active in many different fields…we're not where we want to be, but we're still working very hard and we're moving ahead. So my message would be to embrace Arab women, to realize that in different countries there are different woman who have made progress in different fields – and they really need the support of the international community and the support of their own leadership to move forward. The progress of the Arab World has been hindered by the lack of sufficient contribution of women in the Arab World. So we need to work very, very hard to make sure that they are able to contribute to their societies and to the livelihood of their families.
Jihad Al Khazen, Al-Hayat/LBC: Your Majesty, can you recall how many official functions you were involved in last year and what was the cause closest to your heart?
Queen Rania: That's a tough question. I actually have no idea how many official functions I was involved in. But I am very honored to have had the opportunity to participate in many functions all over the world and to work on many areas that are very important to my heart. I think the major trend that I have seen over the past two years is this need for dialogue between the Eastern and the Western World. I think a certain gulf has emerged and there is a lack of dialogue taking place, and that is something that we have to work very hard on. All of us in the Arab World, I think, need to do a better job of getting our message across and connecting with people in the rest of the world, and at the same time, I think the Western World needs to connect with us and listen to our needs and our situation. So I think the events that have been closest to my heart have been the ones where we've had the opportunity to have this kind of dialogue.
Participant from India: Could you tell us a little bit about the life of the average Jordanian woman? Are they predominantly working, and if so working in what areas? And the schooling and health facilities…
Queen Rania: As I mentioned earlier, different women in Jordan have different kind of lifestyles; there is no set mold for the Jordanian women. We have women participating, for example, in business in the private sector; we have women in government, in Parliament; we have women judges; we have women in the armed forces – so we have women in a lot of different spheres. So we have different levels of progress, but as I said, we're not necessarily where we want to be. There's a lot of work that still needs to be done to have full participation of women. But one important thing is to make sure that you are moving. Now, you might not be moving at the speed that you want to be moving at, but as long as there is progress being made, that is very important. The leadership is very much behind the progress of women, because we understand that we cannot reach our full potential without tapping into the creative potential of half of our population, so that is something that we're very determined to do.
Klaus Schwab: Your Majesty, you have used in your speech the expression "moral passion," and said that moral passion is based on values. As you just mentioned Your Majesty, you are traveling a lot, so you know the Western and the Islamic world. Do you feel we can establish a situation where we really share the same values?
Queen Rania: Well, the reason why I mentioned the issue of moral passion is because one dangerous phenomenon that I have noticed recently is that people are becoming very cynical about values like peace, tolerance, and freedom. If you talk about the Middle East, for example, everyone will tell you, "oh, no chance, that's not going to be solved." When you think there is no hope, then you stop making an effort, and I think not trying is one of the worst things that we could do. In our interconnected world, there are no zero-sum games; it's not that somebody is going to win and somebody else is going to lose. It's all about "we" – either all of us win together or we all lose together. I think once we come to terms with that, we will realize that we all have a stake in trying hard to solve some of the conflicts in other parts of the world. And that will create a common value system, if you will.
I think that there has been, over the past couple of years, a kind of a global moral consciousness that has emerged; we need to tap into that. The world is more plugged in now because it is so integrated. For example, there has been a lot of talk about the war on Iraq and one thing that has struck me is how plugged in the international community is on this particular issue at the grassroots level. I think that this is because now we have the technological means, we have the media, and the information is so readily available to us. People are more knowledgeable about their world. Now, if we can harness that energy into creating a common value system, as you said, then that will do the world a lot of good.
Participant from the Mexican Rural Development Foundation: Your Majesty, you spoke with great respect and admiration of the late King Hussein. I'd like to ask you if there is any queen that has been a role model for you, and if so, why?
Queen Rania: Well, when I think of role models, they don't necessarily have to carry a title, actually. Titles are just titles and they come and go. King Hussein is a role model to me because of the person that he was, because he was someone who had basically really seen it all and still maintained that kind of idealism that kept him going right till the very end. That is what we have to combat today: people who lose the hope, who lose the will to keep trying. That's something I learned from him. He never lost that will, even when his body was frail as I mentioned and he was ill, he still wanted to keep moving forward, he still wanted to do good for the world. That is why he's my role model.
Featured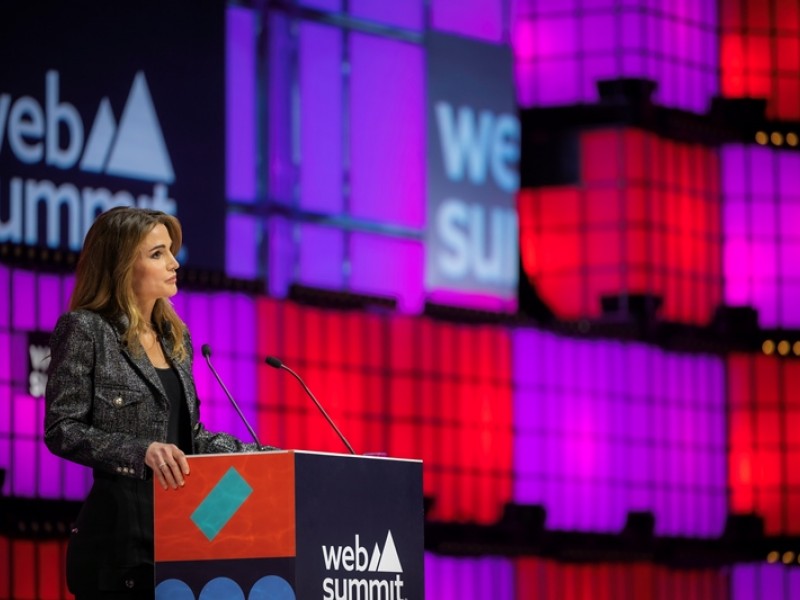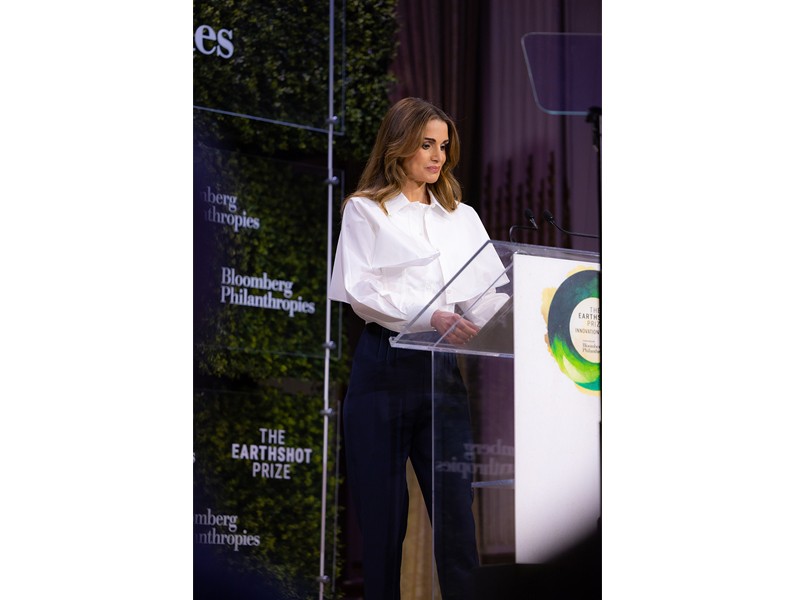 Queen Rania's official website
This website does not support old browsers. To view this website, Please upgrade your browser to IE 9 or greater
Your browser is out of date. It has known security flaws and may not display all features of this and other websites. Learn how to update your browser