Queen Rania's Speech at the 1GOAL Campaign: Education for All Launch - London, UK
Wembley Stadium, United Kingdom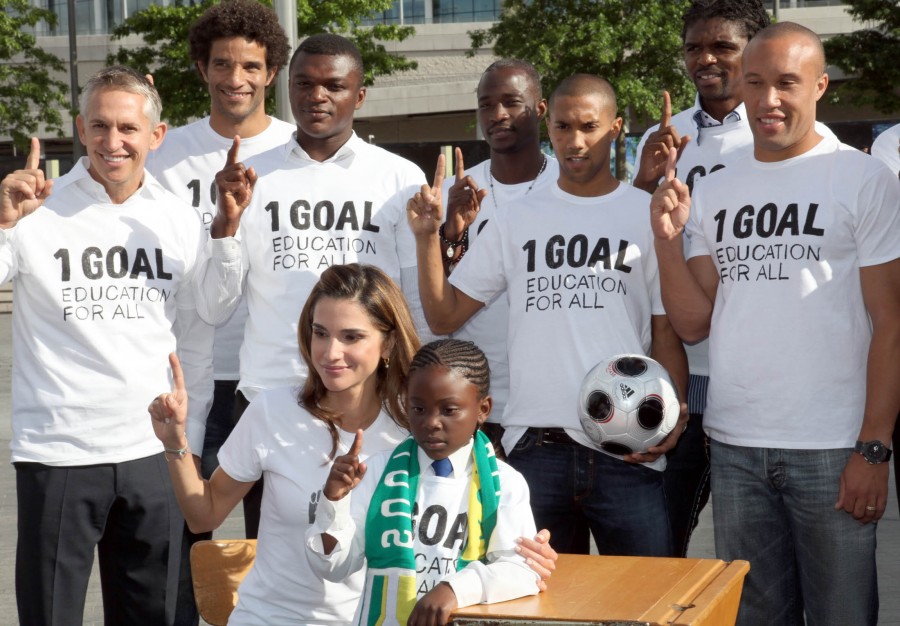 I'm here to ask you to join one team and help us reach one goal.
One goal: To change the lives of children through education for all.
And I'm honored to be introduced by a champion who won the Golden Shoe.
Now that's one, I don't have! But, seriously, I think it's great to see stilettos and cleats lining up together… in support of a golden chance to make a lasting difference for the world.
We've come together as the autumn term is just about to begin. The High Street shops are filled with uniforms… blazers… badges… and books… as boys and girls around the world get ready to go back to school.
But for 75 million boys and girls, the chance to go to school is just a dream.
75 million. That's enough to fill Wembley Stadium more than 800 times over.
Think about that, as you and your kids, or your friends, buy your new school supplies. Millions of children who've never owned a pen. Who cannot read or write their own name.
And know that over half of the children who are being deprived of education are girls.
Are the daughters of low-income parents less deserving than our own?
They are girls like Khadija, whom I met in Morocco, who started work at the age of 5 – weaving carpets instead of going to kindergarten, because her family needed the money to make ends meet.
Girls like Devli, from India, who labored all day in a quarry instead of a classroom, and had never even seen a piece of paper until she was seven years old.
Girls like Caroline, only 14, who works as a live-in housekeeper in Malawi – a child whose job is to care for others, with no one caring for her.
Girls like Fatima from Afghanistan… 11 years old… who quit school because her family was starving. Now, she scavenges for scraps to sell, instead of studying the subjects she loves.
And yet, when children are denied their education, society as a whole loses out.
Because education is more than a right. Education is a remedy.
In a world gripped by economic crisis, conflict, and contagious disease, education can be a pathway to growth…a boost to public health…a stepping stone toward peace.
It's the best investment we can make to help people lift themselves out of poverty. And it's one investment we can make that will never shrink in value.
So, you may ask, when the case for education is so clear, why are so many children Still. Out. Of. School?
Lack of resources? No. It would cost $11billion to get children from low income countries into classrooms.
Lack of knowledge? No. We know what solutions work.
Lack of global commitment? No. World leaders came together nine years ago and promised to make education for all a reality by 2015.
What's missing? What's missing…is the will to act and follow through on our commitments.
There has been some progress. 40 million more children are in primary school.
But 75 million aren't. 75 million are on the sidelines. Denying children their education is an offence that deserves a red card!
That's why 1 GOAL needs your help. With millions of eyes on South Africa in 2010 for the beautiful game, we need to harness your passion and power…we need you to remind world leaders to play by the rules and keep their promises to the children of the developing world.
Remember, political will is born of popular will. If billions of people move together, we cannot be ignored. We can be part of the generation who leaves a legacy of education to Africa and the rest of the world.
So, please, join me…and FIFA…and football's finest from around the world. Join together as one team, to reach 1 GOAL.
Here's what I want you to do:
Log on to: join one goal dot org. Sign up. And speak out for children who can't go to school.
Take one minute of your day to change a child's life forever.
Thank you very much.

Queen Rania's official website
This website does not support old browsers. To view this website, Please upgrade your browser to IE 9 or greater
Your browser is out of date. It has known security flaws and may not display all features of this and other websites. Learn how to update your browser