Queen Rania's Speech at the World Bank Spring Meeting - Washington DC, USA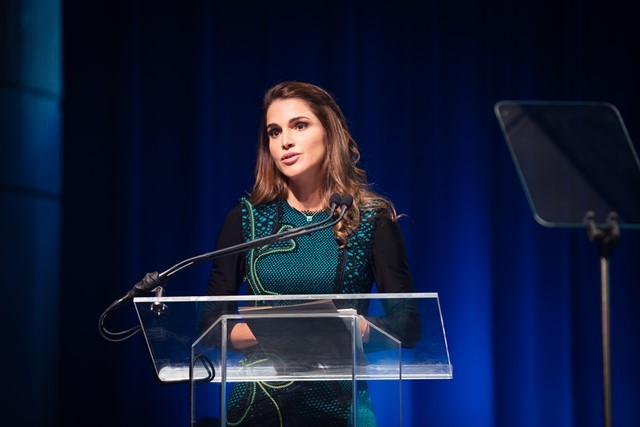 Thank you, Dr. Kim, for your warm words and for inviting me to join you, Secretary General Ban Ki Moon, President Junker, and all of your distinguished guests today.
I once heard a story about an old man who didn't know how old he was. He said he counted his money… he counted his possessions… but he never bothered counting his years. Why? He said, first of all, no one would ever want to steal them—and second, he knew he'd never lose them.
Well, a few weeks ago, I sat with a group of Syrian refugee women who showed me just how flawed the old man's wisdom was.
We met at an IRC run center in Jordan. They greeted me with brave smiles, but with eyes that have seen unspeakable horror.
They told me how they escaped Syria, carrying exhausted children and what little possessions they could, until they reached the safety of the Jordanian border.
And they shared with me stories of physical and psychological pain… of hopelessness… of uncertainty… and of fear for their children.
One mother, Um Qusai, fled Syria three years ago. Here is how she described her life: "We came here to find that we have to start from scratch. Years of building our lives in Syria…lost. And still, we wait. We're living on borrowed time."
Another one told me, "When I imagine my future - my family's future - I see nothing."
Ladies and gentlemen, years can be stolen.
Every year that a refugee child spends out of school or in an overcrowded classroom, where little learning is done… that's a year stolen.
Every year that a young man sits idle, unable to develop his skills, pursue a career and start a family… that's a year stolen.
And every year that a father depends on precarious aid - instead of a real job - to provide for his family… that's a year stolen.
In my region, we know that reality all too well; the Middle East holds the unfortunate title of the world's largest producer and host of forced displacement. Over the past 5 years alone, 4.8 million Syrian refugees have been streaming into Lebanon… Turkey… and Jordan, among others—1.3 million to Jordan alone.
This means every seventh person in my country is a Syrian refugee.
To put that in context: If the United States received an equivalent influx, it would mean accommodating fifty million refugees. Think about that. Fifty million.
That's almost two and a half more Floridas. Five Ohios. Ten South Carolinas.
And I make these metropolitan comparisons deliberately. Because our refugees are not confined to camps.
More than 90 percent are living in Jordan's cities, towns, and villages—a demographic shock that is exhausting our social and physical infrastructure to its absolute limit.
We are doing our best to provide for Syrian refugees – as we have done time and again in the past with Palestinians, Iraqis and others seeking refuge and safety. Because this is who we are.
But with classrooms overflowing and teachers working double shifts, the quality of schooling is being compromised—and not just for Syrian students, but for Jordanian children as well. Our health care centers are overcrowded and our health providers overwhelmed. Rents have more than doubled in some areas, hurting the most vulnerable segments of our own population.
International contributions have covered little more than a third of our expenses. To make up the rest, we've had to borrow money—deepening our national debt. Before the crisis our debt to GDP ratio stood at 55%. Today, it's at 93%.
But host countries like Jordan, Lebanon, and Turkey are providing a global public good. This is a global crisis, and we are deluding ourselves if we think it can be contained. We know all too well that in our interconnected world, a crisis in one place is a crisis in all places.
And we know what happens when people look at their future and see nothing. What happens when hope goes hungry for too long… and how terror feeds on marginalization and despair …
There is a cost to depriving people of the tools to make the most of their own lives. One our global community is already paying. And if we do not invest in them now, the bill of our neglect will only rise.
Make no mistake: we too are operating on borrowed time, because the status quo is unsustainable.
That is why the burden of this humanitarian responsibility must be shared. But that's not enough. Humanitarian assistance must not only be increased, it must evolve.
Like it or not, we are living in a new age of unprecedented mass displacement. This is a new global reality. 60 million displaced people worldwide is not a temporary humanitarian crisis; this is a crisis of human development.
And this new reality presents a challenge on a whole new scale for development and humanitarian agencies; one that requires a paradigm shift in perspective and mindset.
For example, our status as a "middle income" country means that we are not eligible for bilateral Oversees Development Assistance or concessionary financing. As a result, Jordan and other host countries are being pulled deeper and deeper into debt.
That must change. And I am happy to say that it's starting to. (As President Kim mentioned) the World Bank, last month, announced that Jordan and Lebanon would receive financing at rates usually reserved for the poorest countries only.
This is the kind of nuanced and progressive thinking we need. One that is critical if host countries are to help refugees rebuild their broken lives and, eventually, their broken land… without forfeiting our own progress along the way.
In Jordan, we're doing our part in breaking new grounds.
Because we know, from first hand experience, that refugees living on international handouts is not sustainable. We know that it's time for a new paradigm… A paradigm that focuses on growth and investment, not just aid and relief… A win-win paradigm for refugees and host communities…
That is why, as part of the Jordan Compact announced earlier this year, Jordan has designated five special development zones which, with the right investments and access to EU markets, could provide hundreds of thousands of jobs for both Jordanians and Syrian refugees over the coming years. And, with the international community's support, we are committed to ensuring that all Syrian children have access to education by the next school year.
So, let us work together to make this a turning point for the way the world supports refugees…so that when peace arrives, families can return home with the will and skill to rebuild their lives, their country and their futures.
Let us make sure that no more years are stolen. Because they cannot afford it… And neither can we.
Thank you.

Queen Rania's official website
This website does not support old browsers. To view this website, Please upgrade your browser to IE 9 or greater
Your browser is out of date. It has known security flaws and may not display all features of this and other websites. Learn how to update your browser