Queen Rania's Speech at UNF/UNA-USA Global Leadership Awards Dinner 2013 - NY, USA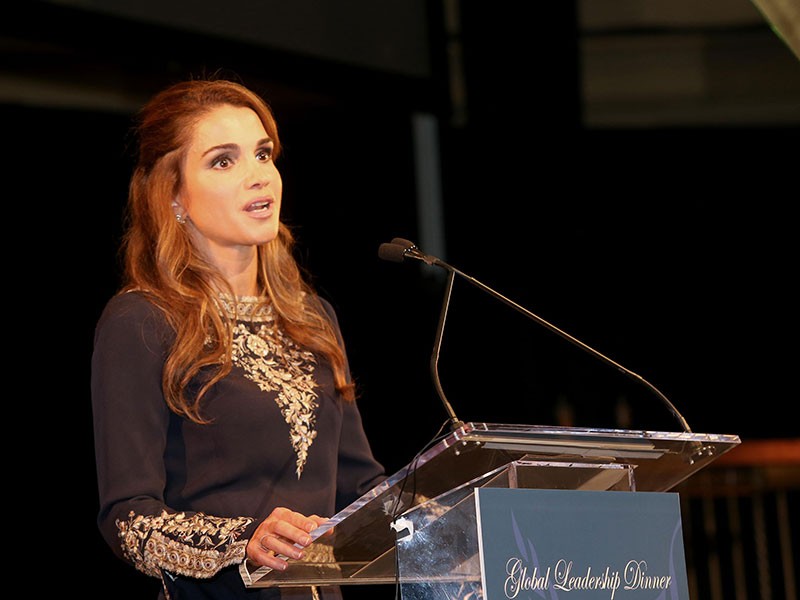 "Who is Malala?"

When a member of the Taliban uttered those words on a school bus in Pakistan 13 months ago, he identified her by her appearance. But he had no idea who Malala really was.
He had no idea how strong she was…and how much stronger she would become. He had no idea of the depths of her faith and the forgiveness in her heart. He had no idea that by shooting her down, he would raise her up as a symbol of courage for the fearful and the disenfranchised. He had no idea how her future would unfold. Or perhaps he did.
13 months on…we're all beginning to realize who Malala really is. And we're in awe. We're humbled by her accomplishments…her humility…and her drive.
An advocate…activist…and author, she talks with presidents and prime ministers. The youngest-ever nominee for the Nobel Peace Prize, she's addressed the UN and Harvard. She's been invited to Buckingham Palace… and given an honorary degree from Edinburgh University. She's won the European Parliament's Sakharov Prize for Freedom of Thought. And she counts Hollywood stars amongst her biggest fans. Even Jon Stewart's tried to adopt her.
She's a survivor…a role model...a force of positive energy.
It's sometimes hard to believe that she's also…a 16 year old schoolgirl.
At the end of her book – and I hope you've read it because it's wonderful -- in words beyond her years, she reflects that, "I had been spared for a reason...to use my life for helping people." And from the moment she opened her eyes after her life-saving operation, that's what she's been doing.
Speaking out for the millions of girls and women silenced by poverty and injustice.
Advocating for education so that girls and boys alike can go to school…explore their dreams…and fulfill their potential.
And she's been busy turning that rhetoric into reality for hundreds of girls in her hometown in Pakistan. Thanks to Malala, they're swapping the shackles of domestic labor for seats in classrooms. That's not all. Through the Malala Fund, she plans to build schools, train teachers and convince parents to send their children to school.
Because she knows, like all of us at the UN, that education is the most precious gift a child can have.
She knows that it's a pathway out of poverty and inequality. A passport to good health… and a good job. A platform for participation… and democracy.
That's why we're so pleased that Malala has joined with the UN to promote education for all. She is an inspiration, not just to young people like our GenUN and Girl Up supporters, but to all of us. The Secretary-General Ban Ki-moon has described her as "a symbol of hope".
In a recent interview, Malala said: "I don't want to be thought of as the girl who was shot by the Taliban… but as the girl who fought for education."
So, ladies and gentlemen, it is my honour to virtually introduce the girl who -- even as she studies for her own exams -- continues to fight for education for her friends in Pakistan…and for every child around the world who longs to hold a pen and read a book. Malala.

Queen Rania's official website
This website does not support old browsers. To view this website, Please upgrade your browser to IE 9 or greater
Your browser is out of date. It has known security flaws and may not display all features of this and other websites. Learn how to update your browser