Queen Rania's Speech at Condé Nast Traveler World Savers Awards 2008 - NY, USA
"Good afternoon everyone. It's a pleasure to be with you all in such a wonderful setting; and thank you, Klara, for your generous introduction. A biography I read about you recently began: A literary superstar. Arguably Poland's most famous writer after Joseph Conrad. I'm sure those of us who've enjoyed your writing over the years would agree.
And just as Conrad revealed to us the heart of the Congo, each month, you and your talented team, show us the heart of exotic locations with honest, informed, and entertaining commentaries- and breathtaking photography – making Condé Nast not only an award winner in the travel journalism field, but a touchstone for travelers and travel industry insiders the world over.
The great American scholar, Ralph Waldo Emerson, once said, "The landscape belongs to the person who looks at it."
I know this message will resonate with everyone here, especially in a week that marks World Tourism Day, which, this year, focuses on climate change and sustainable development.
This message speaks of shared responsibility for our surroundings…of caring for our environment at home or on holiday…and, of lessening our impact on the landscape whether we live there permanently or are just passing through.
This message speaks of the spirit of sustainable tourism:
Tourism that protects endangered species, biological diversity, and cultural integrity;
…that preserves our planet's precious resources for future generations to enjoy;
…that provides jobs and opportunities for people in local communities;
…that promotes areas of natural beauty;
And tourism that partners with public and private entities to find creative solutions to sustainability challenges.
And there's no shortage of challenges, particularly when it comes to the pressure our planet is under. In the past thirty years, the world has lost nearly a third of its natural habitat –and for an industry that relies upon areas of natural beauty, abundant wildlife, and plentiful water supplies, that is not good news.
In 2002, The Johannesburg Summit identified tourism as one of the key sectors where economic growth and environmental stewardship can be mutually reinforcing. Last year alone, international tourism generated over $730 billion for recipient countries.
Yet if governments and communities want to ensure long, healthy growth in their tourism industries, they must protect the beaches, jungles, and deserts that set them apart. And clearly, it's a tricky tightrope to walk: boosting tourist numbers on one hand; protecting precious natural resources on the other. But increasingly, tourists themselves want to be part of the act…part of the solution.
A survey of worldwide travelers by Trip Advisor, last year, found that 40% consider environmentally friendly tourism when making travel plans; 34% said they would pay more to stay in an environmentally-friendly hotel; while 38% said they'd already stayed in one.
And, globally, adventure and eco-tourism holidays are booming at a staggering 20 per cent. It seems a "green" tourist is no longer just a person abroad getting sick!
Even travel terminology is adapting to take account of these new trends. For some travelers and tour organizers, the word "luxury" no longer applies to exquisite surroundings in exclusive destinations, but to getting off the beaten track and experiencing views few get to see- without the crowds.
I'm proud to say that tourism is a sector my part of the world, the Middle East, is taking seriously and creatively.
And I know that, for many people, the Middle East is not necessarily a first choice holiday destination. Too often, the headlines paint a picture of a region in conflict and turmoil. But, the real Middle East can't be reduced to a headline. It's an intricate mosaic… of cultures, stories, traditions, and peoples eager to welcome the world.
And more and more people are catching on to that. Last year, the Middle East recorded the largest percentage increase in visitors in the world – a 13 percent boost -- and that strong growth is forecast to continue.
Why? Well, one explanation came from this year's Arabian Travel Market, where country branding expert, Rina Papler, suggested that "an overarching travel trend this year is the idea of "paradox and distinction" – of contrasts, contradictions, surprises, unique experiences, and adventures. These are qualities the Middle East can offer in abundance – and more than ever, we're providing environmental well-being too.
Take Abu Dhabi, which you might know as one of the world's top producers of oil. But did you know it's building the first carbon neutral, zero emissions city in the world? Relying on renewable energy sources, Masdar City will swap cars for personal transit systems – the likes of which we saw in Blade Runner fifteen years ago. And this complements the $3 billion "Desert Islands" eco-project currently underway: eight islands, six nature reserves, and a breath-taking array of birds and animals.
Or take Oman, which you might know for the fantastic forts that line the coast, but did you know it also has much to offer eco-tourists? Watching shoals of dolphins, and turtles laying eggs are just two of the many attractions.
Or look to Egypt, which you know as home to the pyramids and the Sphinx. But did you know Egypt's working hard to promote environmentally friendly experiences -- from exploring coral reefs to tracking migratory birds? It's also breaking new ground – and using it – to build green accommodation, like solar heated lodges with salt-brick walls and roofs made out of palm leaves.
But I can't stand before you, talking about my region without talking up Jordan. Jordan is safe and warm and welcoming, and we have something for everyone.
If you're looking for a place to relax, the Dead Sea will make you feel more alive than ever. It's the lowest point on earth, with the highest oxygen content in the world. And, ladies, a superlative that matters to all of us…it's home to the region's biggest spa.
If you want adventure, you can abseil down waterfalls, paraglide off sandstone crags, navigate Red Sea reefs, then cook supper deep in the desert sands of Wadi Rum.
If you're a history buff, we've got Roman ruins and desert castles from the Ummyad times to explore, and our famous Nabatean city of Petra, carved out of red stone cliffs –where Indiana Jones' escapades ended when he found the Holy Grail.
And we're especially proud of our award-winning sustainable tourism and eco-tourism projects, which are helping us to both protect and promote the things that are most precious to us.
Together with the Royal Society for the Conservation of Nature, and several other NGOs, we're investing in projects that provide jobs for our people and an authentic, cultural experience for our visitors – all while respecting our natural resources.
In one of our northern reserves, Ajloun, you can sleep in log cabins made by local craftsmen, hike through carob and pistachio woodlands, harvest olives with women and children, and help the local community repaint their primary school.
In the south, Dana reserve's a magnificent jumble of moonlike rock formations. It won the TO DO! Contest for Socially Responsible Tourism in 2002 – and that's just one of four international awards it's earned. Local Bedouin guides take visitors on unforgettable tours through gorges, where you can see a Black Iris, savor wild plums, and, perhaps, glimpse the shy mountain ibex.
We're proud that in recognition of these exceptional areas of natural beauty, UNESCO will shortly be granting World Heritage site status to four of our nature reserves.
And today, I'm delighted to announce that Jordan is establishing nine more unique park and woodland areas across our country –from Yarmouk in the North to the southern mountains of Aqaba. These parks will create wildlife corridors and sanctuaries for endangered plants. They'll be looked after by local communities, who know the landscape better than anyone, and will offer visitors unique cultural experiences.
Because as we develop our tourism sector, we want to transform Jordan from 'a place to visit' into 'a place to experience'… where tourists stay longer, discover the out-of-the-way places that locals know and love, eat in the cafes where Jordanian families spend a Saturday afternoon, chat to the village shopkeepers over some sweet mint tea, and discover our greatest natural asset of all: the warmth and hospitality of our people.
With our Bedouin roots, Jordanians are famed for friendliness and generosity; in fact, hospitality is the highest Bedouin virtue there is. As the saying goes,
الضيف ضيف الله
…which literally translates as: "The guest is a guest of God."
I often wish that that warmth and hospitality could be extended between strangers the world over, so that people from different cultures, religions, and backgrounds would take the time to get to know each other…because it's often when we're listening to people's stories, learning about a new way of life, and experiencing another culture, we realize that their way of life is not so different from our way of life. That, after all, is part of the magic of global travel and tourism.
So, come and visit us in Jordan, explore the Middle East. Blog, blag, and brag about it. Help me rebrand the place I call home. And measure your journeys not in how far you go, but in the memories and the new friends you bring home."
Featured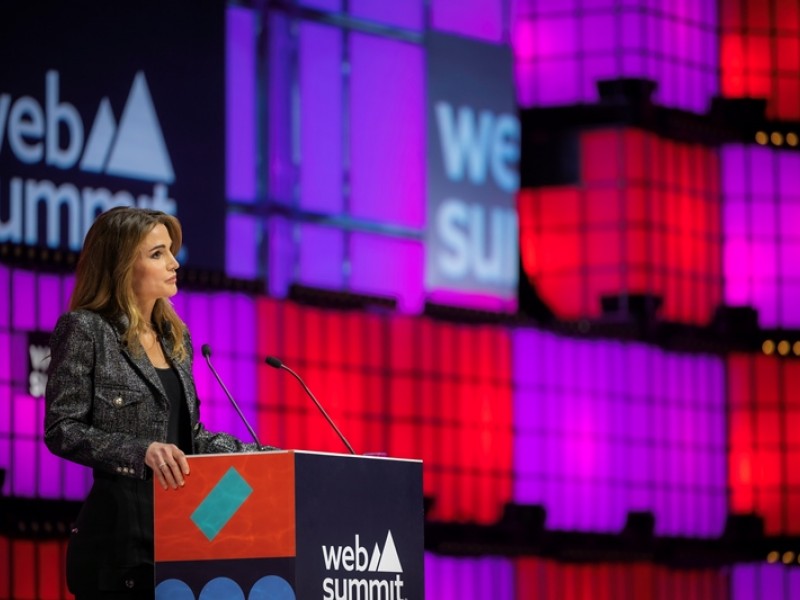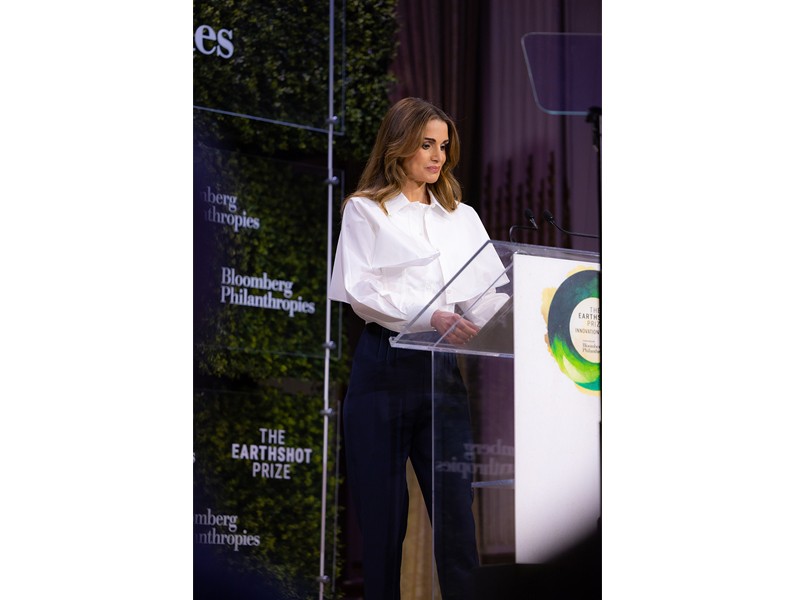 Queen Rania's official website
This website does not support old browsers. To view this website, Please upgrade your browser to IE 9 or greater
Your browser is out of date. It has known security flaws and may not display all features of this and other websites. Learn how to update your browser