Queen Rania's Acceptance Speech for North-South Prize 2008 - Lisbon, Portugal
Sao Bento Palace - Lisbon, Portugal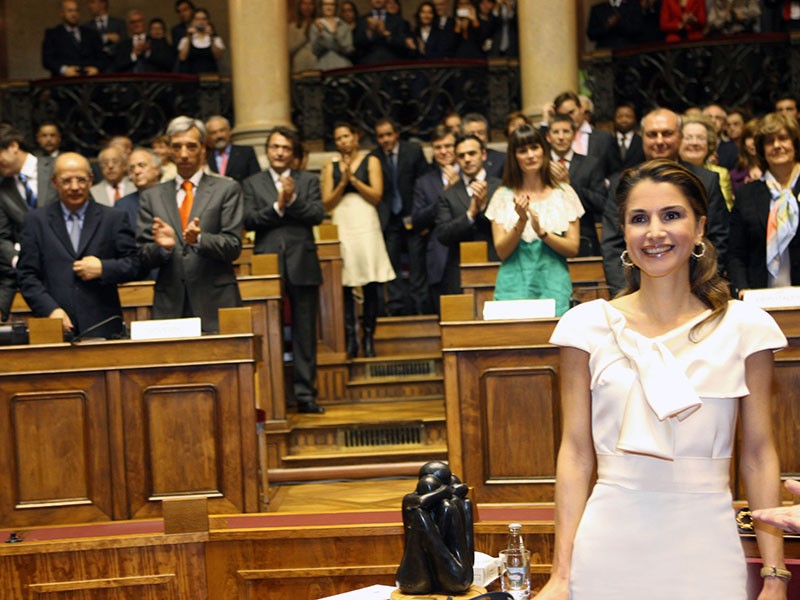 Sayeedna, Your Excellencies, Distinguished Guests…
Thank you, President Cavaco-Silva.
It is an honor to receive the North-South Prize, together with President Sampaio, in front of such an eminent audience. Thank you to the Council of Europe and the North-South Centre for this generous distinction.
Thank you, also, to the people of Portugal for hosting us in the beautiful Palacio de Sao Bento.
This reminds me of the great warmth and hospitality I experienced on my last visit to your beautiful country in 2002; I'm proud that the friendship between Portugal and Jordan is going from strength to strength.
Portugal. A land of over ten million people. And yet, 230 million people around the world speak Portuguese; it's the official language of nine countries.
This demographic detail points to Portugal's legacy as a nation of great seafarers and explorers.
Now, personally, I don't know why anyone would ever want to leave Portugal. But the Portuguese yen for adventure, desire for knowledge, and curiosity about new cultures has inspired her travelers for centuries. It's this same spirit that inspired Portugal's most famous explorer, Ferdinand Magellan.
In 1519, with five ships under his command, and a raggle-taggle crew, Magellan went in search of the Spice Islands. Not only was he the first person to lead an expedition across the Pacific Ocean, but it was the first successful attempt to circumnavigate the Earth.
This was the Age of Discoveries… when Europeans explored the world by ocean, navigating new trade routes; searching gold, silver, and spices; and competing for political and economic influence.
But this was also an age which witnessed an unprecedented willingness to seek out and understand other cultures…a desire to experience and observe as much as possible.
And it strikes me that, today, almost 500 years later, we can learn a lot from this spirit.
Because, while it seems we're closer together than ever before; in many respects, we've never been further apart.
Today, as a result of cheap, fast travel, cross-border migration, and our growing interdependence, our neighborhoods, the places we call 'home', are culturally very diverse. That is the norm. But many people find navigating this new social landscape unsettling.
Physically, we might be living side by side, but mentally, emotionally, there's a gulf between us.
We feel nervous when we see a young Arab man waiting to board the plane… we raise our eyebrows at the Western woman traveling by herself… we're wary of the veiled Muslim mother collecting her child from school… or the immigrant family, speaking a strange language and wearing peculiar clothes.
And that's where we leave it. We turn away. We pull back. Confident that the few things that make us different are more important than the many things we have in common.
So the cycle begins. Suspicion fills the awkward silences. Tension holds the stare of rapidly shifting eyes. Mutual misunderstanding claims new ground.
As these traits are amplified from individuals to neighborhoods to cities, and then between countries, intolerance fractures the foundations that have kept us strong for so long.
As a Muslim and as an Arab, it is these cracks between the West and the Muslim world that concern me.
We've all watched local incidents become global incidents in the blink of an eye… the cartoon crisis, the teddy bear controversy, or Geert Wilders' film.
Emotions spill over, facts become lost in angry tirades, attitudes become entrenched.
A Gallup poll, released last year, shows that many in Europe and the United States are convinced the Muslim world isn't committed to improving relations with the West.
At the same time, large majorities in every Middle Eastern country surveyed said they didn't think the West is committed to better relations with the Muslim world.
And yet… large numbers of people on both sides said that the quality of the relationship between the Muslim and Western worlds is important to them.
In other words: East and West both think it's important to fix the relationship. But both sides think that the other side doesn't feel the same way. It's a question of trust.
It's not that people don't care. It's that they don't see their caring reflected. They don't perceive an equal sense of commitment from the other side. And that often occurs when we don't know enough about each other. It's what the philosopher, William James, called "the blindness in human beings" that prevents us from understanding the feelings of those "different from ourselves."
That's why, I believe, we need to make a greater effort to learn more about each other…explore beyond our cultural borders.
And this is where the efforts of institutions like the North/South Centre, the Council of Europe, and the Alliance of Civilizations come into focus. Because people need a nudge to get them talking…and role models from which to learn.
In 2005, the Faro Declaration called for a strategy to increase intercultural dialogue – the best antidote to fear, rejection and violence. Its ensuing white paper - which was adopted, last year, by all 47 members of the Council of Europe - has been called a "Pan-European contribution to the international discussion steadily gaining momentum."
Indeed, a number of European countries have already adapted school curricula and teacher training programs to encourage greater intercultural outreach and communication.
The Alliance of Civilizations, led by President Sampaio, also promotes understanding and reconciliation among cultures globally, in the fields of youth, education, media and migration. It is hoped that such dialogue can be a force of moderation and understanding during times of heightened cross-cultural tensions.
In Jordan, too, we have shouldered our responsibility.
Guided by my husband, His Majesty King Abdullah, Jordan issued the Amman Message and reemphasized the core values of Muslims everywhere: compassion, mutual respect, tolerance, and acceptance. And by doing so, we reminded the world of the similarities we all share.
This was also the rationale behind my YouTube project.
Today, through the Internet, we can reach the largest youth audience in history. In 2007, internet use in the Middle East and Africa grew faster than anywhere in the world.
I wanted to leverage the internet's ability to bring all those people together… bridge the gulf of perception and trust between the Muslim world and the West…and scale up digital dialogue… because, nowadays, a journey of a thousand miles can begin with a single click.
My goal was to try to dismantle the negative stereotypes about my region that undermine so much trust between us.
Blogs and vlogs rolled in, much to the relief of my teenage son who, briefly, thought his mother was cool. People from different backgrounds, religions, and ethnicities took the time to channel their thoughts and talents creatively.
In one of my favorite videos, Hanna Gargour, a Jordanian, sings with Mia Rose, a talented Portuguese girl. Hoping that music would help "bridge the gap" between their two cultures, they sang a song called, "Waiting on the World to Change".
What I liked about this response was that Hanna and Mia weren't waiting… they're actively helping the world to change by engaging with it. The video inspired hundreds of comments in Portuguese, Spanish, English, Arabic, and French… from everyone, including Italians, Moroccans, Brazilians, Saudis, and Philippinos.
With every joke and jibe; with every comment, criticism, and point of view, they were learning… about themselves, each other, religions, and cultures.
But it's not just about the centers…the councils…the alliances …the messages… and the YouTube campaigns. It's about the thousands of grassroots' efforts, inspired by individuals, of all ages, going on all over the world…small gestures in neighborhoods, schools, sports' grounds, art exhibitions, and beyond.
And it's this that's convinced me we've reached a turning point… a watershed moment in our shared and common history.
In all of these efforts, large and small, we find ourselves reaching out to unfamiliar frontiers. We set our course, unsure of where we'll end up…but confident that the journey is worth the risk.
For me, that evokes the memory of Ferdinand Magellan.
Because all of these efforts are the beginning of a new Age of Discovery…an era that sees us rediscover ourselves and our neighbors…an epoch that sees us 'undiscover' negative stereotypes…a period in which we are open to connecting with others…a time that is marked by trust and tolerance in strangers.
And I want the people of Portugal and the people of Jordan to be the new cultural explorers of our time.
Courageous voyagers searching not for new lands, but for common ground…drawing new maps of understanding for future generations…and guiding us to shores of shared prosperity.
Thank you very much.
Featured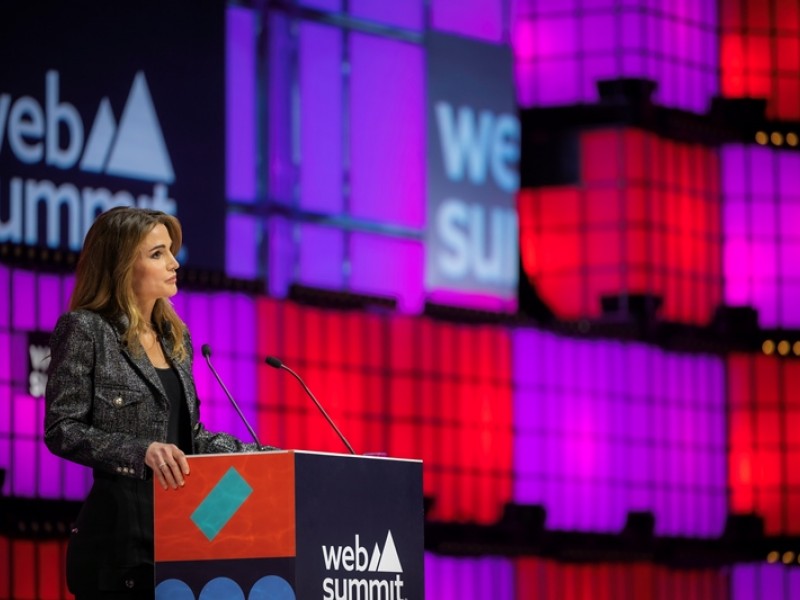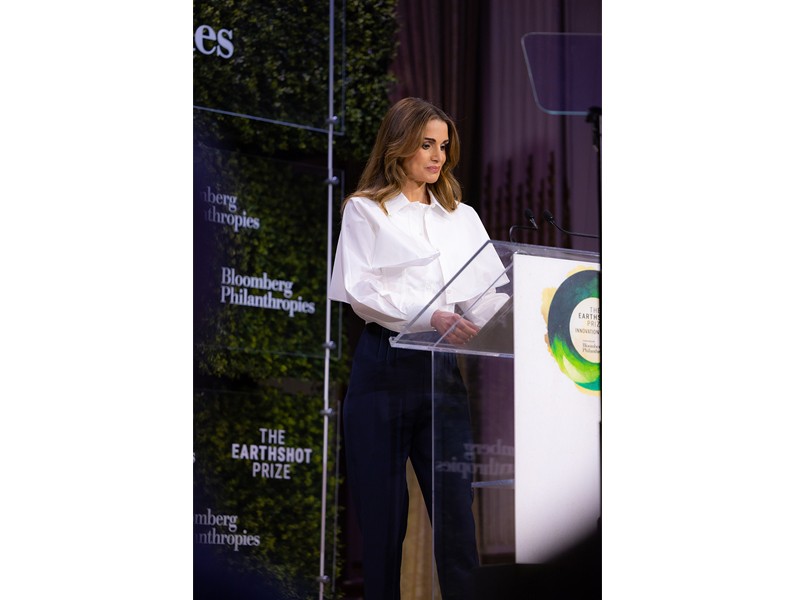 Queen Rania's official website
This website does not support old browsers. To view this website, Please upgrade your browser to IE 9 or greater
Your browser is out of date. It has known security flaws and may not display all features of this and other websites. Learn how to update your browser