Queen Rania Meets with Volunteer Members of Initiative for Jordan Network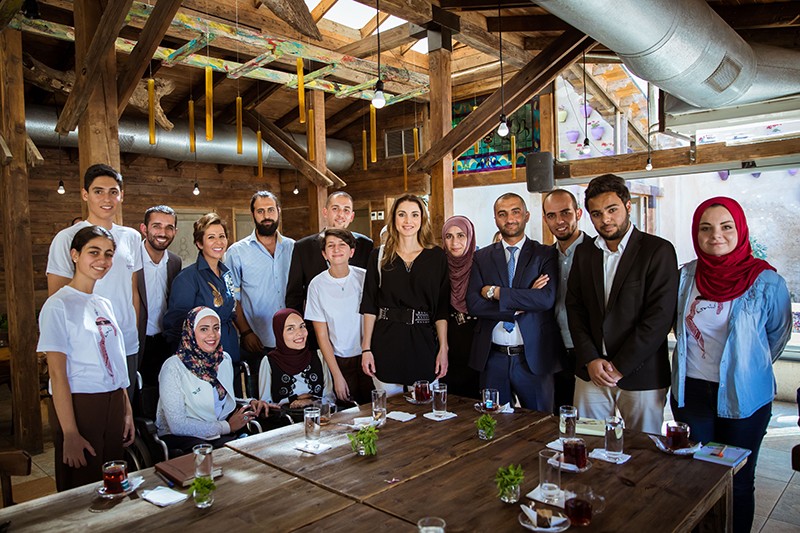 (Office of Her Majesty – Press Department – Amman) - Her Majesty Queen Rania Al Abdullah met with the founders and volunteers of local volunteer organizations that are part of the Initiative for Jordan (i4Jo) network at Saqyet Al Daraweesh in Jabal Al Weibdeh on Tuesday.
The Queen listened to a briefing about the work of the network's five volunteer initiatives that cover various community service projects catering to underprivileged children, women, elderly citizens, and persons with disabilities. Her Majesty commended the volunteers and the creative initiatives they have crafted to empower local communities.
She said: "I am happy to hear about these initiatives from those who have a real sense of the existing needs on the ground. You're the ones interacting with the people and responding to their needs from where you are, so you are effectively planting seeds of change in our communities."
Queen Rania added that "the most important thing is to always be ambitious in our plans and to never settle for small numbers. We should always scale up. Sometimes we can come up with an excellent idea that makes a difference in a specific environment. But the bigger challenge is how to replicate this good example to reach a bigger group of people."
The founders of the volunteer organizations included Sanad Abu Assaf, Ala' Al Bashiti, Hutahifa Al Tamimi, Sheikh Yousef Al Momani, and Faten Al Ghazu.
i4Jo Network Founder Ms. Ghada Saba, who moderated the discussion, explained that i4Jo started out as a WhatsApp group on the messaging mobile app connecting volunteers to various initiatives and volunteering opportunities then grew to become a network connecting activists, social media influencers, and members of the private sector to member initiatives.
The Queen heard from the Nashmi Center for Youth Empowerment founder Ala' Al Bashiti, who explained how Nashmi has helped young volunteers find diverse volunteering activities across the kingdom with the help of specialized supervisors. To date, Nashmi has 2,200 active volunteers across the country.
Nashimi's founder, Ala' Al Bashiti, is also the International Peace Organization for Relief and Human Rights Representative to Jordan, and has led a campaign to help release thirty women with no criminal backgrounds, who were imprisoned for being indebted, by collecting funds to repay their dues.
Right now, Nashmi is working on an initiative to link up volunteer caregivers to elderly citizens living outside elderly homes, where each volunteer will be dedicated to looking after one elderly citizen.
Her Majesty also heard from founder of 'Cumestair', Sanad Abu Assaf, who explained the work his initiative has done to advocate for people with disabilities and facilitate their inclusion in public life.
Ajloun-based Mosque Imam and Al Juneid Cultural Forum founder, Sheikh Yousef Al Momani, briefed Her Majesty about the work his organization has been doing to support young talents and raise awareness through mosque sermons about the role of women in politics and the importance of differentiating between social traditions and religion.
Her Majesty also heard from Faten Ghazu, who established an initiative that caters to beneficiaries residing at elderly homes and aims to improve their morale.
Also speaking at the discussion was founder of the Thinking Hats Training and Development Institutes, who explained how his initiatives have helped individuals develop their leadership and strategic planning skills to prepare them for the job market.

Queen Rania's official website
This website does not support old browsers. To view this website, Please upgrade your browser to IE 9 or greater
Your browser is out of date. It has known security flaws and may not display all features of this and other websites. Learn how to update your browser