Queen Rania Calls for Renewed Global Struggle to Achieve Peace and Security at Istanbul Forum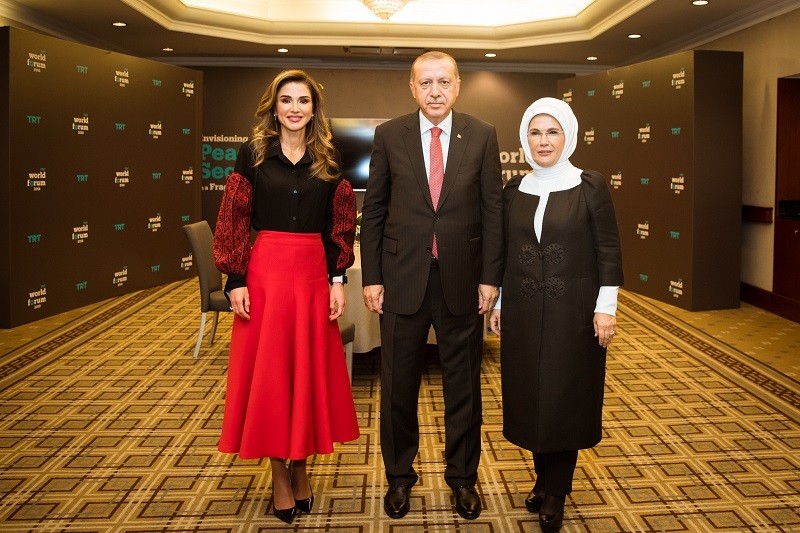 (Office of Her Majesty – Press Department – Istanbul) - Her Majesty Queen Rania Al Abdullah called on the global community to persevere in its struggle to achieve peace, justice, and security, urging nations to "confront the harshest realities of our world without losing sight of our ideals."
In a keynote speech she delivered at the 2018 TRT World Forum in the Turkish city of Istanbul on Thursday, Her Majesty also highlighted humanity's long-term gains in making our world a safer, more inclusive place. "The headlines may lead us to believe that the world is gradually becoming less secure – but the trend-lines suggest otherwise," she explained.
The forum was attended by Turkish President Recep Tayyip Erdogan and First Lady Emine Erdogan, with the President delivering an address at the forum's closing Thursday evening.
In her remarks, the Queen highlighted Jordan and Turkey's long history of cooperation, and their common commitment towards the refugees they are hosting within their borders.
She also reflected on the passing of three-year-old Syrian Alan Kurdi in 2015, who became a symbol of the struggles of more than 5.5 million refugees after a photograph of his lifeless body washed up on shore went viral.
"For a brief moment, this snapshot of senseless loss seemed poised to serve as a turning point in the global refugee crisis," Her Majesty recalled. However, "almost as suddenly as it had appeared, concern for the refugee crisis once again receded, a casualty of the ebb and flow of human compassion."
Noting that more than 10,000 people have since drowned attempting to make the same dangerous voyage across the Mediterranean, the Queen stressed that news of human misery has now become inescapable.
"Every day, we are bombarded with evidence of suffering – until images that once felt painfully familiar gradually stop being painful," she said.
"One of the key facets of human nature is the universal impulse to help those in need. But, in the face of mass atrocities, too often, we fail to move decisively," Her Majesty said, citing the example of global inaction in the face of genocide against the Muslim Rohingya minority in Myanmar.
Queen Rania attributed this to a phenomenon known as psychic numbing. "We recognize a single person's suffering as a tragedy, but, as the number of those affected piles up, that tragedy begins to lose its emotional grip," she explained.
The Queen added that history, however, tells a more hopeful story because "we refused to accept the status quo, and so, we succeeded in changing it."
Her Majesty explained that, before the industrial revolution, war accounted for about 15% of all human deaths, but that by the 1900s, that figure had fallen to 5%, and today stands at only 1%.
She also stated that global quality of life is improving, referencing a decrease in extreme poverty, advancements in education, and increased access to clean water, electricity, and medical care.
Acknowledging many other challenges that have yet to be overcome, Her Majesty noted that 1 in 5 children around the world are out of school, and that each day 44,000 more people are being displaced from their homes.
Although these challenges may seem intimidating, the Queen encouraged her audience to remember that humankind has proven time and again that progress is possible.
"Instead of despairing for all that we have lost, we must fight for the innocence we have left to protect. Mourn the dead, then redouble our efforts toward the living," she concluded.
On the sidelines of the forum, Queen Rania met with the Turkish President and First Lady, where they discussed the deep-rooted human values Turkey and Jordan share.
During the meeting, President Erdogan commended Jordan's efforts in hosting refugees and cementing Islam's values of tolerance and understanding. Turkey is currently hosting around 3.5 million Syrian refugees.
Hosted by Turkey's public broadcaster TRT World, the 2018 TRT World Forum opened in Istanbul on Wednesday, bringing together 600 politicians, academics, journalists, and businesspeople from around the world, including Former Lebanese Prime Minister Fouad Siniora. Now in its second year, the two-day event was held under the theme "Envisioning Peace and Security in a Fragmented World."

Queen Rania's official website
This website does not support old browsers. To view this website, Please upgrade your browser to IE 9 or greater
Your browser is out of date. It has known security flaws and may not display all features of this and other websites. Learn how to update your browser