Queen Rania Attends Festival Launch as Part of Campaign to Reduce Violence Against Children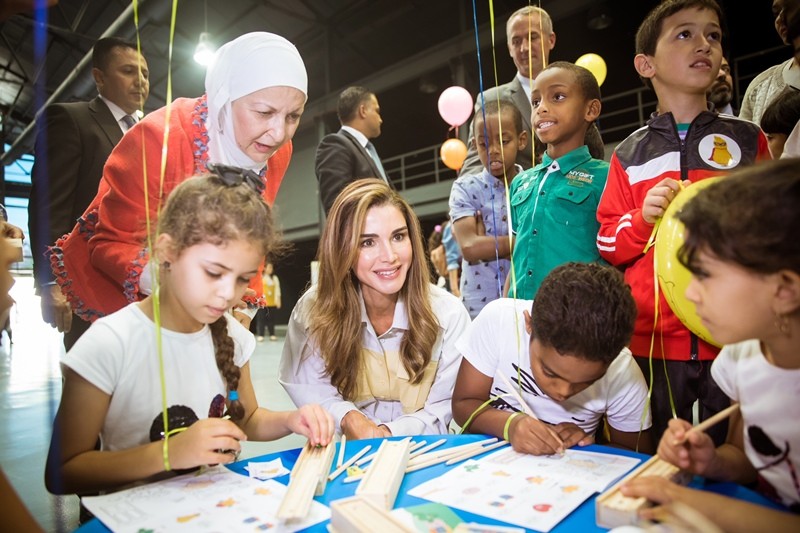 (Office of Her Majesty – Press Department – Amman) - Her Majesty Queen Rania Al Abdullah attended the launch of a festival organized by the National Council for Family Affairs (NCFA) and UNICEF on Tuesday, as part of a wider ongoing campaign in Jordan to reduce physical violence against children.
Her Majesty was welcomed at the event by NCFA Acting Secretary General, Mohammad Miqdadi, UNICEF Jordan Representative, Robert Jenkins, and Chief of Child Protection Program at UNICEF, Maha Homsi.
NCFA and UNICEF organized the festival under the name "The Adventures of Looney Balloony," in consultation with children and adults from different segments of Jordanian society. Focusing on positive dialogue and child rearing approaches, the festival will feature eight cartoon characters to introduce children, their parents, and caregivers to the tools and skills needed for healthy child development.
Each of the eight characters is representative of a positive skill that parents can utilize when dealing with their children. The skills include communicating, practicing patience, showing love, listening, encouraging, role modeling, and understanding the nuances of child development.
While touring the festival, Her Majesty stopped by an outdoor exhibition displaying the stories of thirty violence survivors, and the activation area, where children can communicate the positive traits they would like to see in their parents.
In a statement, Miqdadi explained that the festival it is part of a "three-year multi-sectoral national strategy aimed at decreasing the prevalence of physical violence against children in Jordan by half, by the year 2021."
He also added that the strategy has been endorsed by civil society groups and various ministries, including the Ministry of Education, the Ministry of Health, the Ministry of Social Development, and the Ministry of Awqaf, in order to collectively address this critical issue and put an end to violence at home and in schools and communities.
Speaking on behalf of UNICEF, Jenkins said that Jordan continues to be the leader on child rights issues in the region, underscoring the Queen's efforts as UNICEF's first Eminent Advocate for Children in launching "Ma'An" in 2009 to address violence and abuse.
Expressing UNICEF's support for the national strategy in ending violence against children, Jenkins added that,"NCFA's leadership and the active role of ministries and the civil society, including media, has helped roll out a homebased strategy that takes into consideration social and cultural norms and focuses on positive parenting and the involvement of family members and children in ending the violence".
Based on the results of studies, which show that nine out of ten children in Jordan experience some form of physical violence from their parents, teachers, or caregivers, the festival will provide all parties in the fight against violence with a comprehensive understanding of its negative repercussions.
Other festival objectives include increasing online and offline activities that contribute to raising awareness about violence against children in Jordan, engaging the media, officials, and other stakeholders through talks and visits, and encouraging social media influencers to use their platforms to address the issue. Children and parents will also leave the festival with a number of useful gifts to help reduce violence at home.
The festival will also launch this month and the next in other Jordanian governorates, including Irbid, Zarqa and Aqaba. Activities include live symposiums and panel discussions to encourage officials, children, parents, and the media to contribute to the discussion on violence against children. Additionally, there will be a pledging area for caregivers to commit to positive parenting practices, and a story telling and crafts area for the children. Counseling will also be available on site to provide visitors with advice free of charge.
Founded by a Royal Decree in 2001, and headed by Her Majesty, the NCFA is a civil society umbrella organization that supports, coordinates, and facilitates the work of institutions involved in improving the state of family affairs in Jordan. The council's multi-sectoral and participatory approach has allowed it to establish partnerships with local public and private organizations, and international organizations as well.

Queen Rania's official website
This website does not support old browsers. To view this website, Please upgrade your browser to IE 9 or greater
Your browser is out of date. It has known security flaws and may not display all features of this and other websites. Learn how to update your browser