Queen Rania Attends the Queen Rania Award for Excellence in Education 7th Teacher's Award Ceremony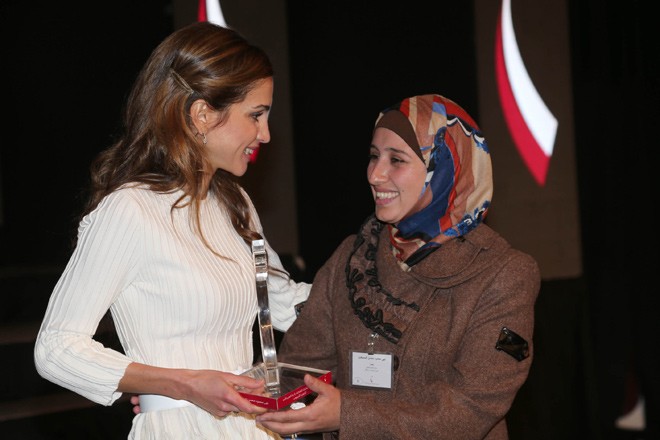 (Office of Her Majesty- Press department- Amman) Her Majesty Queen Rania Al Abdullah honored the winners of the 7th Queen Rania Teachers Award at a ceremony hosted by the "Association of Queen Rania Al Abdullah Award for Excellence in Education" (QRAEE) today at the Royal Cultural Palace in Al Hussein Youth City.
Her Majesty, the Chairperson of the Board of Trustees of the Association, congratulated this year's winners and commended their giving work ethic, dedication and commitment.
Queen Rania honored winning teachers and presented the prizes to the 20 winners in five different categories.
"Raising generations and educating them is an honor rather than a profession. It is indispensable and should not hinge on wealth or scarcity of resources. It is a message that transforms its bearers," said the Queen.
Minister of Education and Higher Education Dr. Wajih Owais expressed his appreciation for teachers and thanked Her Majesty Queen Rania Al Abdullah for her sponsorship of this award. "The award established a movement of excellence within our educational institutions. It elevated the value of achievement, documented the relationship between teachers and their communities and increased the overall effectiveness of learning outcomes," said the Minister.
Director of QRAEE Association, Lubna Touqan spoke about the award's recent developments and their plans for making the application process more accessible and inclusive to all teachers. "Today we are in the process of implementing an automation project for some stages of the award to facilitate the teachers' application process for the award," said Touqan.
The Association has succeeded in building effective partnerships with leading local institutions in different sectors to support its mission, and still has great ambitions and lots to offer for the educational sector, she added.
The ceremony, which was sponsored by "Zain", was attended by representatives of the educational and media sectors and more than 1000 teachers from 40 districts in the Kingdom.
This year the Teacher's Award received more than 1400 applicants. The winners will receive monetary awards in the value of JD 3,000 for 1st place, JD 2,000 for 2nd place, and JD 1,000 for 3rd place.
Winners will also receive opportunities to participate in professional development programs and academic trainings provided by the association in cooperation with educational institutions and various academic centers.
The winners are also named ambassadors in the field of education to be role models for their peers and to contribute actively in the advancement of the educational environment in school in across the Kingdom.
The annual Teacher's Award, which was launched in 2005, was followed by the launch of the bi-yearly Principal's Award in 2009.

Queen Rania's official website
This website does not support old browsers. To view this website, Please upgrade your browser to IE 9 or greater
Your browser is out of date. It has known security flaws and may not display all features of this and other websites. Learn how to update your browser