Queen Rania Warns of International Crisis of Values During Address at WEF Global Redesign Summit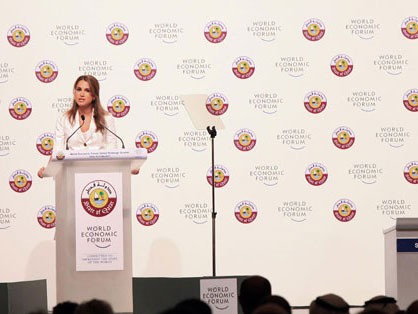 (Office of Her Majesty, Press Department- Doha) "There cannot be value without human value" was the core massage of Her Majesty Queen Rania Al Abdullah's special address, delivered today at the Official Opening of the WEF Global Redesign Summit, in Doha, Qatar. Opened by His Highness Sheikh Hamad Bin Khalifa Al Thani, Emir of Qatar; the Summit mainly focuses on proposals for improved international cooperation.
Her Majesty's moving address centered on the need to fully integrate human values into any discussion of global economic development and cooperation; "When I look at the world today, I fear we aren't listening to our conscience, because I don't see Justice" Her Majesty also said that "international injustice is the symptom of a broader crisis; an international crisis of values", a state "where cynicism and mistrust are common currency" adding that "it builds a society around erroneous assumptions that tell us if just enough people are happy, then there's no need to change it. But just enough isn't good enough"!
Her Majesty stressed the need for more international cooperation that takes into account human values and principles.
Her Majesty also urged the participants, to focus on the importance of our world's need for fundamental human instincts such as "compassion for the vulnerable, charity, forgiveness, and prizing peace over conflict".
Looking ahead, Her Majesty expressed hope the GRI summit participants, would not ignore the voice of the underprivileged and under-developed; "right now we need to start investing in our values! We need to start investing in the undervalued, like the poor and uneducated, and recognize their potential. And that's why you're here: to restore human values… to restore our conscience … to restore justice to the system… so that our children don't have to live with our mistakes or become destined to repeat them. And that's why the Global Redesign Initiative is so important."
Focusing on the importance of education, an area that Her Majesty has been working passionately and tirelessly for, to bring to the world's attention the need to provide education to more than 72 million children that were deprived of elementary education, Her Majesty said: "We realize that a key indicator of human advancement is education… how many children are in school… the quality of education of every child. Because, our schools are incubators for the world we want to create; they're microcosms of our future in the making." Adding that, "In the long run, only education can bring about a new world order, only education can make "redesign" a truly global initiative."
Her Majesty's special address followed opening remarks by Professor Klaus Schwab (Founder and Executive Chairman of the World Economic Forum), and speech by His Highness Hamad Bin Khalifa Al Thani, Emir of Qatar.
Following Her Majesty's special address, a panel discussion took place, that was moderated by Prof. Schwab, commencing with a question that referred directly to Her Majesty's speech about the importance of human values in the international system. In His answer to the Question, HRH Prince Haakon of Norway, reiterated Her Majesty's remarks about the significance of values and the youth in shaping the world's future.
The official opening of the GRI summit in Doha, was also attended by several international key dignitaries, including HRH Prince Haakon, Crown Prince of Norway; President Valdis Zalters, President of Latvia; President Amani Abeid Karume, President of the Revolutionary Government of Zanzibar; HH Sheikh Nasser Al Sabah, Prime Minister of Kuwait; and more than 400 participants from 60 countries as well as 80 journalists from media organisations from all over the world converging the two-day Global Redesign Summit 2010.


Queen Rania's official website
This website does not support old browsers. To view this website, Please upgrade your browser to IE 9 or greater
Your browser is out of date. It has known security flaws and may not display all features of this and other websites. Learn how to update your browser