Queen Rania Checks on Diabetes Awareness Program in Naour During Second Day of Ramadan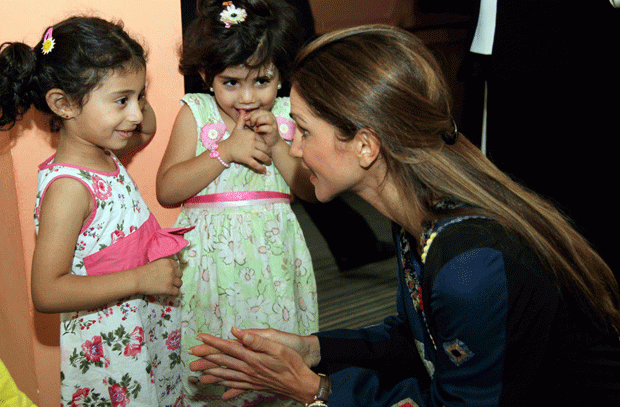 (Office of Her Majesty, Press Department- Amman) – Her Majesty Queen Rania Al Abdullah made a visit to the Naour Health Center in Amman today to check up on the Global Micro-Clinic Program (GMCP) for diabetes awareness. The program, designed by the Global Micro-Clinic Organization, is being implemented across the kingdom by the Royal Health Awareness Society (RHAS) in cooperation with the Ministry of Health.
GMCP is a community-focused organization that forms partnerships between medical professionals, professors, government, and the local people, with the view that collaborative effort and people working together are what makes for healthy communities.
At the clinic Her Majesty was received by Dr. Bassam Al Ajarmeh, Director of the Center, and Mrs. Enaam Barishi, Director of the Royal Health Awareness Society.
Her Majesty was briefed on the project and passed by a lecture given by, GMCP officer, Wala'a Omar about the importance of walking and how to shop for healthy products. Some of the beneficiaries shared with Her Majesty their stories and explained how the program changed their lifestyles and improved their diabetes.
Queen Rania also dropped in on a cooking session given by nutritionist Ala'a Shelleh. The session focused on different ways to improve traditional meals by making them healthier and more nutritious.
The goal of GMCP is to work with local communities to reduce the worst public health problems. "Micro-clinics" are the tool for starting this process as they bring together the idea that each person can make a difference in their own life, and the lives of their friends, families and people in the community.
Since July 2009, GMCP has partnered with Jordan's Royal Health Awareness Society and the Ministry of Health to form more than 700 micro-clinic groups consisting of families and friends who together participate in diabetes education in and out of the classroom.
The eight month program is divided up into five weeks of diabetes education classes and then follow-up sessions twice a month. The main goals of the project are raising awareness and knowledge about diabetes, training participants to change their unhealthy behaviors to healthy ones, and to change the behaviors of their friends, family, and community.
To date 2,200 people have benefited from the program which was implemented in 5 health centers in Al Naser, Ein Al Basha, Al Hashimi, Abu Nseir and Amman Al Shamel . It is currently being conducted in three health centers in Naour, Bayader Wadi Al Seer and Khreibet Al Souq.
According the National Strategy against Diabetes in Jordan, over 30% of Jordanians aged ≥25 years had elevated FBS above 100 mg/100ml, over 80% suffered from overweight or obesity, about 30% were hypertensive, and many had a sort of dyslipidemia. It is estimated that about three million Jordanians are expected to be affected by diabetes by the year 2050.
75% of the people who participated in the GMCP program were able to decrease their weight. 70% were able to decrease HbA1e (cumulative diabetes), and 25% were able to reach the normal HbA1e (cumulative diabetes).
At the Naour Women's Association, Her Majesty met members of the association's administrative board, and toured its facilities. The Queen was briefed on the association, which was established in 1958 and provides the local community with a nursery, gym, a productive kitchen, training courses and lectures.

Queen Rania's official website
This website does not support old browsers. To view this website, Please upgrade your browser to IE 9 or greater
Your browser is out of date. It has known security flaws and may not display all features of this and other websites. Learn how to update your browser